A legislative committee on Wednesday advanced a bill aimed at resurrecting the requirements of a voter-identification law that was struck down by the Arkansas Supreme Court in 2014.
House Bill 1047, by Rep. Mark Lowery, R-Maumelle, would require voters to display a photo identification before casting ballots. It also would require the secretary of state to issue free photo identification cards to those who lack other acceptable identification.
Proponents of voter-identification laws see the increased requirements as a way to prevent voter impersonation and fraud. Opponents say there is little fraud and the burden on voters unduly restricts the right to vote and imposes unnecessary burdens on elections administrators.
"Why am I bringing a proposal -- a solution -- that seems to be in search of a problem?" Lowery told the House Committee on State Agencies and Governmental Affairs on Wednesday. "The general idea is that there is not widespread fraud in the electoral process and frankly I'm not going to spend a lot of time talking about that."
Lowery said there are anecdotal stories about voter fraud, but no good way to quantify its impact. Instead, he argued that concerns about rigged elections would be reduced if voters were required to present identification.
"It does verify, it does heighten the integrity of the voting process," he said.
But Rep. Warwick Sabin, D-Little Rock, a committee member who argued against the bill, said the proposal's provisions would make it more difficult to exercise a fundamental right.
[EMAIL UPDATES: Get free breaking news alerts, daily newsletters with top headlines delivered to your inbox]
"I just think you're adding a lot of new qualifications and requirements to what should be a very basic and accessible right to every citizen in our state," he said. "Why are we asking people to do one more thing simply to exercise that fundamental right that they have as a citizen of Arkansas and a citizen of the United States of America?"
The committee allowed testimony from two members of the public before Rep. Dwight Tosh, R-Jonesboro, made a motion for immediate consideration, which was approved with little dissent. Its next stop is the full House.
A total of 34 states have laws requesting or requiring voters to show some form of identification at the polls, according to the National Conference of State Legislatures. Arkansas is included on that list because an identification is requested but not required.
Seven states have "strict" photo-identification laws that require voters lacking valid identification to take additional steps after election day for their votes to be counted, according to the conference.
Under House Bill 1047, identification that would be accepted include: driver's licenses, photo identification cards, concealed-handgun carry licenses, passports, employee badges or identification documents, student identification cards issued by accredited Arkansas colleges and universities, U.S. military identification documents, public-assistance identification cards and free voter-verification cards.
While Lowery pushes his bill, other lawmakers are drafting a constitutional amendment with the intention of referring the matter to voters.
During the meeting, Rep. Michelle Gray, R-Melbourne, a co-sponsor of the bill, said she supports the concept, but believes the state might need a voter-approved constitutional amendment to change voting requirements.
The American Civil Liberties Union of Arkansas, along with other organization, sued over the previous voter-identification law in 2014. The group contended such laws adversely affect the elderly, the poor and members of minority groups.
The lawsuit went to the Arkansas Supreme Court. Four of the seven justices on the court at that time said the law added a qualification to the voter qualifications listed in the state's constitution.
According to Article 3, Section 1 of the Arkansas Constitution, in order to vote, voters need only be age 18 or older, U.S. citizens, Arkansas residents and properly registered to vote.
The requirement that voters present identification at the polls was tantamount to a fifth qualification, according to an opinion written by then-Justice Donald Corbin.
Corbin and three other justices said the voter-ID law "is unconstitutional on its face."
In a concurring opinion, Justice Courtney Goodson said it was not necessary to scrutinize the law as it relates to Article 3 of the constitution. Goodson was joined by Justices Karen Baker and Jo Hart.
The Legislature's power to regulate elections, Goodson noted, stems from Amendment 51, Section 19 of the constitution.
Amendment 51 authorizes lawmakers to amend voter-registration measures but only with a vote of two-thirds of the lawmakers in both houses of the General Assembly, the same number of votes needed to reverse an initiated act of the people.
Gray asked how Lowery's bill would suffice, when the 2013 law did not hold up to legal challenge.
The previous legislation was passed, but not with the two-thirds vote required under Amendment 51. Lowery hopes this bill meets that threshold.
House Minority Leader Michael John Gray, D-Augusta, said he did not believe Republicans would have a problem meeting that threshold. Republicans have a majority in both chambers.
And when it comes to Article 3, Lowery said his bill is a restriction on voter registration, but not voting itself.
"My fear is that you end up getting this through, we end up getting a referred amendment out to the people and people are going to be confused. It's already on the books -- why is there an amendment before the people? All the while, we're tied up on a lawsuit on this bill," Gray said.
In an interview Wednesday evening, Chris Burks, general counsel for the Democratic Party of Arkansas, said he did not believe Lowery's legislation is compliant with Article 3.
"It's a blatant attack on voter rights," he said.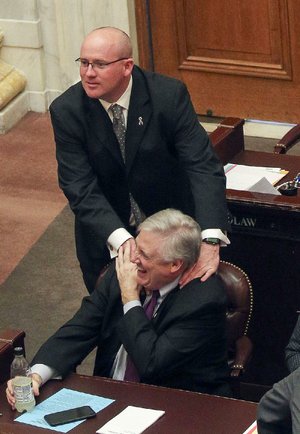 Photo by Benjamin Krain
Rep. Jeff Wardlaw (top) jokes with Rep. Mark Lowery on Wednesday. Their committee advanced Lowery's voter-identifi cation bill.
Lowery said after the meeting that he was communicating with lawmakers looking into the constitutional amendment and did not see the two efforts as contradictory.
Warren Searls, who spoke before the committee on behalf of AARP Arkansas, said his organization, which has 300,000 state members, opposed the bill.
"The right to vote is very vital to our democracy and it's so easy to put impediments in front of people that make it difficult to vote," he said.
It could be difficult for people to travel to a county seat in order to get free identification, he said.
Committee members then pressed him for 10 minutes about whether he was properly representing his organization's membership.
"My parents are both members of AARP and they were never asked what their stance was on this position, so I would question whether or not you actually asked the entire membership what their thoughts were on this," Rep. Michelle Gray said.
Stu Soffer, the state Republican Party designee on the state Board of Election Commissioners, argued in favor of the bill, saying the free voter-identification cards would prevent anyone from being disenfranchised.
He said he can't understand "why opponents believe Americans of African descent and Hispanics are not as capable as Asians, Native Americans, Caucasians and others to use the alternative. It's embarrassing."
Barry Haas, a Pulaski County resident who was a plaintiff in the 2014 lawsuit, was present at the meeting, but was not given the opportunity to speak. He said in an email later that he defended the right to vote as a veteran.
"House Bill 1047 is a discriminatory, anti-voter bill," he wrote. "It's the equivalent of a 2017 poll tax. It violates the Arkansas Constitution which contains strong voter rights, and it solves no existing voting problems. It's a solution in search of a problem."
A Section on 01/26/2017