It was 2011 and David Gerstein was living across from the Arkansas Arts Center, right along the route of the annual Little Rock Marathon. While watching the runners race by that year, Gerstein, principal cellist for the Arkansas Symphony Orchestra, told himself that he would run in the next year's marathon.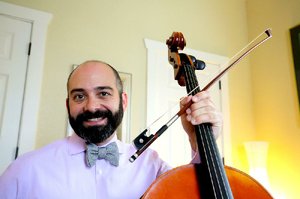 Photo by John Sykes Jr.
David Gerstein, principal cellist with the Arkansas Symphony Orchestra, runs in marathons to raise money for charities like St. Jude Children's Research Hospital in Memphis and the Leukemia & Lymphoma Society.
"It seemed so cool," he says in the dining room of his cozy Stifft Station home, where he moved over the summer. And not having any running experience certainly wasn't going to deter him.
"I didn't really have a plan. I did a 5K first, went up to a half-marathon and then I did the full one," says Gerstein, 32. "You just keep inching up."
By 2014, Gerstein found a way to make his marathoning mean something to someone other than himself. He started running for charity.
That year, at Walt Disney World in Orlando, Fla., Gerstein competed in the Dopey Challenge, which included a 5K, 10K, a half-marathon and a full marathon over four days. He surpassed the fundraising minimum of $4,000, collecting more than $9,000 for St. Jude Children's Research Hospital in Memphis.
"It gives the races so much more meaning," says Gerstein, with his mixed-breed dog Daisy resting beneath his dining room table. "You're doing it for all these people and not just for yourself."
It was through his work with the symphony that Gerstein settled on the Memphis-based hospital as his charity. He grew up in the Chicago suburb of Wilmette, Ill., and moved to Little Rock in 2008.
"When I first moved here, I was just out of college and looking for stuff to do," he says. "One of the things the symphony does is send musicians to Arkansas Children's Hospital."
There, he played his cello for the babies in the hospital's Infant/Toddler Unit. "It was really nice, so when I decided to do a charity run, I decided to do it for St. Jude's because I wanted to keep it as local as I could and also continue with the children's aspect." (Children's Hospital was not among the race's participating charities.)
That Dopey Challenge certainly lived up to the second part of its name. Not only had Gerstein never done a race over the course of four days, he was also running with the flu. Having crushed his minimum fundraising goal, though, there was no way he was going to sit out.
"I had raised all this money and done all this training. I just powered through it."
He continued later in 2014 with a run at the Chicago Marathon, where he raised $1,200, again for St. Jude's. For this year's Dopey Challenge, he raised $5,500 -- $600 over his goal -- for the Leukemia & Lymphoma Society. The switch was to honor his uncle, Peter Noznick, who died of leukemia two years ago.
"We were close," he says.
Gerstein was 6 when he began playing cello. "I picked it because you can sit down [when playing]," he says with a smile.
He attended the Eastman School of Music at the University of Rochester in New York then earned his master's degree from Rice University in Houston. He has played at Carnegie Hall in New York and even performed at the Great Wall of China. When not playing with the orchestra or running, he is an adjunct professor at the University of Arkansas at Little Rock and Hendrix College in Conway.
"David is an incredible guy," says Dr. Richard Wheeler, chairman of the symphony's board of directors and executive associate dean for academic affairs at the University of Arkansas for Medical Sciences. "The thing that's impressive to me is that he doesn't just ask people to give money. He's willing to put skin in the game. He runs the races. He works really hard at this. It's easy to just ask people to give, but when you work at it like he does, that's pretty impressive."
Social media and Gerstein's connections through the symphony help with fundraising. He's also not afraid to call upon his considerable musical skills to help bring in donations for his runs. He played a concert at the Unitarian Universalist Church in Little Rock as a benefit for his first Dopey Challenge. It was also where he performed an original composition by Karen Griebling, who teaches composition and music theory at Hendrix.
"David approached me about writing a piece that would be in the spirit of his running," says Griebling, who plays viola in the symphony and also conducts the Hendrix orchestra. "I wrote a solo cello piece for him titled Tarantella. It's full of running notes, you might say. He played that at several of his fundraising concerts."
A concert at St. Luke's United Methodist Church in Little Rock with Gerstein's friends and fellow runners, Ryan Mooney and Katherine Williamson, helped raise money for this year's Dopey Challenge.
Calling from Florida after his four days of Dopey, Gerstein says: "It was definitely better [than 2014] because I wasn't sick."
Still, there were complications. Due to storms, the half marathon was canceled, but Gerstein wouldn't be denied. He'd raised money to do all four runs and he was going to complete each distance, even if he had to cobble together 13.1 miles across hotel parking lots.
"I was here with [Mooney], and we did it on our own later in the day," he said. "We couldn't do the same course because the courses go through the [Disney theme] parks, so we just went out and ran from hotel to hotel over and over again."
Gerstein, who has also started dabbling in triathlon, says he doesn't have another fundraising run chosen just yet. But when he does, he'll likely to do it for the Leukemia & Lymphoma Society.
High Profile on 01/29/2017