Mixed martial arts bantamweight challenger Valentina Shevchenko said she will be ready for a proposed September bout against Amanda Nunes.
Amanda Nunes learned a hard lesson Saturday night night and that is you don't cross UFC President Dana White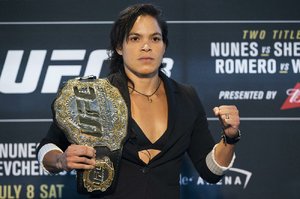 Photo by Erik Verduzco/Las Vegas Review-Journal via AP
Amanda Nunes poses during media day for Saturday's UFC 213, in Las Vegas on Thursday, July 6, 2017.
Nunes pulled out of UFC 213 claiming illness in defiance of medical clearance before her bantamweight championship bout against Valentina Shevchenko. White said he will not give Nunes another pay-per-view main event.
Nunes claimed she had abdominal cramping and sinus issues which led to her decision to pull out Friday.
"I won't do that again," White said when asked if he'll ever place Nunes in another pay-per-view main event. "A lot of fighters have had times where they don't feel right. ... I don't know that I've ever had a situation like today where she was physically capable to fight and didn't. It was 90 percent mental and 10 percent physical."
Nunes' decision to skip the fight resulted in passing over a $150,000 guaranteed purse instead of risking a loss against a fighter she already defeated in March 2016 by unanimous decision in a non-title fight.
Nunes apologized on social media and vowed to return at 100 percent. White said he will give Nunes and Shevchenko a spot on the UFC 215 card in Edmonton, Alberta, on Sept. 9.
Schevchenko is looking forward to getting her shot against Nunes.
"I know exactly why she's doing this, and everybody knows," Shevchenko said, strongly implying Nunes didn't feel comfortable with the matchup following a taxing weight cut that left her visibly drained as she stepped on the scale for the official Friday morning weigh-in. "I know my time will come. I will fight for the title and I will have it. It doesn't matter what happened today. It will happen in the future. I will be the champion against [Nunes] or someone else. I will be in my best shape -- again."
Time will tell if hype and grudges will result in Nunes-Schevchenko bout that becomes worth watching.
Better late than never
In the 2008 Olympics, Great Britain's 1,600-meter relay team of Michael Bingham, Martyn Rooney, Andrew Steele, and Robert Tobin missed out on earning a medal. On Sunday, the foursome was given a bronze medal after retests of doping samples last year showed that Denis Alexeev who helped Russia finish third, had used an anabolic steroid.
Making the moment memorable was receiving their medals at a ceremony during the London leg of the Diamond League at the main stadium used from the 2012 Olympics.
"It's definitely surreal but an amazing opportunity nonetheless and a real privilege to get it in such a stadium and such a crowd," Steele said. "Even though it's nine years later I am really happy to receive it, it's amazing."
Steele received his medal from Craig Reedie, the Scotsman who is president of the World Anti-Doping Agency.
Even if they got on the podium in Beijing, the national anthem of the United States would have been played since that was the winning team in the relay. On Sunday, God Save the King" was played in London when they received their medals.
Sports quiz:
What is Amanda Nunes' record in mixed martial arts?
Answer
14-4
Sports on 07/10/2017
Print Headline: A lesson that hurts for Nunes
Sponsor Content