WASHINGTON — Arkansans flooded into the offices of U.S. Sens. John Boozman and Tom Cotton on Wednesday, urging the Republican lawmakers to preserve the Patient Protection and Affordable Care Act.
Later, the activists poured into the hallways of the Hart and Russell Senate Office Buildings, continuing their demonstrations despite being told to cease and desist.
U.S. Capitol police arrested at least nine of the Arkansans. Neither of the senators was present to witness the demonstration.
Similar protests were held throughout the afternoon, with law enforcement officials responding to 45 separate incidents, a police spokesman said.
[INTERACTIVE: Compare House, Senate bills with Affordable Care Act]
About 155 people had been arrested by early evening.
Under D.C. Code 10–503.16, it is illegal to "obstruct, or to impede passage through or within, the United States Capitol Grounds or any of the Capitol Buildings" or "to parade, demonstrate, or picket within any of the Capitol Buildings."
Those arrested Wednesday were charged with violating 22-1307, which prohibits "crowding, obstructing or incommoding."
Law enforcement officials allowed the protests to continue for a time, eventually ordering them to stop. Hundreds of protesters obeyed the orders and were allowed to leave.
The rest were taken into custody.
At least five who refused to cooperate were charged with resisting arrest.
Protesters have descended on Capitol Hill repeatedly over the past month to oppose Obamacare cuts.
Forty-three people were detained on June 22; 40 more on June 28; 80 on July 10; and 33 on Monday, the Capitol Police reported.
Arkansans were charged on at least two other occasions.
[EMAIL UPDATES: Get free breaking news alerts, daily newsletters with top headlines delivered to your inbox]
Rather than having them stand trial, law enforcement officials allowed previous protesters to "post and forfeit collateral."
By paying a $50 penalty, they obtain "a full and final resolution of the criminal charge." Under the law, they walk away without a criminal conviction.
The newest protesters hoped their confinement would not be lengthy. They were given $50 each; money that would ultimately be surrendered to the government.
Corey Moore, 43, was among those arrested Wednesday. He shouted "We want health care, we want health care," as he was led away from Boozman's office.
Before his arrest, the Alexander resident said he works with special needs children in the Little Rock School District, kids who "depend on Medicare and Medicaid to help them get better, to go on and live a normal life."
The idea that Republicans would slash funding appalls him, he said.
"This is America," he said. "We are the greatest country in the world and we're supposed to be the richest country in the world. And we can't provide Medicare and Medicaid to the ones who need it?"
Moore said he'd never engaged in this type of civil disobedience before.
"I was always taught and I always believed throughout my life, [that] you have to fight for what's right, you have to stand for what's right [and] fight for the ones that can't fight for theirselves," he said.
Shawn Ricks, a 67-yearold veteran, was also arrested.
Earlier Wednesday, he said he fears Republicans will slash health care programs he relies on.
"I came into contact with Agent Orange while I was serving and as a result, I have diabetes," he said.
He needs a VA system that is properly funded and a Medicare program that continues to function, he said.
"I don't think it's fair for me to go over to Vietnam and fight for my country and have to come back home and fight for my health care. To me, that doesn't make any sense," he added.
Shortly before her arrest, Deborah Brewer of North Little Rock wiped away tears as she discussed the health challenges that her daughter, Kesha, faces.
"She has epilepsy. She has seizures. She's a beautician … and she has Obamacare and she's afraid if they do away with that, she won't be able to go to the doctor or get her medication or treatments or none of that," she said.
Brewer, 63, has health problems of her own, she added.
"I'm a three-time cancer survivor with several other preexisting conditions," she said. "We need this health care to survive."
Another protester who was arrested, Sarah Bryan of Fayetteville, said her father, Gary, relies on government health programs.
"He's HIV-positive, epileptic and diabetic," she said.
His medication is expensive and "without Medicaid, he couldn't afford it," she said. "I'm here to fight for him."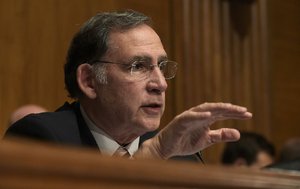 Photo by AP/SUSAN WALSH
Sen. John Boozman, R-Ark. questions Homeland Security Secretary John Kelly on Capitol Hill in Washington, Thursday, May 25, 2017, as he testified before a Senate Appropriations subcommittee on the Homeland Security Department's fiscal 2018 budget.