Crystal Bridges Museum of American Art curatorial assistant Dylan Turk got an unexpected surprise when he was looking through a journal from the late architect Buckminster Fuller a few months ago.
Amid geometric sketches, details of dome projects and other notes from the final year of Fuller's life, Turk and some members of the museum's project team noticed a list of ingredients.
"It looked to me like a beer recipe," Turk said.
The discovery was, indeed, ingredients for a homemade beer and has led to an innovative collaboration between the museum and Ozark Beer Co. Together, the two have partnered on a project that has turned the list of ingredients -- it wasn't a complete recipe for beer -- into a Fuller-inspired beverage unveiled at the museum during an event Wednesday night.
The pale ale doesn't have an official name for now, as Crystal Bridges works through the legal process to make sure it doesn't violate copyright laws. But the beverage is being sold in the museum's Eleven restaurant and also can be found on tap at Ozark Beer in Rogers.
"When you think wine, you think sophistication," said Jesse Gagnon, head brewer at Ozark Beer. "When you think beer, you don't think art. It's great to see such a great museum actually giving attention to the fact that there is art in this beverage."
Turk said he believes that the project falls in line with the museum's objectives to connect with the community, encourage innovation and celebrate emerging artists. That can come in many different forms, as the latest project has shown. Turk said Crystal Bridges has considered collaborations on food or drinks in the past, but "nothing ever felt right because it wasn't coming out of something."
That changed with Fuller. The architect, engineer, author and designer occupies a prominent place at Crystal Bridges after the museum acquired his Fly's Eye Dome in 2015 and installed it on the newly renovated north lawn. The structure, which is 36 feet high, 50 feet in diameter and features 61 windows, will open to the public next month.
The innovative Fuller, who died in 1983, spent a good part of his life experimenting with dome structures because he believed they were a solution to low-cost housing. He was inspired to create the Fly's Eye Dome in the 1960s after seeing a picture of a fly and began fabricating the structure with fiberglass expert John Warren in the 1970s. The dome installed at Crystal Bridges is the largest of three prototypes created by Fuller and Warren.
In addition to the structure, Crystal Bridges also acquired the entire Fly's Eye Dome archive, which contains thousands of objects like letters, models, drawings and journals. It's the first time anyone other than Fuller or Warren has gone through the archive.
"It hasn't been totally categorized yet," Turk said. "But I would say there's probably somewhere around 10,000 objects. Some of those are full correspondence or drawings or instructions on how to build something. One of the neatest things is you'll go through and get to a page where they've crossed it out and wrote, 'Obsolete,' over the top. So you realize everything they worked on from that page isn't right anymore. They evolved and moved on."
The archives also include finds like handwritten directions to a hardware store.
And beer ingredients. Turk initially wasn't sure what he found after coming across the pages, but he was able to get confirmation from Crystal Bridges culinary director Case Dighero.
"Dylan asked me, 'Do you brew beer?'" Dighero said. "I said, 'Absolutely not. But I know a lot of people that do. In particular I know one group of people who brew my favorite beer.'"
The list didn't produce a full recipe, so the project gave Ozark Beer some freedom to experiment and capture Fuller's spirit in a beverage.
Marketing manager Marty Shutter said there were elements that reminded Ozark Beer of the 1980s and Southern California. Indeed, Fuller's journal entry containing the home-brewing notes was from 1983 and came a few months before he died in Los Angeles.
Ozark Beer also thought it was important to incorporate innovation into the pale ale.
They did so by using cryogenically frozen hops in one of their beers for the first time. Using the hops, which are frozen on the vine and kept fresh longer, is a relatively new method in the industry. Shutter said the technology has the potential to produce more and better beer at a lower cost.
Crystal Bridges representatives were invited to Rogers to take part in the brewing process about three weeks ago.
The final product, which was unveiled Wednesday, is a pale ale that has 4 percent alcohol by volume.
"It was so cool to see Crystal Bridges' true interest in Bucky," said Gagnon, using Fuller's nickname. "I think it inspired us to brew this beer as best we could."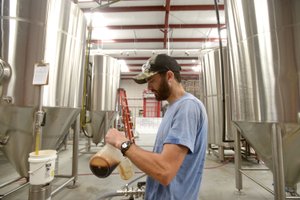 Photo by Ben Goff
Brant Bishop, director of quality at Ozark Beer Co., inspects a sample of the brewery's BDCS 2018 bourbon barrel-aged double cream stout Friday at Ozark Beer Co. in Rogers. The brewery has partnered with Crystal Bridges Museum of American Art in Bentonville to produce a pale ale inspired by notes the museum found in a 1983 journal by Buckminster Fuller.
The collaboration was the result of what Turk described as a "really rare" discovery in Fuller's journal.
"I've looked through Frank Lloyd Wright archives with that project and our whole collection," Turk said. "Things like this just don't happen. But it's because no one had ever seen this archive before. So I think this is one of those weird, magical moments where you find something that has total and complete relevance today, and that's what this was."
A Section on 07/22/2017