Silence settled when the two baseball executives stood where the coach died.
Paul Allen, the Arkansas Travelers general manager, was taking new Texas League president Tim Purpura on a tour of Dickey-Stephens Park on a sunny April afternoon in North Little Rock.
They had surveyed the foul poles, the dugouts, the 30 sections of 5,800 green seats.
Those areas all seemed to point toward the grassy spot beside first base that Purpura had been thinking about since his airplane landed. The spot where a batted baseball struck Tulsa Drillers hitting coach Mike Coolbaugh in the neck, instantly killing him on July 22, 2007.
[AUDIO: Mike Coolbaugh remembered 10 years after his death]
"I saw exactly where it happened," said Purpura, who was general manager of the Houston Astros general manager when Coolbaugh played with Houston's AAA affiliate. "And it was sad. It was something I won't forget."
Allen led Purpura back to the concourse, beyond the ballpark museum where a picture of Coolbaugh hangs. They climbed up to the press box, where the radio broadcast that night was called. No other live record of the accident exists other than the radio archive former Travs broadcaster Phil Elson keeps in his home.
One inning away from the game's completion, Tulsa hitter Tino Sanchez lined a 3-1 pitch into foul territory.
The ball traveled approximately 86 feet, where it struck Coolbaugh, the first base coach, just below his left ear.
The impact severed his left vertebral artery and caused a severe brain hemorrhage. He was announced dead 54 minutes later at Baptist Health Medical Center-North Little Rock. His widow, Mandy, gave birth to their third child, Anne Michael, three months later.
The game's score, paused at a 7-3 Travs lead, was called final.
Elson, who among other sports, now broadcasts University of Arkansas, Fayetteville baseball, said he remembers that base coaches almost immediately began wearing helmets thereafter. On Nov. 8, 2007, base coaches wearing helmets became an official rule in major and minor league baseball.
To this day, 10 years have passed since Coolbaugh's death, and more arrangements regarding baseball safety have since been implemented.
Base coaches across all levels of baseball are wearing helmets, players have started to wear facemasks in amateur baseball and softball leagues, and backstop netting at professional ballparks are being lengthened to protect fans from baseballs.
Some leagues, especially at youth levels, have yet to enforce such changes.
The withstanding irony remains that none of these things would have saved Coolbaugh. The required helmet in professional baseball does not cover the neck.
Arkansas Democrat-Gazette inquiries to rules committees and operations executives regarding why baseball has not gone farther to protect coaches were directed to Major League Baseball's Chief Baseball Officer Joe Torre, who did not respond.
"That helmet would not have saved Mike," the Travs' Allen said. "But it potentially could save someone else's life in the future."
In name of safety
All base coaches must wear helmets at the NCAA level, where softball pitchers have been wearing face masks since Kentucky pitcher Kelsey Nunley brought national awareness to such protection at the 2014 Women's College World Series. The face masks have made their way down to the high school level, where softball players who play first and third base are even wearing them.
"They're not required, but it's permissive," said Bob Gardner, the executive director of the National Federation of State High School Association. "There's a pretty good growth in that, and we're even seeing it among baseball pitchers."
Gardner said that the association is also starting to consider the length of protective netting at high school facilities for the safety of fans, which was something Mike Coolbaugh worried about when he played in the minors, according to former Drillers radio broadcaster Mark Neely.
Coolbaugh always asked his family to sit behind the netting, and once, Coolbaugh saw his wife Mandy talking with a friend beyond the netting while he was playing third base, and he walked over and told Mandy to move.
"He knew how dangerous foul balls were," said Neely, who now broadcasts college football and basketball for ESPN.
Neely and Mandy Coolbaugh petitioned major league baseball to extend the netting after Mike Coolbaugh's death. Virtually no action was taken until eight years later.
"Quite frankly it just fell on deaf ears," Neely said.
"I remember being in a [player's] union meeting," said former Astros player Chris Burke, who was teammates with Coolbaugh in Class AAA Round Rock. "And they were talking to us about the way that maple bats break. And they were scared about the maple bats shattering. 'Dude are yall serious?' We hit 100 mph balls into the seats all the time. The players get hurt. Fans getting hurt? Put the nets up."
Net benefits
On December 2015, MLB Commissioner Rob Manfred issued a recommendation that ballparks extend its netting beyond 140 feet of home plate. Professional baseball in Japan had already extended netting to reach far down the outfield lines.
A 2014 Bloomberg report cited that 1,750 fans in America were injured by foul balls every year. Several major league and minor league stadiums are still not in compliance with the recommendation.
Some ballparks can't afford to engineer the infrastructure necessary to extend the netting, which, depending on the ballpark, may require additional poles and engineering that can cost more than $100,000.
There is a wide range of netting lengths in the minor leagues: the Class AAA Rochester Red Wings' netting only reaches the start of both dugouts at Frontier Field, and the Class A-Advanced Carolina Mudcats' netting nearly reaches both outfield foul poles.
The Arkansas Travelers spent $36,000 before the 2017 season to extend the netting at Dickey-Stephens Park to the ends of both dugouts, and Allen said he does not believe they will be extended further.
Travs catcher Tyler Marlette said he and his teammates talk about line drives entering the stands "all the time" and "how they need to extend [netting] down the line."
"Not a high one," Marlette said. "But just a low one that gets the line drives or the ones that bounce up and catch them off guard."
Left fielder Chuck Taylor said extended netting could take away some "Top 10" catches down the foul lines, and Allen said further nets set the risk of making the baseball experience "into hockey" with too much of a barrier.
"To continue to put the nets further, obviously, you increase safety," Allen said. "But you can't completely protect everyone, from everything that can ever happens. People have to be aware of their surroundings."
Remembering Mike
Before Anne Michael Coolbaugh quit tee ball, she carried a baseball card of her father in her equipment bag.
It was one of the many small ways that the 9-year-old has tried to connect to a father she never knew.
After Anne was born, Mandy would set pictures of Mike at her infant's eye level, and Anne would slap the pictures and say, "dad, dad."
Her older brothers, Jacob and Joey, would tell stories, oftentimes the funny ones, so she could also remember.
"I always wanted her to know who her father was," Mandy said. "He's a part of her world as much as he can be."
Friends of Mike still check in, which is something Mandy said "is one of the things God's blessed us with." She has lost touch with some people, including Tino Sanchez, of whom she last heard had returned to his hometown of Rio Piedras, Puerto Rico, to help with youth baseball.
Each year, Mandy Coolbaugh helps host the Mike Coolbaugh Memorial Golf Tournament in San Antonio that raises funds to help support young widows and their families.
Sometime soon, Jacob, 13, and Joey, 15, want their mother to take them on a road trip to the ballparks their father played in. The family has never been to North Little Rock, and Mandy isn't sure if they ever will.
Every year, the Travs play a video commemorating Mike's life on the Dickey-Stephens scoreboard, and the organization accepts donations for a charity run by Scott Coolbaugh, Mike's brother and Baltimore Orioles hitting coach, that donates used baseball equipment to communities in need.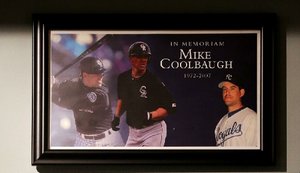 Photo by Thomas Metthe
A memorial to Mike Coolbaugh hangs in the Arkansas Travelers museum at Dickey-Stephens Park in North Little Rock. Coolbaugh died after being struck by a foul ball at the park in 2007.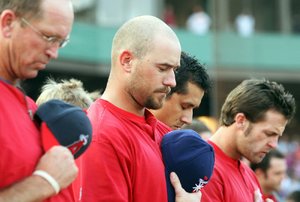 Photo by Democrat-Gazette file photo
Arkansas Travelers players and coaches take part in a moment of silence at Dickey-Stephens Park in North Little Rock on July 24, 2007, two days after Tulsa Drillers base coach Mike Coolbaugh died after being struck by a foul ball during a game at the park.
Photo by Arkansas Democrat-Gazette
Graphic showing the range of protective netting in some minor-league ballparks
Tonight, the video will play, the players will step onto the field, and a coach, with a batting helmet, will stand beside first base.
"I hope people don't forget Mike, and improve the safety of the game and the stadium," Mandy said. "None of us know when the last day is. Love the people around you."
Sports on 07/22/2017