Some Arkansas Scholarship Lottery retailers are still unsure whether they will accept debit cards on ticket purchases when the law allowing the cards' use takes effect Aug. 1.
They fear that the cost of accepting debit-card purchases will outweigh the small commissions they get for selling the tickets.
Yun Lee, owner of the Kwik Chek III store along Geyer Springs Road in Little Rock, said last week that he wants to make sure his store at least breaks even if he accepts debit-card lottery purchases. But he doesn't think debit cards will make "a big difference" on his sales.
In the fiscal year that ended in June, Kwik Chek III ranked fifth-highest in net lottery sales among the more than 1,900 retailers statewide, according to the lottery. The store's net lottery sales totaled more than $981,000 in fiscal 2017.
Lee said "very few people" have asked to use their debit cards for the lottery in the past.
Other retailers said they won't accept debit cards because they'll lose money or will accept them only with larger purchases.
The law allowing debit-card use, Act 876 of 2017, also allows retailers to accept other "noncash, noncredit methods of payment," such as Apple Pay and Google Wallet. Credit cards and checks are still prohibited, lottery Director Bishop Woosley said in a letter to the retailers.
But the law makes retailers who accept these payment methods responsible for any costs, fees or charge-backs that go with those transactions.
Lottery retailers are paid a "base commission" of 5 percent on sales of scratch-off tickets and of tickets for draw games such as Powerball, Mega Millions, Cash 3, Cash 4 and the Natural State Jackpot.
The retailers also receive a "cashing commission" of 1 percent for each dollar in prizes redeemed by customers. Retailers are required to redeem prizes up to $500.
Retailers also get a "selling commission" of 1 percent of a prize amount of $10,000 or more on each ticket validated and paid to a player. The selling commission is limited to $50,000.
They also may receive a commission up to 10 percent on "special games" authorized by Woosley under the lottery's rules.
Ben Hooks, owner of the G&B Liquor store in Stuttgart, said the debit-card fees charged to his store by card companies are high, ranging from about 30 cents to 60 cents per transaction, which would take away from the commissions from the lottery.
He probably will require a customer to make a minimum purchase of $100 to accept a debit card to buy lottery tickets, he said.
"On any type of $5, $10 or $20 purchase, we are not going to accept them," he said in a telephone interview.
"It is kind of going to be a mystery trial. We are going to see how it works out."
G&B Liquor ranked seventh among ticket retailers last fiscal year with more than $937,000 in net sales, according to the lottery.
In a letter to outlets dated July 13, Woosley noted that recent retail studies show more than 25 percent of purchases are made with debit cards. A National Association of Convenience Stores report said 34 percent of convenience store shoppers pay with cash, he wrote.
"Further, the Hoosier [Indiana] Lottery recently compared the year-over-year volume per outlet of chains that accepted debit cards for lottery purchases versus those that did not, and found an 8.6 percent increase for those accepting debit cards," Woosley wrote in his letter.
During this year's legislative session, the law's sponsor, Sen. Trent Garner, R-El Dorado, told lawmakers that two large retail groups, Murphy Oil USA and Kum & Go, supported his bill.
But Andrew Nettles, manager of the Tobacco Mart on Military Road in Benton, said the store won't accept debit cards for the lottery because of the fees charged by the card companies.
For example, lottery purchases by 18 people using debit cards would have wiped out the store's commissions from sales on one recent day, assuming that the store didn't charge a fee on lottery debit purchases, he said. About 350 people visit the store each day, he said.
"Unless our competitors do it, I don't think [accepting debit cards] is going to help us at all," Nettles said.
"It's just going to make things harder."
But Jamie Clark, manager of the "No. 1 seller in the state," Y&E Superstop in Bryant, said she assumes the store will accept lottery players' debit cards.
"We sell so much, and we get a lot of travelers" stopping at the convenience store and gas station along Interstate 30, she said in an interview at the store.
"I have a lot of people who pull out their cards" to pay because they buy lottery tickets in other states with debit cards, she said. "... We lose that sale unfortunately."
Thirty-nine states currently allow debt-card lottery purchases, Woosley said.
Lotteries in Louisiana, Missouri and Texas allow retailers to accept debit cards, but Oklahoma and Tennessee don't. Mississippi doesn't have a state lottery.
Woosley said last week that he didn't factor debit-card purchases in his projections for revenue and net proceeds for fiscal 2018 because he wasn't sure how many retailers would participate.
He also said he expects about a third of the lottery's 1,900-plus retailers won't accept debit cards.
Texarkana, Texas-based E-Z Mart Stores Inc. -- with 85 retailers, the largest corporate seller of lottery tickets -- "will not be accepting debit cards as a new method of payment option for lottery sales," chief executive Sonja Yates Hubbard said Friday.
"For our company, the decision was easy because the cost of a basic transaction exceeds the commission generated," she said.
"Debit fees are a fixed 21 cents (plus a small percentage) per transaction, but lottery commissions to retailers are only 5 cents on a $1 ticket. That math just doesn't work. Unless that customer is now motivated to spend $6 instead of $1, then we net lose money," Hubbard said in a written statement.
Teresa Dickerson, spokesman for third-largest lottery retailer, Kroger Co. (51 outlets), said Friday in a written statement that "honestly, we have not decided yet, but we will make a decision before August 1."
A spokesman for Murphy USA said Saturday that she didn't have information immediately available about the company's plans regarding whether to accept debit cards for lottery purchases.
Kum & Go, which has 48 outlets, plans to accept debit-card lottery purchases in Arkansas, said Justin Allen, a lobbyist for the company. Kum & Go accepts such purchases in at least nine other states, he noted.
"They expect to see an uptick in sales based on what they have seen in other states," he said.
People buy more items than a $1 lottery ticket on trips to Kum & Go stores, and the additional purchases more than make up for the card companies' transaction fees, Allen said.
A Kum & Go store that sells lottery tickets is near Baseline and Chicot roads in Little Rock and across the intersection from the Freeway Mart managed by Bongil Ko.
The Freeway Mart sold more than $1.5 million in lottery tickets last fiscal year to rank second in the state, according to the lottery.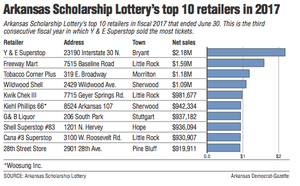 Photo by SOURCE: Arkansas Scholarship Lottery / Arkansas Democrat-Gazette
Graph showing Arkansas Scholarship Lottery's top 10 retailers in 2017
Ko said he plans to accept debit cards for tickets because he worries about losing sales to his competitors if he doesn't, despite the high fees.
"I don't have a choice."
SundayMonday on 07/23/2017