The cotton fields of Turkey Scratch are occasionally invaded by foreign tourists taking pictures.
They're fans of Levon Helm, looking for tangible evidence of the musician's roots in the Arkansas Delta.
After taking selfies with the city limits sign, they need someplace to go -- a shrine perhaps to the performer they admire.
Such a place is in the works.
An effort is underway to restore Helm's boyhood home and install a statue of the musician in downtown Marvell, which is 7 miles south of Turkey Scratch.
Helm, who died of throat cancer in 2012 at the age of 71, was a singer, drummer and mandolin player for The Band, which backed Bob Dylan before recording the critically acclaimed album Music From Big Pink in 1968.
The Band went on to record a total of 10 studio albums, and Helm had a solo career after that.
Helm is probably best remembered as the singer of The Band songs "The Weight" and "The Night They Drove Old Dixie Down." Later, he explored Arkansas roots music on his solo album Dirt Farmer, winning a Grammy for that one and Electric Dirt.
Helm also had an acting career, appearing in the movies Coal Miner's Daughter and The Right Stuff.
Helm was born near Elaine, grew up near Turkey Scratch and attended school in Marvell -- all of which are in Phillips County in east Arkansas. In the 1980s, he lived in Springdale in Washington County, but Helm spent most of his later years in Woodstock, N.Y., where he held regular "midnight ramble" concerts in his barn.
[EMAIL UPDATES: Get free breaking news alerts, daily newsletters with top headlines delivered to your inbox]
The Levon Helm Legacy Project is trying to raise money to restore his childhood home and commission a bronze bust of Helm by artist Kevin Kresse of N̶o̶r̶t̶h̶ Little Rock*. Kresse has already made a clay sculpture, measuring 26-by-20-by-12 inches, that is awaiting the funds for bronzing. Kresse said the sculpture will go on a pedestal in front of Helm's childhood home in Marvell, creating a permanent memorial.
"Fans of Levon will be able to visit the place that shaped and formed this musical icon who was at the forefront of the Americana music movement," according to the online fundrasier at gofundme.com/levonhelmmemorial.
The fundraising effort for the bronzing began July 8, and $4,120 of the $25,000 goal had been raised as of Wednesday. After the $25,000 is raised to bronze the sculpture, any remaining funds from the drive will go toward restoration of his childhood home, according to the website.
Memorial organizer Joe Griffith of Monroe County said about $150,000 is needed for the bust and restoration together.
Griffith said two Little Rock men -- Richard Butler and Jeremy Carroll -- bought Helm's childhood home and two other houses that were in a cotton field near Turkey Scratch from A.B. Thompson. They donated Helm's house to the Marvell Civic Club, and it was moved to Marvell two years ago. The other two houses will be cannibalized for parts to restore Helm's house.
Griffith said the houses date from the 1930s and are made of cypress. The house won't be painted. The rustic wood exterior will remain after the restoration, said Griffith.
Similar efforts were made to restore Johnny Cash's boyhood home in Mississippi County. It is now affiliated with Arkansas State University.
Anna Lee Amsden of Cabot, a longtime friend of Helm's, has been instrumental in the fundraising effort. She said the project will honor his contributions to music and film.
Amsden was immortalized in "The Weight," when Helm sang "'Well, Luke, my friend, what about young Anna Lee?' He said, 'Do me a favor, son, won't you stay and keep Anna Lee company.'"
Amsden said she doesn't mind when people ask if they can keep her company.
"My name will live on after I'm gone," she said. "If it brings a little joy to people, that's fine with me."
Marvell is 20 miles west of Helena-West Helena, which attracts blues fans year-round and particularly in October when the annual King Biscuit Blues Festival is held.
Griffith said Helm's fans are already finding Turkey Scratch, so they'll find Marvell, too.
Barbie Washburn, president of the Marvell Civic Club, said Helm's house now sits on the corner of Elm and Carruth streets, across the street from the Marvell Police Department.
About $15,000 raised previously was used to fix the roof and seal the house from the elements, Washburn said.
She said there will be a museum inside the house dedicated to Helm. Someone donated a set of his drums. Also collected are three sets of his drumsticks, one of his harmonicas and old Marvell school yearbooks from when he was known as Lavon.
Last month, U.S. 49 from Marvell to Helena-West Helena was dedicated as Levon Helm Memorial Highway through Act 810, which was sponsored by state Rep. Chris Richey, D-Helena-West Helena.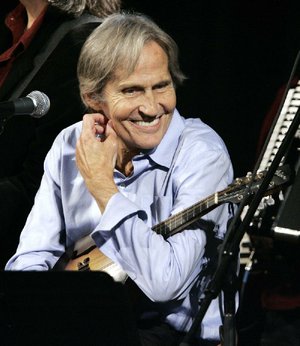 Photo by AP file photo
Musician Levon Helm, a native of Turkey Scratch in eastern Arkansas, is shown in this file photo.
Metro on 07/27/2017
*CORRECTION: Kevin Kresse lives in Little Rock. A previous version of this story incorrectly reported the town where Kresse lives.