Arkansas State Coach Blake Anderson said the entire roster was healthy going into fall camp, including the running back group that was nipped by injuries last season.
Senior Armond Weh-Weh suffered a season-ending ACL tear against Auburn last season, but he has been cleared for fall camp after missing spring practice. Senior Johnston White missed a game with a hamstring strain, and junior Warren Wand said he played with a bothersome ankle.
2017 Fall Camp Practice Schedule
Today: 8:50 a.m.
Sunday: 8:50 a.m.
Monday: 8:50 a.m.
Tuesday: 8:50 a.m.
Wednesday: 8:50 a.m.
Thursday: Recovery day
Friday: 8:50 a.m.
Aug. 5: 8:50 a.m. (scrimmage)
Aug. 6: TBA
Aug. 7: 8:50 a.m.
Aug. 8: 8:50 a.m.
Aug. 9: 8:50 a.m.
Aug. 10: Recovery day
Aug. 11: 8:50 a.m.
Aug. 12: 8:50 a.m. (scrimmage/Fan Day)
Aug. 13: Recovery day
Aug. 14: 8:50 a.m.
Aug. 15: 8:50 a.m.
Aug. 16: 8:50 a.m.
Aug. 17: Recovery day
Aug. 18: TBA
Aug. 19: 8:50 a.m.
Aug. 21: First day of classes
The ASU offense often relies on the ability to rotate several running backs, and the injuries required Wand to receive more carries than usual.
"When they got hurt, it was something different we had to work through," Wand said. "Every single one of us had nagging injuries. Just knowing that everybody's coming back into the season right now healthy, we're excited. We're motivated, and we want to show everybody what we can do."
Second-year running backs coach Norval McKenzie said Wand is the No. 1 running back going into camp, but that doesn't necessarily mean he's the "feature back."
"We're all about production," McKenzie said. "So, whoever the back is, he's going to have a lot of confidence, and he's going to be a guy everybody rallies behind. And it doesn't matter who's in there, I don't think we're going to miss a beat."
Hansen the guy
Arkansas State University knows who its quarterback is heading into preseason camp.
Junior Justice Hansen went 8-2 as a starter in 2016, when he replaced Pittsburgh graduate transfer Chad Voytik in a 28-23 loss to the University of Central Arkansas in the fourth week. The 6-4, 207-pounder threw for 2,719 yards, 19 touchdowns and 8 interceptions.
Hansen began his collegiate career at Oklahoma in 2014, transferred to Butler Community College (Kan.) in 2015, then transferred to ASU in 2016.
"This is the first time I've gone back-to-back seasons with the same coach," Hansen said. "I've got a lot of confidence in that, and I'm looking forward to it."
Anderson said backup redshirt freshman Logan Bonner aided Hansen and "pushed him every day."
The 6-1, 224-pound Bonner played in a run-pass-option offense similar to ASU's while at Rowlett High School in Texas, where he was named to the Class 6A All-State Team by the state's Associated Press Sports Editors.
Second-year offensive coordinator Buster Faulkner said he was impressed by Bonner's performance in the spring.
"He'll be ready when his number's called," Faulkner said.
Offensive tweaks
In the offseason, Anderson and Faulkner made "tweaks" to their run-pass-option offense they said will result in a more vertical run and pass game.
The offense gives ASU the option to pass or run on the same play, and the Red Wolves already had run a version of the scheme last season.
"We just are probably doing a little more than we did a year ago," Faulkner said. "I think the biggest [reason we changed] is the type of offensive line we have. Last year, we were athletic, light, could reach and have more of an outside perimeter run game. This year, it's more of a vertical run game. It gets the ball downhill faster, and we'll have less negative plays."
ASU lost 393 yards rushing last season, which negated 18 percent from the total yards gained (2,177). Opponents' lost yardage negated 19 percent from their totals, and the ASU defense led the nation in tackles for loss (9.6 per game).
Hansen and senior wide receiver Dijon Paschal said the tweaks also include more deep passes. In seven games last season, ASU had at least one reception that totaled more than 40 yards.
"We're taking more shots down the field," Paschal said. "We have way more opportunities. That's a big thing. I feel like that's more where our offense is going to now: Taking bigger shots and being able to get off the field."
The wide receivers are buttressed by 6-5, 220-pound Kendrick Edwards, who sat out last season after transferring from the University of Arkansas, Fayetteville. As a Razorback, Edwards had four receptions for 70 yards and a touchdown.
"Don't want to crown him yet," Anderson said. "He's got the potential to be as good as anybody in the country. He just needs to be more consistent. If he plays to his ability, he can be a dominant receiver."
Pass rush
Senior defensive end Ja'Von Rolland-Jones returns after becoming the second defensive player to win the Sun Belt's overall player of the year award.
Anderson said Rolland-Jones "knows there's a lot of eyes on him" now that he's 13½ sacks away from tying the NCAA FBS career record that was set by Arizona State's Terrell Suggs from 2000-2002.
Anderson credited a portion of Rolland-Jones' success to former defensive end Chris Odom, who had 12½ sacks last season.Anderson wants there to be the same level of multiple disruption this season.
"We want it to be 'pick your poison,' " Anderson said. "It'll never be completely on anybody's shoulders."
Fourth-year defensive line coach Brian Early said there is plenty depth at the end position in ASU's 4-2-5 defense, and that "you'll see six or seven guys play defensive end on Saturdays."
Early said that 6-2, 240-pound Caleb Caston emerged as Odom's replacement in the spring, but he will be pressed by Hutchinson Community College (Kan.) transfer junior Ronheen Bingham, who bulked up from 222 pounds to 245 pounds since the spring.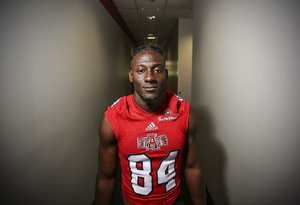 Photo by Mitchell PE Masilun
ASU Wide Receiver Dijon Paschal poses for a portrait during Arkansas State Football Media Day at Centennial Bank Stadium in Jonesboro Friday, July 28, 2017.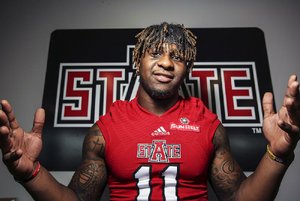 Photo by Mitchell PE Masilun
ASU Defensive End Ja'Von Rolland-Jones poses for a portrait during Arkansas State Football Media Day at Centennial Bank Stadium in Jonesboro Friday, July 28, 2017.
Sports on 07/29/2017