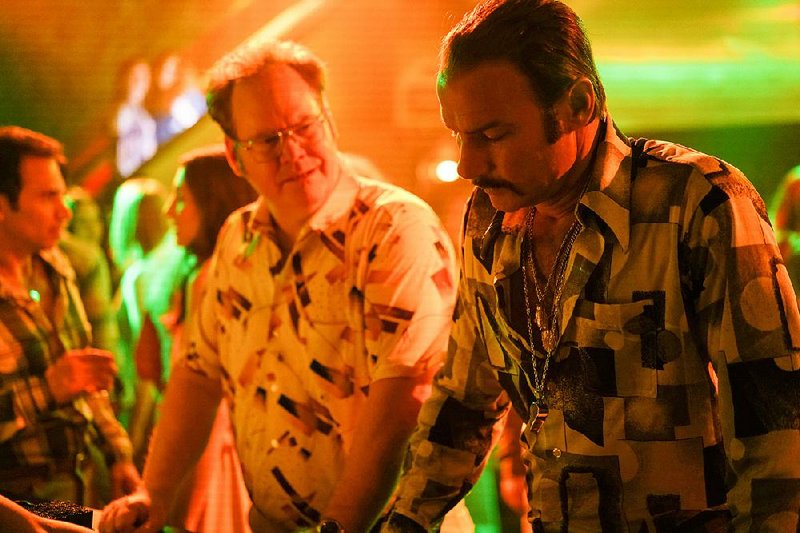 John (Jim Gaffigan) is New Jersey State Boxing champ Chuck Wepner's (Liev Schreiber) best friend and closest conÿdante in Philippe Falardeau's Chuck, a bio-pic of the man widely believed to be the real-life inspiration for Sylvester Stallone's Rocky character.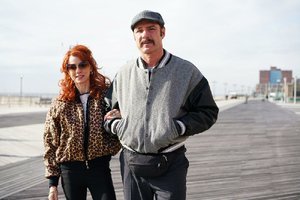 Chuck (Liev Schrieber) and Linda Wepner (Naomi Watts) stroll the Atlantic City boardwalk in a scene from Chuck, Philippe Falardeau's likeable portrait of the "Bayonne Bleeder," a mug who never really was a contender.
On a certain level, Chuck isn't that great a movie.
It's a standard bio-pic about one of pop culture's secret antiheroes. If you know who Chuck Wepner is, then you probably know the general outlines of his story. He is the New Jersey boxer whose story inspired Sylvester Stallone to make Rocky. He could take a punch, hence his nickname, the "Bayonne Bleeder," a moniker he understandably detested. He nearly went the distance with Muhammad Ali in 1975. There were 19 seconds to go in the 15th and final round when the referee stopped the fight.
Chuck
86 Cast: Liev Schreiber, Naomi Watts, Elisabeth Moss, Ron Perlman, Jim Gaffigan, Pooch Hall, Michael Rapaport, Morgan Spector
Director: Philippe Falardeau
Rating: R, for language throughout, drug use, sexuality/nudity and some bloody images
Running time: 1 hour, 38 minutes
I remember Wepner because I remember that fight and the magazine covers it engendered. I read all about him in The Sporting News, and I developed something of an affinity for him. He was a huge underdog when he fought Ali; the fight was supposed to be a mismatch. And it was -- though Wepner kept staggering forward, artlessly, like some pugilistic zombie. He wouldn't quit, and back in the day before we considered head trauma something we ought to worry about, he retained his dignity.
Wepner isn't the sort of sportsman people generally make into heroes, but it's wrong to think of him as a lucky bum. He earned his title shot. He was ranked as the eighth best heavyweight in the world in 1975 even though he still had a day job and had never trained properly for a fight. He wasn't exactly a club fighter like Rocky Balboa -- years before he got in the ring with Ali he'd fought George Foreman and Sonny Liston.
Philippe (Monsieur Lazhar) Falardeau's Chuck is a little coy about that. While his Wepner (Liev Schreiber ) wears his credentials on his sleeve, we see plenty of evidence of the New Jersey State Champ's small-timedness in the taverns where he's greeted as local royalty (he's graduated to liquor salesman; he was too gentle to be an effective leg-breaker for the mob) and the modest house he shares with his wife Phyll (Elisabeth Moss), a down-to-earth postal employee who might be called long-suffering if she wasn't so aggressive in undermining her husband's would-be dalliances. After all, he's just a man.
If you cut him, he bleeds. And bleeds.
Fortunately, the film isn't big on replicating the rhythms of what has become the typical boxing picture -- the fight with Ali comes at the end of the first act, not as the climax, and there's very little boxing in the rest of the movie. (Unless you count a charity match between Wepner and Victor the Bear, or his infamous wrestling match against Andre the Giant.) And while both Schreiber and Pooch Hall -- an actor with the Southern New England Golden Gloves title on his resume who plays Ali -- acquit themselves well in the ring, there's no emphasis on providing violent verisimilitude. Chuck is mostly about what happens after you become a Rocky-style folk hero.
Except Wepner is far more self-aware than Stallone's creation. He's seen Requiem For a Heavyweight, with Anthony Quinn as punch-drunk fighter Mountain Rivera, and he identifies with the has-been's insistence that he's not a bum. (It's not elaborated on in Chuck, but Ali, then known as Cassius Clay, appears in Requiem in a remarkable early scene where the camera assumes Rivera's point of view and Clay effectively finishes his career. So Wepner's real life rhymes with the fictional Rivera's and inspired the Rocky franchise, the DNA of which is being carried forward by the Creed movies, the second of which has been announced.) Wepner understands that he's only been given a shot against Ali because promoter Don King wants a white hope to boost interest in the fight and he's the only white man ranked in the top 10.
He has no illusions about his chances against the greatest except for a few seconds after he knocks down Ali in the ninth round -- a controversial knock-down that Ali claimed was a result of Wepner stepping on his foot. But then he realized he'd only made Ali angry.
The '70s catch up with Wepner in the heady days after his unlikely moral victory. Turns out he's a colorful interview, and everyone loves an overachieving underdog. His reaction to his first hit of cocaine is priceless -- his newfound fame gives him the wherewithal to frustrate Phyll's attempts to keep him grounded. He even meets Stallone (brilliantly impersonated by Morgan Spector), who tries to repay his debt by casting the boxer in a small role in a Rocky sequel.
But, as often happens in these real-life stories, Wepner loses his way and finds himself estranged from his family. A stand-up guy to the end, after being busted for cocaine he goes to prison rather than give up his supplier. After all, he reasons, why should someone else have to pay for his mistakes?
If there's a curl of uplift at the end, it's because the real Wepner did manage to finally get his act together again, with the help of tough-loving bartender Linda, played by Naomi Watts, who's been in a relationship with Schreiber for years. Apparently they're a sweet old couple now.
But the arc of the love affair isn't that important or arresting. The real meat of Chuck exists in the textures, the way the look and feel of the period are re-created. It's hardly a perfect film -- while Jim Gaffigan is hilarious (and unrecognizable) as Wepner's doltish best friend John, Ron Perlman struggles under distractingly heavy prosthetics that presumably make him look exactly like Wepner's trainer-manager and cut man extraordinaire Al Braverman. (Braverman's quite a few inches taller.)
Yet you root for this movie the same way you might have rooted for Wepner. It's not a contender by any stretch of the imagination, but it has a certain tough, hard-earned nobility.
MovieStyle on 06/02/2017
Print Headline: Chuck
Sponsor Content