President Donald Trump on Tuesday jumped into the dispute between Qatar and a powerful bloc of Arab countries led by Saudi Arabia, posting Twitter messages congratulating the Saudis for cracking down on the neighboring kingdom and crediting himself for sparking the breach over alleged Qatari funding for terrorism.
"During my recent trip to the Middle East, I stated that there can no longer be funding of Radical Ideology," Trump said in a series of morning tweets. "Leaders pointed to Qatar -- look!"
"So good to see the Saudi Arabia visit with the King and 50 countries already paying off," he tweeted. "They said they would take a hard line on funding extremism, and all reference was pointing to Qatar."
Trump's tweets came as Secretary of State Rex Tillerson, speaking in New Zealand, took a somewhat different tack, noting that "all" countries in the Persian Gulf "have work to do" in ending their support for extremism, and encouraging them to "resolve this through dialogue."
[PRESIDENT TRUMP: Timeline, appointments, executive orders + guide to actions in first 100 days]
The U.S. isn't planning a major mediation role, a State Department official said, pointing to offers from Turkey and Kuwait to intervene in what is emerging as the worst diplomatic crisis in the Persian Gulf in decades.
The regional crisis began Monday, when Qatar's Persian Gulf neighbors -- Saudi Arabia, the United Arab Emirates and Bahrain -- were joined by Egypt and smaller nations in severing diplomatic ties with Qatar, claiming it supports terrorists across the region. The dispute led to suspended flights, and regional ports closed to Qatari ships as the nation's anxious residents started stockpiling food.
[EMAIL UPDATES: Get free breaking news alerts, daily newsletters with top headlines delivered to your inbox]
The Pentagon, whose air operations for the Middle East are headquartered at an air base in Qatar, where at least 10,000 U.S. service members are stationed, opted for balance and calming words. "We recognize that there are differing views in the region that have gotten us to this point," it said in a statement. "United States and the Coalition are grateful to the Qataris for their longstanding support of our presence and their enduring commitment to regional security. We have no plans to change our posture in Qatar."
The statement said restrictions that Persian Gulf neighbors have imposed on Qatari movements in and out of the region "have not impacted our air operations," including missions in Iraq, Syria and Afghanistan. "U.S. Central Command is conducting appropriate planning to ensure that the full range of U.S. military operations in the Middle East can continue," it said.
A senior White House official said Trump's tweets did not indicate any change in policy or new information. "I think this actually shows the influence [Trump's] trip had to isolate those who fund terrorism in the region," said the official, who spoke on condition of anonymity to discuss the sensitive diplomatic issue.
At the State Department, an official said in an email that "the tweets are not incompatible. For example, we recognize that Qatar continues to make efforts to stop the financing of terrorist groups ... That said, while they have made progress, they [and we] recognize more work needs to be done."
"A strong, united front among our key partners is the best way to overcome our shared challenges," the official said, also speaking only on condition of anonymity.
'We are friends'
During his visit last month to Saudi Arabia, Trump delivered a speech to dozens of leaders from Muslim-majority nations gathered for the occasion. He met personally with Qatar's Emir Sheikh Tamim Bin Hamad al-Thani.
"We are friends, we've been friends now for a long time ... our relationship is extremely good," Trump said at the beginning of the private meeting. "One of the things we will discuss is the [Qatari] purchase of lots of beautiful military equipment. ... It's an honor to be with you."
Trump used the Riyadh visit to urge Arab states to wage wider crackdowns on militant groups, including funding channels. But his strong message of support to Saudi leaders, in particular, also may have encouraged Riyadh to act on a long-standing feud with Qatar.
Tillerson, traveling Monday in Australia with Defense Secretary James Mattis, moved quickly to try to close the regional fissure with comments that he added to on Tuesday.
"I think every country in the region has their own obligations they need to live up to," Tillerson said in New Zealand, "and they have their own challenges to live up to that commitment to terminate support for terrorism, extremism, however it manifests itself anywhere in the world. And I would say that's true of all the GCC countries; they have their own work to do in that regard."
The GCC is the Gulf Cooperation Council, whose six members -- Saudi Arabia, Bahrain, United Arab Emirates, Kuwait, Oman and Qatar -- signed a communique with Trump pledging to continue their joint fight against terrorism. Trump's visit also culminated in what the administration said was $110 billion in arms sales to Saudi Arabia.
Trump has repeatedly praised Saudi King Salman as the "wise" leader of the region and indicated that he considers the Saudis the leaders of the Sunni Muslim world.
Small but influential Qatar has long been at odds with some of its regional partners over its support for the Muslim Brotherhood, which is seen by Saudi Arabia and other nations as a threat to the network of ruling monarchs and others across the region.
Qatar also flexed its political influence by using its energy wealth to become a key patron of groups such as Hamas in the Gaza Strip and, in the mid-1990s, launch the Al-Jazeera media network, which has wide reach through the Arab-speaking world.
U.S. officials who monitor terrorist funding have said that Persian Gulf governments have made significant strides in ending official support for terrorist groups, although some money still flows from individuals, primarily in Kuwait and to a lesser extent from Qatar.
"They have made progress," State Department spokesman Heather Nauert said Tuesday, while adding that "they and we recognize more work remains to be done."
Nations weigh in
After Monday's events, Kuwait took the lead in trying to broker a dialogue. The country's emir, Sabah Ahmed al-Sabah, headed to Saudi Arabia for talks with King Salman. In response to Kuwaiti urging, al-Thani agreed to postpone a speech about the crisis, Qatar's foreign minister told Al-Jazeera.
Turkish President Recep Tayyip Erdogan, meanwhile, spoke with the leaders of Saudi Arabia, Kuwait and Qatar about resolving the dispute. Turkey enjoys good relations with the parties in the conflict.
"President Erdogan has initiated diplomatic effort to resolve this dispute between friends and brothers" during "the holy month of Ramadan," presidential spokesman Ibrahim Kalin said in a statement.
Russian President Vladimir Putin spoke by phone with al-Thani and reaffirmed Russia's position "in favor of settling crisis situations by political and diplomatic means, through dialogue," the Kremlin said.
Meanwhile, the Philippines said it will temporarily suspend the deployment of Filipino workers to Qatar. Labor Secretary Silvestre Bello said the ban took effect Tuesday, but there is no plan yet to repatriate the more than 200,000 Filipino workers in Qatar. More than 1 million Filipinos live and work in Saudi Arabia, Qatar and Bahrain.
FIFA, soccer's world governing body, has said it remains in regular contact with Qatar, which will host the 2022 World Cup. Qatar just finished one of the stadiums for the tournament, though others have yet to be built.
Qatar Airways, one of the region's major long-haul carriers, has suspended all flights to Saudi Arabia, the United Arab Emirates, Egypt and Bahrain until further notice. On its website, the carrier said the suspension of its flights took effect Tuesday and that customers are being offered refunds.
Saudi Arabia said it revoked Qatar Airways' operating licenses and closed the airline's offices in the kingdom. The Saudi ports authority said Qatari-flagged shipping vessels are barred from docking. It said it ordered shipping agents not to receive any vessels owned by Qatari companies or Qatari citizens and not to unload any goods from Qatar.
The tiny, peninsular monarchy of Qatar depends on sea routes and its land border with Saudi Arabia for nearly all its consumer goods. In Doha, worried residents emptied store shelves and stocked up on other key supplies.
The world's largest exporter of liquid natural gas, Qatar normally offloads its cargo in the UAE to be transferred on larger ships. The same happens with its exports of aluminum.
Beyond hosting U.S. troops, Qatar has invested billions in the U.S. and increased its clout in Washington along the way.
Meanwhile, banks from Saudi Arabia, Bahrain and the UAE also are holding off on dealings with Qatar, putting further pressure on its currency.
Information for this article was contributed by Karen DeYoung, Sudarsan Raghavan, Paul Schemm and Kareem Fahim of The Washington Post; and by Josh Lederman, Lolita C. Baldor, Richard Lardner, Jon Gambrell, Jim Gomez, Aya Batrawy, Nasser Karimi and Matthew Lee of The Associated Press.
A Section on 06/07/2017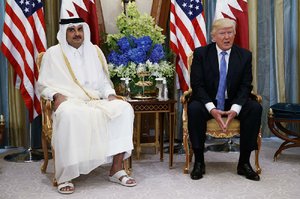 Photo by AP/EVAN VUCCI
Qatar's Emir Sheikh Tamim Bin Hamad al-Thani and President Donald Trump hold talks May 21 in Riyadh, Saudi Arabia, during Trump's Middle East trip. "We are friends, we've been friends now for a long time … our relationship is extremely good," Trump said at the beginning of the private meeting.