She's a minister, a blogger, a former congressman's wife and a mother of four, including 8-year-old triplets.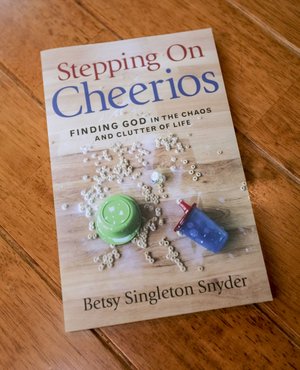 Photo by John Sykes Jr.
Stepping on Cheerios: Finding God in the Chaos and Clutter of Life, a new book written by Betsy Singleton Snyder, can be described as a series of inspirational sermons that mixes the Bible and pop culture in with the antics of four young boys.
Now, she's also a published author.
Betsy Singleton Snyder's new book, Stepping on Cheerios: Finding God in the Chaos and Clutter of Life, tells the story of her midlife journey into motherhood and into an acceptance of her limitations in part because, as she put it, "I'm also ancient."
Singleton Snyder, now pastor of preaching and missions at Pulaski Heights United Methodist Church, was 47 when she and her husband, former U.S. Rep. Dr. Vic Snyder, learned she was expecting triplets.
"Sisters, no one plans to have triplets," she writes. "I promise that it never entered my realm of possibility."
The couple's oldest child, Penn, is now 11. Brothers Aubrey, Sullivan and Wyatt are 8.
Singleton Snyder's book is like a
series of inspirational sermons that mix the Bible and pop culture, not to mention the antics of four little boys. Think Anne Lamott without the profanities and with lots of biblical references and quotes.
"My mind is always thinking about Scripture even if it's not overt," Singleton Snyder said.
Each chapter opens with a quotation from the Bible and one from the likes of a Harry Potter book or The Simpsons television series.
Chapter 1, titled "A Hail Mary," opens with Luke 1:38: "Then Mary said, 'I am the Lord's servant. Let it be with me just as you have said.' Then the angel left her." Next is this quotation: "When I find myself in times of trouble, Mother Mary comes to me," from The Beatles' song, "Let It Be."
Singleton Snyder is now 55. Her husband is 69.
"We're really old, and sometimes people think we're the grandparents," she writes.
She takes comfort in the Old Testament account of Sarah and Abraham. Genesis says Sarah was 90 when she learned she was expecting a baby. Abraham was 100 when Isaac was born.
"God has a knack for picking older parents," Singleton Snyder writes. Unlike Sarah, though, Singleton Snyder says she didn't laugh when the doctor told her that her "twins had turned into triplets. ... In fact, I sobbed every night for a week. ... But once in my arms, they were just so puppy-breath adorable."
Today, all four youngsters' favorite pastime is ice-skating, that is, when they're not leaving "tire marks" on a chair's new suede slipcover, traces of "neon-blue, glitter gel toothpaste smeared in the rug" or on the floor, or Lego pieces in unexpected places where vulnerable bare feet can walk over them.
Singleton Snyder considers herself a neat freak but admits, "I love this messy life. It will never be balanced or finished because that's the nature of creation, and God is always creating new stuff."
She's also an overachiever who doesn't let go easily.
For nine weeks, she tried to breast-feed the triplets, even after she began having trouble breathing and was hospitalized with cardiac failure caused by a virus that had attacked her heart during pregnancy.
Not knowing whether her health would improve or worsen or if she could ever return to the ministry, she "lived between bouts of crying and pumping breast milk."
"Looking back," she writes, "the pump needed to go; but for nine weeks, it was a way of controlling a situation beyond my belief and acceptance, as well as bonding with my preemies."
On a recent day in June, Singleton Snyder was relaxing at her tree-shaded home in the Heights neighborhood of Little Rock. A lemonade stand sat outside the two-story house. All four children had gone to church camp for a week, and it was her first week at home without them since the triplets were born in December 2008.
The usually noisy household is much quieter on this day. There are a visitor's knocks on the front door, a televised congressional hearing ("I'm a news junkie," she says.), the meows of a tabby cat, Cougar, and the barking of dogs Nilla, a golden retriever who greets guests with a big stuffed toy hanging from her mouth, and Nori, a white and chocolate pointer who enjoys hunting but only in warm weather.
Reminders of the children abound in the house. There are, of course, pictures. There are also the Harry Potter Hogwarts T-shirt that Singleton Snyder is wearing, the chess set sitting on an ottoman and her own conversation. She mentions the ice-skating medals her boys recently won, the Bibles all but one of the boys forgot to take to vacation bible school, and the overwhelming responsibilities and fears brought on by the triplets' birth, then her heart illness.
"Most of my prayers ... at that point were how am I going to deal with this, what is my path going to be," she said, recalling the many women who showed up daily to help her care for the babies at home. Wiping away tears, she spoke of the immense "sense of gratitude" she felt and said, "To this day, that makes me tear up."
She spoke of her "brush with mortality."
"You think '... Even if I'm not here, there will be wonderful people here to take care of my children. ... But I think, 'God, I sure would like to be here.'" And she wiped her eyes again.
Singleton Snyder's older sister, Gayle Gardner of North Little Rock, recalled the two praying together as Singleton Snyder was terrified by her illness and overwhelmed with three new babies and a toddler.
Gardner told her sister that she was much loved and said, "You've got these babies, and God's going to be with you."
"It's just been an incredible journey to see her evolve and to see how her life is richer but also her ministry is so much richer," Gardner said. "She just has a heart for people, for children and mothers and dads."
Singleton Snyder stresses in her writing and in conversation the need for parents to give themselves some space to develop their own interests. For her, one "healing" outlet has been writing, whether for her blog at Betsy@WomenadeStand.com, her book or her sermons.
She hopes her book will "give moms -- dads, too -- support," to show that even as they "live in the chaos," they can "know that God is with [them]."
As she put it, "We can find God in Legos and lost pacifiers."
Religion on 06/17/2017