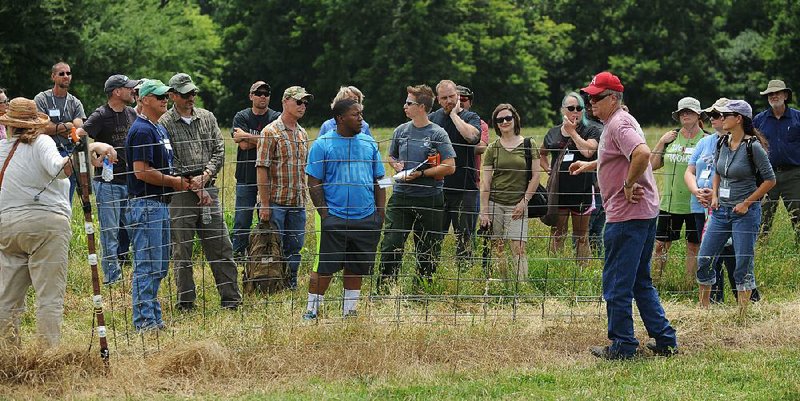 Ken Coffey, co-owner of a sheep and goat farm near Prairie Grove, talks about fencing Wednesday to military veterans participating in the Armed to Farm program. ( NWA Democrat-Gazette / Andy Shupe)
It all began with a veteran who didn't know how to raise chickens.
Photo by Andy Shupe
Linda Coffey, a program specialist with the National Center for Appropriate Technology and coowner of a sheep and goat farm near Prairie Grove, shows Regina Merritt of Graceville, Fla., the proper way to milk a goat.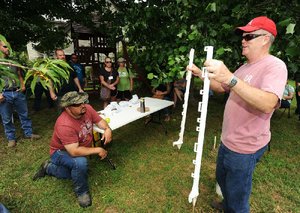 Photo by Andy Shupe
Ken Coffey talks with participants in the Armed to Farm program about fencing Wednesday at his sheep and goat farm near Prairie Grove.
Seven years ago a farmer in the hills of Northwest Arkansas began a poultry operation with two-dozen laying hens.
"It's grown exponentially from there," said Terrell Spencer, owner of Across the Creek Farm. Today, he sources an annual average of 10,000 to 12,000 chickens to farmers markets, food co-ops and restaurants, who find value in knowing exactly where their food comes from.
Before building a name for himself as a pasture-raised chicken farmer, Spencer served a yearlong combat tour in Iraq as a "machine-gunner on a Humvee," he said. After being wounded, he returned home in 2005, attended the University of Arkansas, Fayetteville and was later diagnosed with post-traumatic stress disorder.
"I was in tons of pain and going crazy," he said. "I ended up getting a few chickens and found it was really therapeutic. Then I got hooked up with the local community, did a lot of counseling and that's what saved me."
At the university, Spencer studied environmental soil and water sciences and worked at the National Center for Appropriate Technology, which serves economically disadvantaged people by offering information and access to tools that can help improve their lives. He worked as a poultry expert for the center's farming division and began brainstorming a possible program for military veterans who wanted to farm but maybe didn't know what the next step was or what resources were available.
Established in 2013, the Armed to Farm program educates military veterans from across the country by offering them a chance to tour farms; gain hands-on experience working with livestock, fruit and vegetable farmers; and learn business, marketing and goal-setting techniques from industry professionals. Since its inception, more than 200 participants from 31 states have completed the program and 77 percent are successfully farming or starting operations. The weeklong program is hosted across the country and last week the National Center for Appropriate Technology held its fourth training program in Fayetteville.
Each program is area-specific. In Montana, most of the farms that participate are small grain producers, said Margo Hale, the National Center for Appropriate Technology director of the southeast regional office. In Northwest Arkansas, farms range from apple orchards and organic-vegetable growers, to grass-fed beef and poultry operations.
Hale said she sifted more than 100 applications for last week's session and had to narrow her selections down to 30 veterans. Most of the applicants this year had a basic knowledge of farm operations.
Veterans who participate in the program vary in age, Hale said, with some who have been active 20 years and want to retire as a farmer, and others who are younger and want to shape their hobby into a profession.
"There's something different about the Armed to Farm program," she said. "They're from different parts of the state, or out of state, but there's this level of bond that's there ... Immediately they start teasing different branches, or each other."
Last week, the motley crew toured Ames Orchard & Nursery, Ozark Alternatives Farm, Maple Gorge Farms and Across the Creek Farms, for hands-on tips on how to grow fruits and vegetables and manage livestock on small-scale farms.
While touring and sitting in on classes, Rachel Schaap, of Fairview, N.C., found herself constantly sending messages back to her spouse about how they could optimize their farm operations. As an owner of Fearless Ferments, produced by Life Boundless Farm, Schaap said she focuses on fermented and novelty products such as sauerkraut, kombucha hot sauce, and vinegars, with the goal of participating in an area farmers market next year.
Before starting her own business, Schaap served six years on active duty in Italy, working as a flyway security officer, and later was in the Air Force Reserve for two years. Like Spencer, she said living on a large plot, farming and caring for animals was therapeutic, but hard work -- a nice fit for a veteran.
"It's interesting, because I think we make good farmers," Schaap said. "I don't want to say we're stubborn; but, I think we're very mission-oriented and there's a sense of pride when you accomplish goals. With farming, there's constantly an obstacle and you gotta find a way around it."
Almost 90 percent of farmers fail within the first five years, according to the National Center for Appropriate Technology.
Also in attendance was Malcolm Harris, 28, of Marvell, who remembered watching his parents tend row crops as a child. They devoted 40 acres to soybeans, Harris said. He didn't understand why it was difficult to find fresh produce in his small town.
"[For consumers] there's not much use for soybeans," he said.
After being stationed at Keesler Air Force Base in Biloxi, Miss., as an airfield technician, Harris worked industry jobs, saved some money and soon moved back to his hometown in eastern Arkansas, where he works an acre of mostly purple-hull peas, okra and bell peppers for his community. He said he wants to open a vegetable stand.
SundayMonday Business on 06/18/2017
Print Headline: Military veterans find farming's a good fit
Sponsor Content