FAYETTEVILLE -- Everybody loves a good Hail Mary for a victory.
The Arkansas Razorbacks were on the right side the day after Thanksgiving 2008, with Casey Dick's heave hitting London Crawford in the end zone for a 24-yard touchdown with 21 seconds remaining to give Arkansas a big lift at the end of Coach Bobby Petrino's debut season.
The game, immediately dubbed "Miracle on Markham II", checks in at No. 17 on the Arkansas Democrat-Gazette's list of the top 25 most memorable Razorbacks games in 25 years of SEC play.
That the Razorbacks put a dagger into LSU, the defending national champion and perhaps the Hogs' biggest rival since joining the SEC in 1992, made it all the more sweet. Six years earlier, the Razorbacks had done virtually the same thing to LSU on the same field in the same corner of the same end zone at War Memorial Stadium.
The original "Miracle on Markham" in 2002 carried significant weight, as it propelled the Razorbacks into the SEC Championship Game.
The sequel wasn't as momentous, but it was satisfying all the same on a fourth-and-1 play at the end of a 5-7 season.
Petrino referred to the victory over LSU as a difference-maker in recruiting for years to come.
For the senior Dick, who was out with a concussion the previous game and on the bench in favor of his brother, Nathan, his strong relief effort capped a wild college career that featured a revolving door of offensive coordinators and quarterback coaches.
Instead of trying for a first down on fourth and 1 with the clock winding down, Petrino called for a throw to the end zone, and Crawford beat LSU's Chris Hawkins on Dick's perfectly thrown pass.
"There's a ton of emotion running through you right there," Dick said. "Obviously it's the last pass you'll ever throw. It's against LSU, and there's 20 seconds left. If he catches it, we've got a good shot to win.
"It was overwhelming emotion after going into that game not really thinking that I was going to play in the last game of my career. To end it that way is something that you'll never forget. Not a whole lot of people throw a touchdown on your last play with 20 seconds left to beat LSU."
Said Petrino on game night: "You just take your hat off to Casey and feel great for him ... a guy that's fought through a lot, has had a lot of controversy here in his four years."
Crawford also talked up his fellow senior.
"Whether he was coming off the bench or starting, he always was a guy that kept his head up, a guy that kept a smile on his face, a guy that worked hard when times were down," Crawford said.
Nathan Dick led the University of Arkansas, Fayetteville to touchdowns on their first two possessions -- a 17-yard Dennis Johnson run and a 1-yard pass to Andrew Davie on fourth and goal -- against LSU to lead 14-3. Nathan Dick injured his thumb late in the first half as the Tigers rallied to take the lead.
LSU freshman quarterback Jordan Jones hurt the Hogs with his arm and his legs as the Tigers piled up 242 total yards in the first half and led 23-14.
LSU led 30-14 early in the second half before the Razorbacks began their rally behind their senior quarterback.
Two freshmen from the Hogs' bountiful signing class that season played big roles. Jarius Wright caught a 46-yard touchdown pass on and out-and-up route from Casey Dick to pull Arkansas within 30-21 in the third quarter. Johnson had his first 100-yard game with 127 rushing yards and a touchdown in place of Michael Smith, who was out with a hamstring injury.
The Tigers also contributed to their own demise. An offense that scored 27 consecutive points managed just 62 yards in the second half, including 18 yards after its second possession of the half. The LSU defense committed four penalties, including unsportsmanlike conduct and a personal foul, during a 17-play, 90-yard field goal drive that brought the Hogs within 30-24.
"Make no mistake, Arkansas played extremely well," LSU Coach Les Miles said that day. "You can't make penalties like that and expect to win the game."
The Razorbacks top defensive players in the game were tackle Malcolm Sheppard, who had 2 sacks and 3½ tackles for loss among his 8 stops, safety Matt Harris with a sack and 7 tackles, safety Jerico Nelson with 1½ sacks and 6 tackles, and cornerback Ramon Broadway, who had 2 tackles for loss.
The Razorbacks did not make the postseason that year, but they showed they were trending in the right direction at season's end. The team that lost by a combined 108 points in three consecutive games against top 12 teams Alabama, Texas and Florida earlier in the year had shown it never quit trying, a quality that would serve it well in the coming seasons.
Sports on 06/20/2017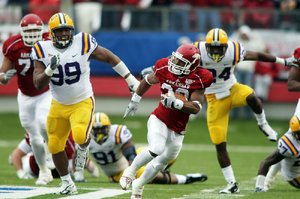 Photo by Benjamin Krain
Arkansas running back Dennis Johnson was part of the Razorbacks' success in this game, rushing for 127 yards on 18 carries and scoring the team's first touchdown early in the first quarter.
Unless you're on the wrong side of it.
Why this game mattered: Arkansas had no shot at a bowl, but the Razorbacks played with passion in the 2008 finale for Bobby Petrino, who cited this game as a springboard in recruiting and for what was to come.
No. 17: Arkansas 31, LSU 30
Nov. 28, 2008, War Memorial Stadium, Attendance: 55,325
Nov. 28, 2008
War Memorial Stadium
Little Rock
LSU;3 20 7 0 — 30
Arkansas;14 0 7 10 — 31
FIRST QUARTER
ARK—Johnson 17 run (Tejada kick), 11:40
LSU—FG David 29, 8:19
ARK—Davis 1 pass from N.Dick (Tejada kick), 4:54
SECOND QUARTER
LSU—Scott 5 run (Dvis kick), 11:25
LSU—FG Davis 46, 6:59
LSU—Dickson 11 pass from Jefferson (David kick), 1:17
LSU—FG David 31, :29
THIRD QUARTER
LSU—LaFell 32 pass from Jefferson (Davis kick), 13:06
ARK—Wright 46 pass from C.Dick (Tejada kick), 7:23
FOURTH QUARTER
ARK—FG Tejada 22, 12:33
ARK—Crawford 24 pass from C.Dick (Tejada kick), :21
Attendance—55,325
;LSU;ARK
First downs;18;23
Rushes-yards;44-161;31-118
Passing;143;280
Comp-Att-Int;9-21-0;25-40-1
Return yards;186;109
Fumbles-lost;1-0;2-0
Penalties-yards;8-77;7-66
Time of possession;28:15;31:45
INDIVIDUAL STATiSTICS
RUSHING—LSU, Jefferson 19-50, Williams 7-46, Holliday 3-38, Scott 12-28, LaFell 1-4, Murphy 2-(minus 5). Arkansas, Johnson 18-127, Barnett 3-16, Curtis 1-2, N.Dick 3-(minus 2), C.Dick 6-(minus 25),
PASSING—LSU, Jefferson 9-21-0 143. Arkansas, C.Dick 18-29-0 197, N.Dick 7-11-1 83.
RECEIVING—LSU, LaFell 2-49, Byrd 2-35, Dickson 2-19, Toliver 2-16, Johnson 1-24. Arkansas, Williams 8-51, Wright 3-63, Miller 3-47, Childs 3-35, Crawford 3-34, Salters 2-29, Davie 2-17, Adams 1-4.