WASHINGTON -- President Donald Trump signed legislation Friday that will make it easier to suspend, demote or fire incompetent Veterans Affairs employees.
Under the VA Accountability and Whistleblower Protection Act, disciplinary appeals will be sped up. Officials will also be authorized to recoup moving allowances, bonuses and other awards from senior executives if misconduct or poor performance is subsequently uncovered.
Also, employees who commit felonies that affect their work can have their retirement benefits reduced.
The U.S. Senate approved the legislation, SB1094, on a voice vote June 6. The U.S. House passed it 368-55. Fifty-four Democrats and one Republican opposed it.
[PRESIDENT TRUMP: Timeline, appointments, executive orders + guide to actions in first 100 days]
Arkansas' two U.S. senators, John Boozman of Rogers and Tom Cotton of Dardanelle, were among those standing behind Trump as he signed the bill into law Friday.
Both men were early co-sponsors of the legislation.
"This is one of the largest reforms to the VA in its history," Trump told the audience, shortly before adding his signature to the measure.
Then-VA Secretary Eric Shinseki resigned in 2014 after problems in VA facilities were revealed. Lawmakers expressed anger after reports of substandard care and systematic falsification or records at the VA.
On Friday, Trump called the problems a "nightmare."
"Veterans were put on secret wait-lists, given the wrong medication, given the bad treatments, and ignored in moments of crisis for them. Many veterans died waiting for a simple doctor's appointments," the president said.
"What happened was a national disgrace. And yet, some of the employees involved in these scandals remained on the payrolls. Outdated laws kept the government from holding those who failed our veterans accountable. Today, we are finally changing those laws ... to make sure that the scandal of what we suffered so recently never, ever happens again," he said.
The new law "gives the secretary the authority to remove federal employees who fail and endanger our veterans -- and to do so quickly and effectively," Trump said. "Those entrusted with the sacred duty of serving our veterans will be held accountable for the care they provide."
The law also mandates the existence of a VA Office of Accountability and Whistleblower Protection.
VA Secretary David Shulkin formally launched the office last month, taking action before Congress had acted.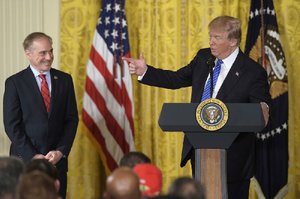 Photo by AP/SUSAN WALSH
President Donald Trump, joined by Veterans Affairs Secretary David Shulkin, said Friday that the new veterans law "gives the secretary the authority to remove federal employees who fail and endanger " our veterans — and to do so quickly and effectively."
Trump said the law "protects whistleblowers who do the right thing."
The goal, Trump said, is to strengthen the agency and honor those who faithfully serve the nation's veterans.
"We want to reward, cherish, and promote the many dedicated employees at the VA. This legislation also gives the VA secretary the authority to appoint new medical directors at VA hospitals -- something which was almost impossible to do in the past. And these are going to be talented, talented people," Trump said.
The East Room ceremony was attended by the heads of veterans service organizations. Shulkin, lawmakers and veterans flanked the president as he signed the new law.
Afterward, the two Republican legislators from Arkansas said the changes are overdue.
"It's really important. It's about ultimately keeping our promise to veterans," Boozman said.
"The good news is the vast, vast majority of VA employees do a tremendous job and work so so very hard to try and do their best in serving veterans. But it's a huge organization. Occasionally there are people that don't work out, and they need to be disciplined or terminated," he said.
With the law in place, it will be easier for Shulkin to remove poor performers, he added.
Cotton, who served in Iraq and Afghanistan, said veterans deserve better treatment than they've received.
"We've seen our veterans failed by the VA for many years in many places. Fortunately, we haven't had the kind of horror stories in Arkansas, to my knowledge, that we had [elsewhere]," he said. "Secretary Shulkin needs to be able to hold low performers accountable. ... This bill is long overdue, and I'm glad that it's finally passed into law and that President Trump signed it."
A Section on 06/24/2017