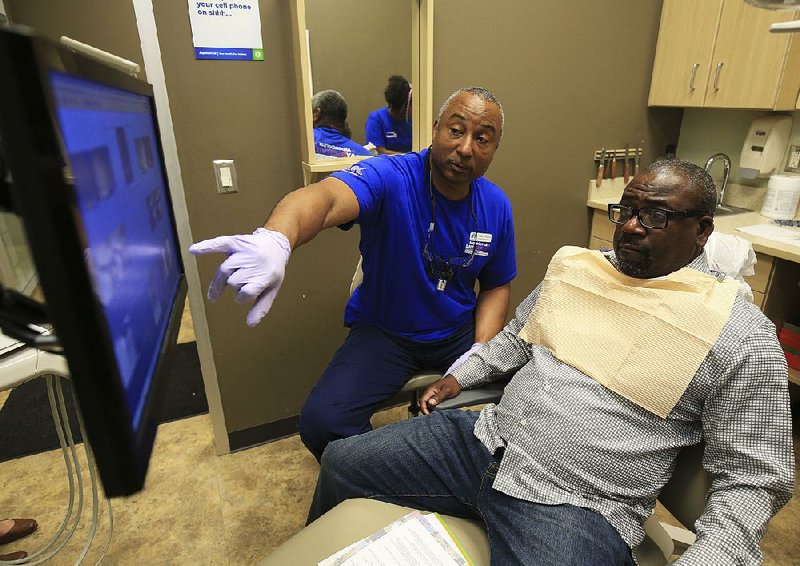 Dr. Darryl Ragland (left) talks with patient and veteran Bernard Brown on Saturday at the Aspen Dental location in Little Rock. Aspen Dental provided free care for veterans Saturday. ( Staton Breidenthal)
Darrel Briley had been dealing with tooth pain on and off for several years when he saw a TV ad for Aspen Dental.
The U.S. Air Force veteran was drawn to the Little Rock dental office for its Day of Service, where he had his teeth fixed free of charge Saturday.
"A lot of these individuals have been battling with a bad tooth that needs to come out, and they just want to be out of pain. So we just reserve this day to help them get out of pain," Dr. Darryl Ragland, the office's managing clinical director, said.
Saturday marked the dental company's fourth year of taking a day to provide cost-free services to veterans, many of whom do not receive dental coverage with their U.S. Department of Veterans Affairs benefits.
Red, white and blue wreaths and garlands hung in the front office of Aspen Dental's Little Rock office Saturday.
"We're just trying to meet some of our veterans in the community, find out what issues they've been having and how we can make a difference for them today," Ragland said.
Of the more than 21 million veterans across the United States, fewer than 9 million are enrolled in VA health benefits, according to statistics from the Veterans Health Administration, and not all veterans who receive those benefits qualify for dental coverage.
Veterans must be considered completely disabled, have been a prisoner of war or have developed a dental condition during their service to receive dental coverage.
Briley, who receives other VA health benefits, said it had been a few years since he'd been to a dentist, despite having broken a tooth more than a year ago.
"It's a funny thing with the VA. My father was a vet, and he was fortunate -- if you want to call it fortunate -- enough to be 100 percent disabled," Ragland said. "One hundred percent disabled is an entirely different situation for you at the VA as far as whatever medical or dental needs you have, and these patients fall in that category of not qualifying for various services."
Ragland said about 20 veterans went in Saturday for services including extractions, fillings and cleanings.
"Sometimes people just haven't had their teeth cleaned in forever," Ragland said.
He said some veterans he's seen have also gone to the VA hospital to get teeth pulled, but they need help finding other services, including routine dental work.
"Some of them are just kind of wanting information," he said. "What we're finding is that as they navigate their way through what is and isn't possible for them, there's a need there. There's people that are hurting that we can help."
Metro on 06/25/2017
Print Headline: LR dental office treats veterans, skips bite
Sponsor Content