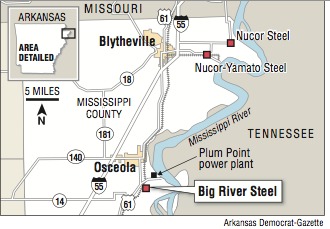 A map showing the location of Big River Steel.
Big River Steel set a record for the most expensive economic development project ever built in Arkansas, and it continues to set new records in its first months of operation, the mill's chief executive officer said.
The $1.3 billion mill near Osceola produced 63,000 tons of hot rolled steel in January, its first full month of operation, a world record for similar small mills, CEO Dave Stickler said in an interview last week. The mill was expected to produce more than 90,000 tons of steel in February, which would approach or pass the world record for production for a plant's second month of operation, he said.
The record totals are based on statistics kept by SMS Group of Dusseldorf, Germany, Stickler said.
Big River Steel also is the world's first smart mill, Stickler said. The mill has positioned itself as a technology company that just happens to make steel, Stickler said.
"We're using artificial intelligence and algorithms such that the mill is constantly learning," Stickler said.
Stickler compared the mill to a Google driverless car.
"The first day, the car doesn't know how to drive itself but the more it drives the more it learns," he said. "It's the same with this mill. The algorithms and the artificial intelligence tools allow the mill to correct any production deficiencies automatically."
The mill is also the first of its kind to receive Leadership in Energy and Environmental Design (LEED) certification, Stickler said. LEED certification is a program normally used by office buildings that recognizes best-in-class building strategies and practices.
[EMAIL UPDATES: Get free breaking news alerts, daily newsletters with top headlines delivered to your inbox]
All the steel the plant produces is sold before production starts, said George Hopkins, executive director of the Arkansas Teacher Retirement System.
The Arkansas Teacher Retirement System has one of the largest stakes in Big River Steel, investing about $125 million, including $92 million in shares of the company. The remaining $33 million is invested in part of the company's debt.
Stickler has a goal for Arkansas to "be the winner of the next automobile stamping plant sweepstakes."
Selfishly, Stickler said, it would be good for Big River Steel to have a steel stamping plant for auto production in Arkansas.
"But more broadly, it would be a great thing for Arkansas," Stickler said.
Hopkins believes that some kind of an automotive plant will be announced in Arkansas over the next five years.
"A stamping plant is something we could handle," said Clif Chitwood, director of economic development in Mississippi County. The population of the county could easily supply the several hundred workers that a stamping plant requires, Chitwood said.
The steel for the roof, hood, doors and other exterior parts of an automobile is made from conventional, heavy steel, Chitwood said.
But everything else, all the interior steel, can be made at an automotive stamping plant that would use the lighter, stronger steel that Big River Steel produces, Chitwood said.
"We're more interested in producing the safety steel that goes into the cage that protects our children and spouses, our loved ones," Mark Bula, Big River's chief commercial officer, said last fall. "We think that's an undersupplied market in the United States."
Big River Steel already has met with domestic and foreign automotive companies with production plants in the U.S., Stickler said.
The plant, which began producing steel in December, was the brainchild of John Correnti, the Arkansas resident who called the site "steel mill heaven."
Correnti built at least five small steel mills in his career similar to the Osceola plant and was attracted to the 1,300-acre site because it is surrounded by transportation options.
The Mississippi River is about a mile east of the site. To the west is a Burlington Northern Santa Fe rail line and Interstate 55. The property is also near an Entergy Arkansas 500-kilovolt transmission line.
"It has been completely impressive to watch [Big River Steel] rise up out of farmland," said Bryan Scoggins, director of business finance at the Arkansas Economic Development Commission. "It's truly a pretty spectacular sight."
Correnti didn't see the finished product. He died at the age of 68 in August 2015. A grand opening ceremony at the mill today is expected to attract more than 500 people, including Gov. Asa Hutchinson.
"It breaks my heart that John won't be [at the ceremonies] physically," Stickler said. "But certainly in spirit he will be."
Correnti had maintained a home in Blytheville since the 1980s, when he worked for Nucor Corp. in Mississippi County. Correnti later became chief executive officer for Charlotte, N.C.-based Nucor.
Having been at Nucor, Correnti always promoted Mississippi County and knew it was a good location to build a steel mill, said Morris Jenkins, retired director for strategic planning and legislative liaison for the Arkansas Economic Development Commission.
"Arkansas was on his radar for a long time [for building a steel mill]," Jenkins said.
In 2005, Correnti wanted to put a $650 million steel plant with 450 jobs in Mississippi County, but he chose to move the project to Columbus, Miss. Correnti said at the time that Arkansas didn't offer the necessary incentives and a contract for the enormous amounts of electricity needed to operate a steel mill could not be negotiated.
Everything worked out for Correnti with Big River Steel.
The state issued $125 million to Big River Steel, the largest incentive package ever offered by the state. It also was the first use of Arkansas' Amendment 82 legislation that provided incentives for superprojects.
Big River Steel could be expanded, Stickler said, if everything goes as planned. Before the plant was built, Big River Steel officials secured environmental permits for the first and second phase of expansion.
The second phase would double the plant's capacity, Stickler said.
"Our hope is that some day we double our capacity and add another 250 or so workers with the guaranteed compensation of no less than $75,000 a year," Stickler said.
Big River Steel has 392 employees now, Stickler said. To qualify for the state's incentives, Big River Steel agreed to employ at least 435 people who earn an average of $75,000 in annual income including bonuses and at least 90 more contract workers who make the same average income.
It will easily have 435 employees by a June 30 contractual deadline, Stickler said.
Already more than 200 people work at other plants that have been built near Big River Steel.
At least six ancillary companies have invested more than $190 million to build in the area.
"The steel mill is like an aircraft carrier," Stickler said. "After the aircraft carrier, then you have all the support ships that surround the aircraft carrier."
Business on 03/01/2017
Print Headline: Grand opening today for steel mill
Sponsor Content