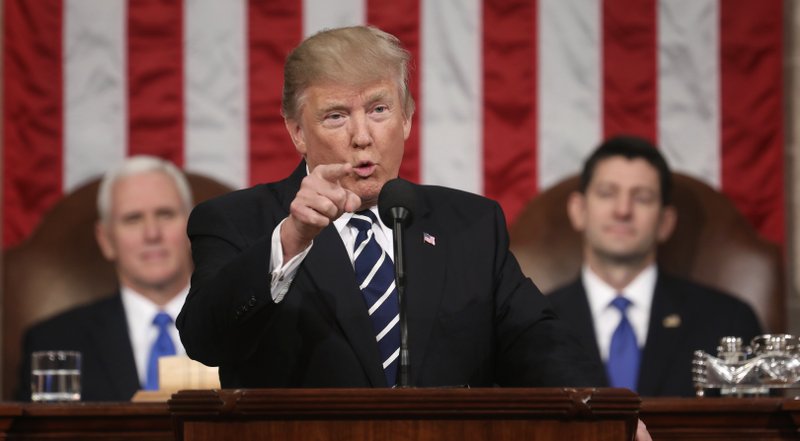 President Donald Trump addresses a joint session of Congress on Capitol Hill in Washington, Tuesday, Feb. 28, 2017. Vice President Mike Pence and House Speaker Paul Ryan of Wis. listen. (Jim Lo Scalzo/Pool Image via AP)
WASHINGTON -- Members of the all-Republican Arkansas congressional delegation stood and applauded repeatedly during President Donald Trump's speech to a joint session of Congress on Tuesday evening.
In interviews afterward, they all gave the new commander in chief rave reviews.
U.S. Sen. John Boozman of Rogers called it "a speech that lots of Americans could feel good about."
"I thought it was a message of unity and strength. I think he talked to the American worker and really brought a message concerning jobs, the economy, what he's going to do to fix that, which is so, so very important," Boozman said. "He talked about national security, the importance of securing the border but also having a strong defense. ... These are things that are on people's minds."
[PRESIDENT TRUMP: Timeline, appointments, executive orders + guide to actions in first 100 days]
U.S. Sen. Tom Cotton of Dardanelle said Trump's address was "outstanding, uplifting, specific [and] very well-delivered."
"He spoke to the aspirations and expectations of the vast majority of Arkansans," he said.
Cotton said he was pleased to hear Trump talking about overhauling the nation's legal immigration system; it's a message Cotton has also been emphasizing this year.
"We've talked at great length about it," Cotton said. "We agree a lot."
The senator said Trump's conciliatory tone was welcome after an election that was sometimes polarized and divisive.
House members from Arkansas also gave the president's speech high marks.
U.S. Rep. Rick Crawford of Jonesboro called it "a pretty bold message," noting that it echoed many of Trump's previous
themes.
"He's been consistent with that message from the get-go, so nobody should be surprised at what he had to say," he said.
[EMAIL UPDATES: Get free breaking news alerts, daily newsletters with top headlines delivered to your inbox]
The tone, however, was more conciliatory, Crawford suggested in a subsequent email.
"I think tonight he officially turned the page from candidate Trump to President Trump. He laid out his vision for growth and prosperity, national defense, immigration, education and more and asked members of Congress from both sides of the aisle to come together and work with him to move our country forward."
U.S. Rep. Bruce Westerman of Hot Springs said Trump's message was "very presidential."
"I think he gave not only Congress and the people in the audience here, but I think he gave America a vision for where we can go and what we can do, and I was glad to hear what he had to say," he said. "I'm excited to get up tomorrow and go to work again."
With Republicans in control of the White House as well as Capitol Hill, there's a lot of work ahead, Westerman said.
"We're in a position now where we have to get things done," he said.
U.S. Rep. French Hill of Little Rock was also impressed.
"I thought Donald Trump delivered the best speech that I've heard him deliver tonight. I thought it was aspirational and gave Americans hope in their future," he said. "I thought it hit the important areas that he campaigned on and that we now need to deliver policy improvements on in the area of the economy and national security."
U.S. Rep. Steve Womack of Rogers also approved of Trump's message. "I was very, very impressed with it. I consider that speech to be one of the best -- maybe the best -- I've ever heard him give," he said.
Trump is "the person that is going to lead America right back to the front, to the leadership position of the free world, and that's what America wants," he added.
Womack, who shook the president's hand as he departed, was less impressed with the Democrats' reactions to the speech, he said.
Trump reached out to them and that "the other side just, almost in his face, rejected him, sneered at him. So obviously we still have some divisions that we're still going to have to work through," Womack added.
Metro on 03/01/2017
Print Headline: Trump thrills Arkansans; Speech spot on, state's D.C. delegation says
Sponsor Content