Wally Hall left Little Rock for the Big Apple in 1975.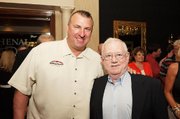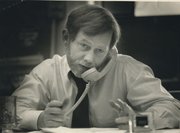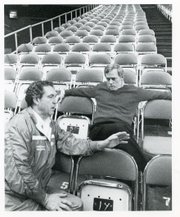 At 25 years old, he was getting the chance to cover professional sports in New York for United Press International.
Hall's assignments for the national wire service included writing about the ABA champion New York Nets and Julius Erving, their high-flying star better known as Dr. J.
Hall was at Yankee Stadium when pitcher Jim "Catfish" Hunter, who signed one of baseball's first big free-agent contracts, made his New York debut after after helping the Oakland A's win three consecutive World Series championships.
"My goal had been to cover major league teams, and I thought my job had to be the creme de la creme of sports writing," Hall said. "But after I got up there to New York, I quickly realized that wasn't what made me happy."
Hall, who was born in Searcy and grew up in Little Rock, missed Arkansas. His stay in New York lasted six months.
"I resigned at 2 o'clock in the morning with a note to my boss saying, 'I'm not working in this city another minute,' " he said. "The city wasn't going to change for me, and I'd changed all I could for it.
"To this day, I don't like big cities."
Hall returned to Little Rock, where for nearly 40 years he's been a columnist and sports editor for the Arkansas Democrat and Arkansas Democrat-Gazette.
"Writing a column and giving your opinion -- sometimes five days a week -- for so many years, it looks very easy from the outside," said Joe Kleine, the former Arkansas basketball star who played 15 seasons in the NBA and is Hall's close friend. "But to stay relevant and have people read you and say things that get them thinking one way or the other, it's a very, very hard thing to do.
"Wally can be the guy that proves that you're right, or he can be the guy that makes you mad because he's making a case against what you think. But that's what a columnist should do.
"It's like his column says, he tries to call it like it is and not like how you want it to be."
David Bazzel, a former University of Arkansas at Fayetteville linebacker, has worked with Hall on radio and TV shows.
"One thing about Wally, whether you agree with him or not, you're always going to read him," Bazzel said. "He's not shy to put his opinion out there."
Hall's longevity and dedication to serving the sports fans of his home state are being recognized with his induction into the Arkansas Sports Hall of Fame tonight at the Statehouse Convention Center in Little Rock.
"This is a total surprise," Hall said. "I never expected it. I've long supported the Hall of Fame and admired everybody that goes in it. Now to be one of those going in, it's a little overwhelming to be honest."
Hall has attended every Hall of Fame banquet since 1988, when he agreed to what was supposed to be a two-year appointment to the board of directors. He's still on the board.
In past years, Hall has sat in the back of the banquet room so he could see whether something needed his attention that he could handle without being disruptive.
"This is going to be different, because I'm going to be in front of everybody," Hall said. "But I will make you this promise: If the banquet runs late, it won't be because of me."
That means Hall will keep his acceptance speech short, although he's certainly not lacking in gratitude.
Hall, 66, said he's thankful for his readers, his co-workers, the sports figures he's covered, to the newspaper, and to publisher Walter Hussman for the opportunity to write his column since 1979 and run the sports department since 1981.
"To me, it's a natural for Wally to go into the Hall of Fame for sure," said Scott Cain, who worked for Hall covering the Razorbacks for the Democrat-Gazette and is now an investment adviser for Arvest Wealth Management in Northwest Arkansas. "He's been the most read person in the state for a long time now.
"He's got his finger on the pulse of Arkansas. He's an Arkansas guy. He loves the state of Arkansas. You can tell that.
"When you look at his staying power and the gravitation that sports fans have in terms of reading him, that's part of why he deserves to go into the Hall of Fame. He also helped the Democrat win an epic newspaper war and did it through the sports page and his column. That's huge.
"For a long time -- before the advent of the internet and everyone being able to go on social media and vent -- he was the one person willing to take an unpopular stance and be critical of the Razorbacks."
Hall's career for the Democrat and Democrat-Gazette has included covering:
• 32 NCAA Tournament Final Fours;
• 28 Kentucky Derbys;
• 10 national championship football games;
• 6 Super Bowls;
• 3 Olympics;
• 1 World Series;
• Countless Razorbacks' games around the country, horse races at Oaklawn Park, Jermain Taylor's championship boxing matches, and other events involving sports teams and athletes from the state.
"I'm not always right, but I'm always trying to be right," Hall said. "To be honest, I've had an incredible career. I've covered some sort of Arkansas-related sport in 39 different states and four countries other than the U.S."
Harold Horton, a former Razorbacks football player, assistant coach and administrator and head coach at Central Arkansas, has known Hall for years.
"Wally is going into the Hall of Fame because of the attention he's always given to Arkansas sports," said Horton, a 1989 inductee. "Not just the Razorbacks, but sports all around the state.
"Naturally, he does write more about the University of Arkansas, but he's written about Arkansas State, UALR, UCA, the other colleges. He's covered Oaklawn very well. He's written about golf and baseball. He's a big advocate of softball in our state as well.
"Anything that's important in sports to our state, you know Wally is going to have an opinion about it. People may agree or disagree with it, but they know where he stands."
Horton said he's enjoyed Hall's columns that have a national perspective.
"I see Wally with a broad mind," Horton said. "He's on top of his job."
Hall said it may surprise some people to hear that he grew up a Razorbacks fan.
"I used to listen to all the games on the radio with my family," he said. "My dad loved the Razorbacks. My mother loved the Razorbacks. My sisters loved the Razorbacks.
"Sometimes we'd be driving and if the reception got bad, my dad would back up the car to where we could hear the radio. We'd sit there and listen to the game.
"When you become a journalist, you've got to put all that away and be objective and fair. But when you grow up with it, you get a sense for what the fans are feeling, and to me they're the most important people along with the players. Without the fans or the players, why do it? You couldn't do it without the players, and why do it if you don't have fans?"
Along with a passion for the Razorbacks, Hall grew up with a love of newspapers and read as many as four a day. His family subscribed to the Democrat and Gazette. When the opportunity presented itself, Hall would buy the St. Louis Post-Dispatch and Memphis Commercial-Appeal at a newsstand.
"When I was 10, I'd go to the Little Rock Boys Club and my mother would give me a quarter for a sandwich and milk," he said. "I would either have the sandwich and drink water or I would have the milk and I would take the dime that was left and buy the St. Louis and Memphis papers to read on the bus on the way home."
Hall worked at the Gazette for sports editor Orville Henry in 1969 covering high school sports before enlisting in the Air Force, where he served as an air traffic controller at the Little Rock base.
"I went into the Air Force for 3 years, 7 months, 17 days, 2 hours and 20 minutes," he said. "I got my honorable discharge in August of 1973 and enrolled at UALR and went to work part time at the old Democrat.
"I had no intentions of going back into journalism as a career, but when the Democrat hired me to work Friday and Saturday nights and I went down to the paper, that first weekend I knew that was my love. I'd wanted to do it since I was 10 years old, and there was no sense in me fighting it."
After Hall returned to Little Rock from New York, he got a job at the Democrat as a general assignment reporter and also had some investigative assignments.
When Jim Lassiter left the sports columnist job to work for the Oklahoma City newspaper, Hall was among several writers Democrat managing editor John Robert Starr had audition for the job by submitting columns.
Starr offered Hall the sports columnist job with no raise or the chance to work in the capital bureau with a raise.
"I said I want to write the sports column," Hall said. "And, by golly, he didn't give me a raise.
"Not long after I became a columnist, we got into a newspaper war that was very consuming. It was a long, hard-fought battle. I spent a lot of years not thinking about anything but doing a good job and trying to be the best spokesman I could for Arkansas sports."
While it's common now for journalists to be on radio and TV shows, Bazzel credited Hall with being out front of that trend in the 1980s and helping promote the Democrat and its sports coverage.
"Wally was the first guy in this state and one of the first nationally to cross over from the newspaper to radio and television," Bazzel said. "He understood the importance of getting out there and finding new ways to reach the fans. He was very progressive that way."
Bazzel said it's impressive that in a changing newspaper industry, Hall has continued to stay relevant in the age of social media.
"Wally's transitioned over a lot of different types of media, from the old days to where we are today," Bazzel said. "That's not easy to do.
"When Wally says something, he can certainly move the needle one way or the other. He's still got that kind of impact in this state."
Kleine recalled the reaction to one of Hall's columns when he transferred to Arkansas in 1981 after his freshman season at Notre Dame.
"The was a lot of excitement about me coming to Arkansas, and Wally wrote a column and said, 'Everybody needs to calm down a little bit because this guy averaged 2.5 points and 2.5 rebounds at Notre Dame,' " Kleine said with a laugh. "And I remember people coming up to me and saying, 'Well, that's Wally, he's kind of that way. He takes the negative side of things. Don't take offense to it.'
"I was like, 'I don't take any offense to it at all. He's right.' "
Kleine said Hall has served his readers well.
"A lot of times he's written stuff that he knew would cause him hell," Kleine said. "It wasn't harsh or mean things, but he was stating facts on how a team was playing or how something was being run or how somebody was acting.
"Sometimes those are sensitive things and people can look at them as being personal attacks when they're really not. It can ruffle some people's feathers -- some coaches and administrators -- and it's caused there to be some heat on Wally.
"If he'd taken a more politically correct approach it might have saved him some grief. But he never did that."
Hall said he has no plans to retire.
"I want to keep doing this until I don't enjoy it anymore, and I still love it," he said. "I can't wait to get to work every day.
"I think I'd want them to put on my headstone that he had the greatest ride in the world."
Sports on 03/03/2017