Pauline Helton wears an angel pin on the left shoulder of the blue top that identifies her as a volunteer at CHI St. Vincent North in Sherwood.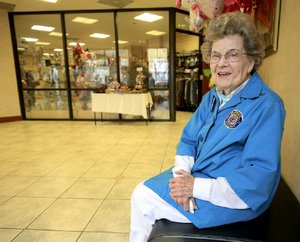 Photo by Staton Breidenthal
Pauline Helton was there when the gift shop opened at CHI St. Vincent North almost 20 years ago. She has volunteered to help in the shop ever since. Her advice to would-be volunteers? "Do it," she says. "Enjoy it."
The pin is a tiny gold glint that suits the way people describe "Miss Polly": modest, to say the least. Like an angel. And practically eternal.
At 95, she works two shifts a week in the hospital's gift shop, and sometimes more when other volunteers don't feel up to it.
"I am blessed, blessed, blessed," Helton says, having volunteered in the gift shop since the day it opened almost 20 years ago. "I was here for the ribbon cutting."
Her husband of 55 years, Sam, died in 1999 after a stroke and four years in St. Vincent rehabilitation. She had retired as secretary at First Assembly of God Church in North Little Rock. She felt an emptiness that called her into service for others.
"When your husband passes away, you're at a loss," Helton says. "This helps. If you help other people, you help yourself."
Besides, she says, her blue-gray eyes shining behind gold-rimmed glasses, "I've read where this [volunteer work] helps us live longer -- read that twice lately."
At Lori's Gifts in the 69-bed hospital, her job is to direct customers to the stock of everything from chewing gum to jewelry. People stop by the gift shop on their way to visit hospitalized friends and family, most often looking for some little gift to brighten the moment. The gift shop lady recommends teddy bears and balloons that read, "Get well soon," and, "A big get-well hug for you."
Want something showier? The choice expands to $100 stuffed toy lions and tigers big enough to fill a visitor's chair by themselves, and perfume, and as many flowers as anyone wants to order.
Candy? All kinds -- bars, bags and boxed fancies, or "we're taking orders for chocolate-covered strawberries."
Other shoppers pick up socks, scarves and bags for themselves. Hospital workers come in for snacks and cold drinks. Helton admits she is unable to resist some of the wares -- seasonal goods, especially.
"I've got a lot of Christmas things here," she says. "Anything I need, it's here."
WALKING DAY-BRIGHTENER
"She's my star," gift shop manager Holly Roderick says. "I love her. She brightens my day just to see her walk in."
Helton regards this sort of talk as nonsense. "Oh, no," she says.
"Oh, yes, you do," Roderick says, and when Helton seems not to be listening, "I can rely on her. People remember her. They come back to see her."
Helton did all she could to keep the hospital from celebrating her 95th birthday, Aug. 12. But they did anyway, which led to a photo of the affair and congratulations in the in-house newsletter, OneSpirit Weekly: "Wow! Happy birthday, Pauline!"
She is one of 30 volunteers at CHI (Catholic Health Initiatives) St. Vincent North, volunteer liaison Jan Gardner says. Others work "all over the hospital," she says, including the information desk, waiting rooms, laboratory, North River Surgery Center and St. Vincent Rehabilitation Hospital -- all important assignments.
Even so, Helton's record is remarkable. She has logged 3,700 volunteer hours by Gardner's count, "drives herself to the hospital," parks a walk away and arrives with "a sunny disposition that makes others happy."
"God helps me," Helton says. "He's the one who keeps me going."
LITTLE BIT OF EVERYTHING
The gift shop lady points to the jars of little cookies. Who wouldn't like a thing like that?
She tidies the sparkly pink caps for cancer survivors. She calls attention to the selection of books -- titles that range from prayers to pie recipes.
A slack moment finds her out of the shop, straightening a small waiting area of four chairs that no one is using. But you never know when someone might appreciate a place to sit.
"You meet people," she says, "and you hear what they need. Day to day, you never know. We have a little bit of everything."
Happy Pills, for instance: capsule-shaped little fuzzy toys that giggle when they're squeezed.
Aspirin: for angels with headaches.
Tweezers: a happy find for the person who happens to need tweezers.
Piggy banks: because something about a piggy bank is almost sure to bring a smile, and a smile is medicine to bank on.
Helton not only can show where these and other things are, but also tell where different things used to be as the gift shop has evolved over the years.
People expect to find such hospital gift-shop classics as helium balloons with curly ribbons. "We have a lot of choice," she says. The shop makes room for newer expectations, as well -- for sunglasses and chirpy little electronics, and whatever comes next.
The part that never changes is the hospital's ongoing need for volunteers.
"Do it," Helton says. "Come and volunteer. Enjoy it."
Just be ready to say as she does, "Can I help you?"
Information about becoming a volunteer at CHI St. Vincent North in Sherwood is available at (501) 552-7127.
High Profile on 03/05/2017