Two of eight men scheduled to be put to death next month say they are innocent of murder, and their cases were pleaded Friday morning inside the Varner prison.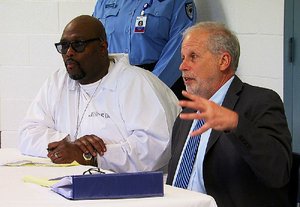 Photo by Special to the Democrat-Gazette/KATV POOL PHOTO
Death-row inmate Stacey Johnson (left) sits with his attorney, Jeff Rosenzweig, as Rosenzweig addresses the Parole Board in this 2017 file photo.
The Arkansas Parole Board held clemency hearings for Stacey Johnson and Ledell Lee, who are both set to be executed April 20.
Later Friday, in Little Rock, the families of the women whose unrelated killings are attributed to Johnson and Lee asked the board to allow the executions to take place and end decades of waiting.
The board listened to hours of testimony throughout the day, but it is not expected to release its recommendation until early next week.
When a recommendation is handed down, it will ultimately be up to Gov. Asa Hutchinson -- who scheduled eight executions to be carried out next month -- to determine whether either of the men deserve to have their sentences commuted to life in prison.
The clemency hearings are typical of inmates scheduled to die, though not all of the eight seek sentence reductions. Three clemency hearings are scheduled for next week.
The last commutation of a death sentence was in 1999, when then-Gov. Mike Huckabee elected to have Bobby Ray Fretwell serve a sentence of life without parole. Huckabee later presided over 10 executions, including the last one carried out in the state in 2005. The state hasn't executed anyone since then because of court appeals and problems obtaining drugs used in lethal injection.
Both Johnson and Lee continue to maintain their innocence. They have spent more than two decades on death row.
"I'm sorry for what happened to Carol Heath, but for close to 25 years, I've been sitting in the Department of Correction for a crime I did not commit," said Johnson, who sat shackled at a fold-out table a few feet in front of the parole panel of two women and five men.
Throughout his testimony, Johnson spoke of a conspiracy involving Sevier County officials to frame him for Heath's murder, budget issues that hampered his lengthy appeals and the "infiltration" of the maximum-security prison where he resides by those seeking to harm him.
"I'm simply asking for an opportunity and chance to bring my case back to court," Johnson said.
Lee declined to make the walk from death row to the hearing room due to a lack of confidence in the criminal justice system, his attorney, Lee Short, told the board.
"He's got a skepticism of any government hearing, and certainly that's well founded," Short said of his client. In 2015, when Hutchinson set execution dates for eight inmates, the list didn't include Lee but another inmate, Terrick Nooner. Since then, Nooner was deemed incompetent to be executed. This year, after the U.S. Supreme Court upheld the Arkansas execution law, Hutchinson set new death dates for eight men, this time including Lee instead of Nooner.
Lee was convicted in 1995 of the beating death of Debra Reese in her Jacksonville home. After his arrest, police used his DNA and fingerprints to connect him to a string of rapes.
The adult sons of Reese and Heath were children at the time their mothers were killed. At hearings in Little Rock, each began their separate testimonials by recounting the number of years, months and days it had been since the murders.
"I go every day and I add another date to the calendar," said Heath's son, Jonathan Erickson. "I don't understand why this needs to take so long."
Johnson and Lee have shown no remorse in that time, family members of the victims said.
Stephen Williams, the father of Debra Reese, said he feared Lee would pose a threat to other prisoners if his term on death row were commuted to allow Lee to spend the rest of his life in general population.
However, not all sought to see the death sentence imposed.
Ashley Heath, who along with her brother Jonathan was in the home where her mother was killed in 1993, said in a letter read to the board that she would leave the decision up to them and the governor. At a previous clemency hearing in 2015, she requested the board commute Johnson's sentence to life in prison.
Johnson's first conviction was overturned due to testimony from police that Ashley Heath had identified Johnson as the killer, despite her being ruled incompetent to testify at the trial. When she was older, Heath testified at Johnson's second trial, though Johnson and his attorneys have disputed a judge's decision to prevent her complete psychological records from being presented to the court. Johnson also disputes DNA evidence from his trials.
"I have forgiven you for murdering my mother," Ashley Heath wrote in her letter. "Now I want you to admit that you murdered my mother. The DNA evidence doesn't lie, and I didn't lie either when I was 6."
Members of the Parole Board sat mostly in silence as they heard Friday's testimony. Chairman John Felts asked attorneys for each of the men whether their arguments had already been heard, and rejected, during court appeals.
Short, Lee's lawyer, said there are still arguments about judicial decisions made in his client's trial that have yet to be fully vetted on appeal. A representative from the attorney general's office disputed that claim later at the Little Rock hearing.
Short said he was surprised to learn his client had been added to the list of scheduled executions. The change left him with an expedited schedule to draft a clemency petition, he said.
In Johnson's case, Parole Board member Dawne Vandiver said it appeared that Johnson gave conflicting testimony Friday against his previous clemency hearing, when Johnson said he did not know Carol Heath.
Johnson's attorney, Jeff Rosenzweig, told a reporter his client had misunderstood the question asked two years ago. While he may have met Heath in company with another person, he was personally unfamiliar with her, Rosenzweig said.
Metro on 03/25/2017