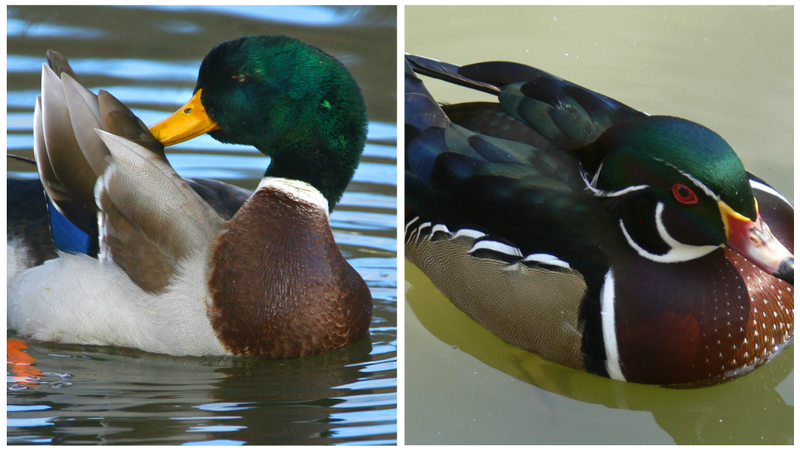 A mallard duck, left, and a wood duck. (Democrat-Gazette file photos)
Add ducks to the list of issues dividing lawmakers in the state Capitol as the session winds to a close.
As the House slogged through a lengthy list of bills Monday, House Bill 1748 spurred a few minutes of lively debate over which is the preferred waterfowl species: the wood duck or the mallard.
The bill would designate an official state duck, a title its original sponsor says was intended for the mallard, because the hunt for it is an economic driver in parts of the state. In committee, however, supporters of the wood duck took the liberty of having the bill amended to reflect their preference for the brightly hued birds. The change also took the mallard-favoring sponsor, Rep. Jeff Wardlaw, R-Hermitage, off the legislation.
When the bill was sent to the House floor Monday, Wardlaw cried foul.
Wardlaw, a farmer, medical salesman and avid duck hunter, said Arkansas is known to outsiders as a premier location for mallard hunting, and its official duck should represent that. He moved to have the bill sent back to committee to be returned to its original iteration.
Defending the change, Rep. Mark McElroy, D-Tillar, said the wood duck spends more of its time in Arkansas.
"The mallard duck is just passing through and goes back to Canada. He doesn't even pay taxes here," McElroy said.
[EMAIL UPDATES: Get free breaking news alerts, daily newsletters with top headlines delivered to your inbox]
The duck debate drew laughter from much of the chamber. However, a voice vote on Wardlaw's motion was closely divided. House Speaker Jeremy Gillam, R-Judsonia, ruled the "ayes" had it, sending the bill back to committee.
Speaking to a reporter later in his office -- adorned with oil paintings and photographs of mallards -- Wardlaw said the wood ducks he's hunted often have bands indicating they're not Arkansas natives. He said wood duck supporters are enamored with its plumage, not the state's image.
"It's totally against our advertising. We're known for killing mallards," Wardlaw said. "Just 'cause something's pretty doesn't mean that's what we need to be."
Arkansas already has a state bird, the northern mockingbird.
A Section on 03/28/2017
Print Headline: No ducking the issue on official waterfowl; Wood, mallard fans vie for top billing
Sponsor Content