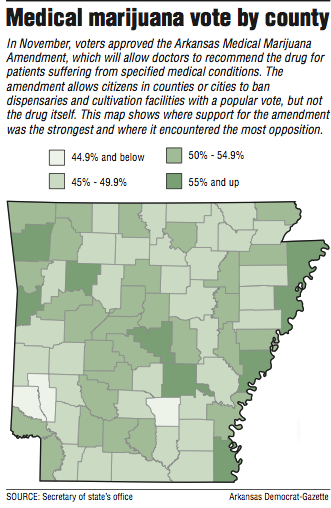 Map showing Medical marijuana vote by county (Arkansas Democrat-Gazette / SOURCE: Secretary of state's office )
Local governments across Arkansas are the key to implementing the voter-approved Arkansas Medical Marijuana Amendment, but some county and city officials say they have questions about how to do so legally and responsibly.
Others are actively embracing the pot-related facilities because the drug must be grown and dispensed in Arkansas. In Fayetteville, the mayor is helping prospective marijuana facility owners. A spokesman said the mayor is looking forward to the new jobs and increased tax revenue from the facilities.
And so far, no residents appear to be proposing local-option elections to ban medical marijuana stores and growers, according to the associations that represent cities and counties. The amendment allows such popular votes in cities and counties.
The Arkansas Medical Marijuana Amendment, now known as Amendment 98, received 53.11 percent of the popular vote during the November general election. The amendment will allow doctors to recommend the drug for patients suffering from specific medical conditions. Voters supported the amendment in 38 counties and opposed it in 37 counties.
[INTERACTIVE MAP: Click here for a look at how laws related to marijuana have evolved over the past two decades.]
It was most popular in Crittenden County, where it received 61.3 percent of the vote, and least popular in Cleveland County, where it received 42.3 percent of the vote.
"Here at the county, we give drug tests. Now, how is that going to affect us? Say one of our people goes to a doctor and tells them they've got pain and they authorize that they can get it. How is that going to affect their job if they take a drug test and it shows up in their system? Another question in this is how this is going to affect [commercial] truck drivers," said Gary Spears, the county judge for Cleveland County.
"If you go out and drink and drive, they've got a Breathalyzer test to tell whether you're intoxicated. How do they tell that if you're under the influence of marijuana? There are a lot of questions that need to be answered in my opinion before they actually start prescribing the drug."
Some questions asked by local officials are answered in laws and regulations developed this year.
[EMAIL UPDATES: Get free breaking news alerts, daily newsletters with top headlines delivered to your inbox]
The Arkansas Medical Marijuana Commission, Alcoholic Beverage Control Division and the state Board of Health have approved regulations on growing and dispensing the drug. The regulations must be reviewed by lawmakers to go into effect, but a state official said the application process is expected to begin in July and the first drug sales may take place before January.
In this year's regular legislative session, 51 medical marijuana bills were introduced. Twenty-five became law. They dealt with issues like packaging, employment, licensing and taxation. One part of the special legislative session that starts today will be to consolidate the 25 medical marijuana laws into a new part of Arkansas code, making the changes more readable.
One new law -- Act 593 by Rep. Carlton Wing, R-North Little Rock -- defines roles for employers and patients who use medical marijuana. It modified the voter-approved amendment.
Employers do not have to allow employees to possess or use marijuana at work or be under the influence of marijuana at work. A positive marijuana test result cannot be the sole basis for an employer believing an employee is under the influence. Observed behavior, statements, lawful surveillance and other means may be used in conjunction to make a determination.
Act 593 provides that "safety sensitive" positions should receive increased scrutiny by employers. They are jobs "designated in writing by an employer as a safety sensitive position in which a person performing the position while under the influence of marijuana may constitute a threat to health or safety."
Under the law, any employee who is a medical marijuana patient and in a safety sensitive position* -- regardless of whether he is under the influence on the job -- can be monitored, reassigned, put on leave, fired or be asked to complete a substance abuse program.
In Texarkana, City Manager Kenny Haskin said he has heard concerns specific to his border city.
"We have the propensity to pull from three different states -- Texas, Oklahoma and, of course, Louisiana. The fear is, from some folks, that will attract a particular element that the community may be fearful of since we are on the border," he said. "Now, from a manufacturing standpoint, from a developer standpoint, they may see this as fertile territory."
Where to place a cultivation facility carries its own challenges. The voter-approved amendment specifies that a cultivation facility -- where marijuana is grown -- must be more than 3,000 feet away from schools, churches and day care centers.
Haskin said several people have called looking for an available 40,000-square-foot facility in the city limits that meets the 3,000-foot requirement, but "we just don't have that inventory available."
In Jonesboro, City Attorney Carol Duncan said that city is starting to update its employee manual and consider the zoning process for marijuana facilities.
The city already has procedures for dealing with employees on prescription drugs. Those in safety-sensitive positions are sometimes temporarily reassigned if a drug could interfere with their job duties.
Duncan said she expects the city to treat those employees with medical marijuana cards in the same manner.
At least one out-of-state company -- Las Vegas-based South American Gold Corp. -- is interested in putting in a cultivation facility in the Craighead County city, but like Texarkana, "in Jonesboro, we've got a lot of churches and schools," Duncan said.
Regarding zoning, the amendment "does not prohibit a city, incorporated town, or county of this state from enacting reasonable zoning regulations applicable to dispensaries or cultivation facilities, provided that those zoning regulations are the same as those for a licensed retail pharmacy."
A major question for Duncan is how to deal with medical marijuana cards from states like Colorado.
Out-of-state medical marijuana cards would be accepted in Arkansas in certain cases. Rules approved by the state Board of Health on Thursday would allow visitors from other states that allow medical marijuana to use their cards from those states in Arkansas, as long as the visitors certify in writing that they have a condition that would qualify them for a card in Arkansas.
In Fayetteville, Mayor Lioneld Jordan is trying to help efforts to establish medical marijuana facilities, said spokesman Susan Norton.
"To him, it's an economic development issue. If a new business comes to town and if we can accommodate with the property, then we'd like to have the additional sales tax from the process," she said. "Since it was an amendment that the people voted in and it's law, our mayor is in support of trying to streamline the process of bringing the businesses in."
The City Council on Tuesday will consider selling 5 acres in south Fayetteville for $75,000 to Brian Faught, executive vice president of telecommunications company Adcomm. Faught intends to develop the property under his new company, AR-Canna LLC, according to city documents.
"I don't know about any concerns," Norton said. "We haven't heard from our constituents about any concerns."
Cities and counties cannot ban facilities, but citizens can petition for a local option vote to ban dispensaries and cultivation facilities. Officials with various cities and counties, and with the Association of Arkansas Counties and Arkansas Municipal League had not heard of any citizen efforts to petition for an election.
Luke McCoy, development and communications director for Arkansas Family Council, said the popular vote provision must be initiated by a local petition drive.
"It's not an easy mechanism to start up," he said.
Arkansas Family Council advocated for House Bill 1391 by Rep. Robin Lundstrum, R-Elm Springs, which aimed to allow local governments to place the matter on the ballot for a popular vote and allow city councils and county quorum courts to regulate marijuana facilities. The bill did not pass out of committee.
"That did not get much traction, and so we're left with the only option in the measure which is the petition process," McCoy said. "As of right now we don't know of any cities or counties looking to ban it or restrict it."
David Couch, the sponsor of the Arkansas Medical Marijuana Amendment, said the existing law ensures that local residents have a voice when it comes to marijuana facilities.
He said it also makes it less likely that someone will try to place a dispensary or cultivation facility where it's unpopular since it could be closed by a vote of the people.
"I don't think anybody is going to be dumb enough to put a cultivation facility or a dispensary in a county that's dry," he said.
SundayMonday on 05/01/2017
*CORRECTION: Under Act 593 passed by the Legislature this year, an employee in a "safety sensitive" position who is a medical marijuana patient — regardless of whether he is under the influence on the job — can be monitored, reassigned, put on leave, fired or be asked to complete a substance abuse program. Employees in other types of positions can't be fired for being a patient, but employers do not have to allow them to be "under the influence" at work or use medical marijuana on the job. A previous version of this article failed to make the difference clear.
Print Headline: At local level, pot getting mixed reception
Sponsor Content