BENTONVILLE -- Northwest Arkansas businesses and organizations jumped at the chance to provide supplemental activities as the third Bentonville Film Festival gets underway.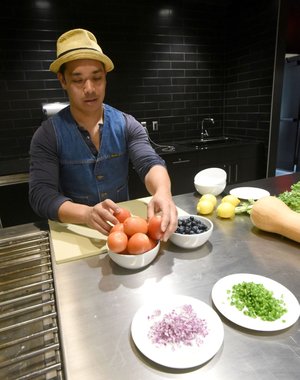 NWA Democrat-Gazette/FLIP PUTTHOFF Dream Kasestatad, producer, prepares Tuesday for the television show Nosh: Bite-Size Adventures in Bentonville.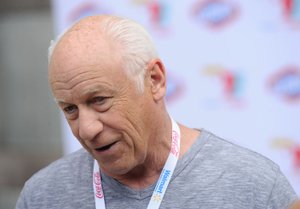 NWA Democrat-Gazette/ANDY SHUPE Actor Joey Travolta speaks Tuesday on the White Carpet before the start of the opening of the third Bentonville Film Festival Crystal Bridges Museum of American Art.
Producing team Nikki Bonner and Dream Kasestated will fire up the burners tonight at Brightwater: A Center for the Study of Food for a cooking demonstration with the cast of Nosh: Bite-Sized Adventures.
At A Glance
Cooking demonstrations
When: 6 p.m., 6:45 p.m. tonight
Where: Brightwater: A Center for the Study of Food, 801 S.E. Eighth St.
Little Space Film Festival
When: Today through Sunday
Where: 211 Cafe, 106 S.W. Second St.
Source: Staff Report
Nosh is a food show geared toward children ages 8 to 12. It's a show within a show where two hosts and their producer select dishes to make and explore the history and culture behind it, Bonner said.
[EMAIL UPDATES: Get free breaking news updates and daily newsletters with top headlines delivered to your inbox]
"That's what I think sets our show apart," she said. "A lot of the cooking shows for kids are competition-based reality shows. This is scripted. And it's much more about getting kids interested in learning more about where their food comes from, from a cultural perspective."
The show's pilot episode, focusing on chili, premieres at the Bentonville Film Festival as one of four films in the episodic short films category. It shows at 2 p.m. Thursday in the Mockingbird Cinetransformer.
Tonight's event gives a series overview, screens the trailer for the first episode and includes a recipe demonstration.
"Want to give people a taste of what the show is about, pardon the pun," Bonner said with a laugh.
Tonight's Brightwater helps promote Thursday's screening and also bridges the gap between residents and the idea film festivals are too "niche" for the general public, she said.
There will be 45-minute performances at 6 p.m. and 6:45 p.m. The event is free and requires no registration.
The Brightwater theater seats 54, but the action will be streamed live to a commons area to accommodate additional people, said Glenn Mack, Brightwater director.
Brightwater is Northwest Arkansas Community College's culinary program, but it also holds community events and offers professional development opportunities. It opened in the 8th Street Market at 801 S.E. Eighth St. in January.
It isn't an official festival venue this year, Mack said.
"This is just a way to offer alternative programming but still related to the festival," he said, adding the intention is not to compete with the festival.
Kasestated, the traveling Los Angeles chef behind the Thai street-food pop-up Pranom Pop-Up, also plans a food demonstration and tasting at Brightwater. That event is from 11 a.m. to 1 p.m. Saturday and is free and open to the public.
"This is for the community to show that we are a public space, we are a public venue and a way to showcase talent as it comes through town," Mack said of the events.
TNO Entertainment and 211 Cafe will add to the festival action by holding a Little Space Film Festival showcasing short films made by area teens, said Mauricio Guerrero, cafe owner.
211 Cafe is at 106 S.W. Second St., about a block off the downtown square. TNO Entertainment plans events geared toward Northwest Arkansas teens.
There will be 11 short films ranging in length from six to 20 minutes. Two films will screen daily starting every 30 minutes from through Saturday. The corresponding filmmakers will give a presentation at 5 p.m. each day.
Residents can catch all of the films when they show back-to-back starting at 3 p.m. Sunday.
It's an opportunity to allow local students showcase their work in a festival-style atmosphere as well as a chance to take advantage of the Bentonville Film Festival foot traffic, Guerrero said.
The Little Space Film Festival screenings are free.
NW News on 05/03/2017