WASHINGTON -- President Donald Trump abruptly fired FBI Director James Comey on Tuesday, ousting the nation's top law enforcement official in the midst of an FBI investigation into whether Trump's campaign had ties to Russia's election meddling.
In a letter to Comey, Trump said the firing was necessary to restore "public trust and confidence" in the FBI. Comey has come under intense scrutiny in recent months for his role in an investigation into Democratic presidential nominee Hillary Clinton's email practices, including a pair of letters he sent to Congress on the matter in the closing days of last year's election.
Trump made no mention of Comey's role in the Clinton investigation, which she has blamed in part for the election result that put him in the White House. But in announcing the firing, the White House circulated a memo, written by Deputy Attorney General Rod Rosenstein, criticizing Comey's handling of the Clinton probe, including the director's decision to hold a news conference announcing its findings and releasing "derogatory information" about Clinton.
Since Attorney General Jeff Sessions recused himself from the bureau's Trump-Russia probe, Rosenstein has been in charge. It wasn't immediately clear how Comey's ouster will affect the Russia probe, but Democrats said they were concerned that his ouster could derail the investigation.
[PRESIDENT TRUMP: Timeline, appointments, executive orders + guide to actions in first 100 days]
Comey learned that he had been fired while he was addressing a group of FBI employees in Los Angeles. While Comey spoke, television screens in the background began flashing the news. Shortly after, Trump's letter was delivered to FBI headquarters in Washington.
Officials said Comey was fired because senior Justice Department officials concluded he had violated Justice Department principles and procedures by publicly discussing the investigation of Clinton's use of private email. Just last week, Trump publicly accused Comey of giving Clinton "a free pass for many bad deeds" when he decided not to recommend criminal charges in the case.
"The FBI's reputation and credibility have suffered substantial damage, and it has affected the entire Department of Justice," Rosenstein wrote. "I cannot defend the director's handling of the conclusion of the investigation of Secretary Clinton's emails, and I do not understand his refusal to accept the nearly universal judgment that he was mistaken. Almost everyone agrees that the director made serious mistakes; it is one of the few issues that unites people of diverse perspectives."
In a letter to Trump, Sessions said he agreed.
"I have concluded that a fresh start is needed at the leadership of the FBI," Sessions wrote. "I must recommend that you remove Director James B. Comey, Jr. and identify an experienced and qualified individual to lead the great men and women of the FBI."
Comey's deputy, Andrew McCabe, a career FBI officer, will be acting director. The White House said the search for a new FBI director was beginning immediately.
Only 2nd to be fired
The firing of an FBI director is exceedingly rare. Democrats slammed the move, comparing it to President Richard Nixon's "Saturday Night Massacre" decision to fire the independent special prosecutor overseeing the Watergate investigation, prompting the resignations of the Justice Department's top two officials.
"This is Nixonian," Sen. Bob Casey, D-Pa., declared on Twitter. "Outrageous," said Sen. Ron Wyden, D-Ore., calling for Comey to immediately be summoned to testify to Congress about the status of the Trump-Russia investigation.
[EMAIL UPDATES: Get free breaking news alerts, daily newsletters with top headlines delivered to your inbox]
Rep. Adam Schiff of California, top Democrat on the House Intelligence Committee, said the White House was "brazenly interfering" in the probe. The House committee is looking into Russian interference in the election.
Some Republicans were also concerned. "I am troubled by the timing and reasoning of Director Comey's termination," said Sen. Richard Burr, R-N.C., head of the Senate Intelligence Committee, which is also examining Russian meddling. "I have found Director Comey to be a public servant of the highest order, and his dismissal further confuses an already difficult investigation by the committee."
Sen. Bob Corker, R-Tenn., said in a statement that it was "essential that ongoing investigations are fulsome and free of political interference until their completion, and it is imperative that President Trump nominate a well-respected and qualified individual to lead the bureau at this critical time." He also noted that Comey's firing would "raise questions."
Sen. John McCain, R-Ariz., said Congress must form a special committee to investigate Russia's interference in the election.
Trump has ridiculed the FBI investigation, as well as concurrent congressional investigations, as a "hoax" and has denied that his campaign was involved in Russia's election meddling. In his letter to Comey, he asserted that the FBI director had informed him "on three separate occasions that I am not under investigation."
"Any attempt to stop or undermine this FBI investigation would raise grave constitutional issues," said Sen. Richard Durbin, D-Ill. "We await clarification by the White House as soon as possible as to whether this investigation will continue and whether it will have a credible lead so that we know that it'll have a just outcome."
There were multiple calls by Democrats on Tuesday night for the appointment of a special prosecutor to lead the Russia investigation and take the matter out of the hands of Justice Department leadership.
"If Rosenstein does not appoint an independent special prosecutor, every American will rightly suspect that the decision to fire Comey was part of a cover-up," Senate Minority Leader Charles Schumer, D-N.Y., said in calling for a special prosecutor.
Schumer pointed out that Trump has now fired at least three people -- Preet Bharara, the former U.S. attorney for the Southern District of New York; Sally Yates, the former acting attorney general; and Comey -- who knew about investigations into his possible connections with Russia.
"This does not seem to be a coincidence," Schumer said. "This investigation must be run as far away as possible from this White House."
Unless Congress intervenes with some type of legislation -- which Rep. Justin Amash, R-Mich., on Tuesday suggested is possible -- the decision to appoint a special counsel would fall to Rosenstein.
Some lawmakers welcomed news of the dismissal.
"Given the recent controversies surrounding the director, I believe a fresh start will serve the FBI and the nation well," said Lindsey Graham, R-S.C., chairman of a Senate Judiciary subcommittee investigating the Russian campaign interference.
Comey, 56, was nominated by President Barack Obama for the FBI post in 2013 to a 10-year term. That appointment does not ensure a director will serve the full 10 years, though Comey is only the second FBI chief to be fired.
President Bill Clinton dismissed William Sessions amid allegations of ethical lapses in 1993.
Email misstatements
Shortly before the announcement, the FBI notified Congress by letter that Comey had misstated key findings involving the Clinton email investigation during testimony last week, but nothing about that issue seemed to suggest it might imperil Comey's job.
The letter was sent to the Senate Judiciary Committee on Tuesday, more than a week after Comey testified for hours in defense of his handling of the Clinton probe.
"This letter is intended to supplement that testimony to ensure that the committee has the full context of what was reviewed and found on the laptop," wrote FBI Assistant Director Gregory Brower.
In defending the probe at last week's hearing, Comey offered seemingly new details to underscore the seriousness of the situation FBI agents faced last fall when they discovered thousands of Clinton aide Huma Abedin's emails on the computer of her husband, Anthony Weiner, a former U.S. congressman.
"Somehow, her emails were being forwarded to Anthony Weiner, including classified information," Comey said, adding later, "Huma Abedin appears to have had a regular practice of forwarding emails to him, for him I think to print out for her so she could then deliver them to the secretary of state."
At another point in the testimony, Comey said Abedin "forwarded hundreds and thousands of emails, some of which contain classified information."
Tuesday's letter said "most of the emails found on Mr. Weiner's laptop computer related to the Clinton investigation occurred as a result of a backup of personal electronic devices, with a small number a result of manual forwarding by Ms. Abedin to Mr. Weiner."
The letter also corrected the impression Comey's testimony left with some listeners that 12 classified emails were among those forwarded by Abedin to Weiner.
"Investigators identified approximately 49,000 emails which were potentially relevant to the investigation," the letter said. "All were reviewed with a particular focus on those containing classified information. Investigators ultimately determined that two email chains containing classified information were manually forwarded to Mr. Weiner's account."
Ten other email chains that contained classified information were found on the laptop as a result of backup activity.
At the hearing last week, Comey spent hours defending his handling of the investigation of Clinton's use of a private server for work while she was secretary of state, saying it made him "mildly nauseous" to think his decisions might have affected the outcome of the presidential election but insisting that he had no regrets and would not have handled it differently.
Comey's decision-making during the Clinton inquiry has come under sustained criticism from Democrats -- including Clinton -- who say it was a major factor that contributed to her presidential election defeat in November to Trump. On Oct. 28, less than two weeks before Election Day, the director notified Congress that new Clinton-related emails had been found on a laptop belonging to Weiner.
Comey's public comments about the Clinton case have been a source of public debate since he first announced in July that he would not recommend charges against anyone in her use of a private server for government business.
At the time, he called the use of the server "extremely careless" but said it did not rise to the level of a crime.
Information for this article was contributed by Devlin Barrett, Adam Entous, Philip Rucker, David Weigel, Ellen Nakashima and Matt Zapotosky of The Washington Post; by Julie Pace, Eric Tucker, Darlene Superville, Ken Thomas, Vivian Salama, Catherine Lucey and Sadie Gurman of The Associated Press; by Michael D. Shear and Matt Apuzzo of The New York Times; and by Brian Murphy of Tribune News Service.
A Section on 05/10/2017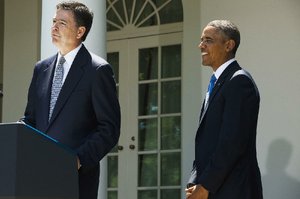 Photo by The New York Times
James Comey speaks at a White House Rose Garden news conference with President Barack Obama after Obama announced Comey's nomination as FBI director June 21, 2013. Appointed to a 10-year term, Comey's firing Tuesday by President Donald Trump makes him only the second FBI chief to be fired, following William Sessions' dismissal by President Bill Clinton in 1993.