CANE HILL -- A small town in Washington County is becoming a museum of sorts.
Since 2013, about $4 million has been spent to save Cane Hill, said Bobby Braly, executive director of Historic Cane Hill Inc.
"Ten years from now, this little town would have been gone," Braly said. "We do think of the town as a museum. Our closest analog is Historic Washington State Park near Hope."
Bypassed by major highways, like many small towns in Arkansas, Cane Hill was drying up, and its historic buildings were in decay.
Unlike other Arkansas towns, though, Cane Hill is unique in its circumstance.
Settled by Cumberland Presbyterians in 1827, Cane Hill is the site of Arkansas' first public school, library, Sunday school and college that admitted women, according to the "Encyclopedia of Arkansas History & Culture."
With 16 buildings on the National Register of Historic Places, Cane Hill "is home to one of the densest concentrations of significant historic architecture in the state," according to a town brochure.
Such things didn't go unnoticed by Tim Leach, a Texas oilman with Arkansas roots. Leach is chief executive of Concho Resources Inc. of Midland, Texas.
Born in Fayetteville in 1959, Leach spent most of his adolescence in Houston. His father, Jerry Leach, worked for Shell Oil Co.
The family moved to New York, Ohio, Louisiana and Colorado before Tim Leach was in the sixth grade. But the family always returned to Arkansas to visit relatives around Cane Hill and Dutch Mills, which is 8 miles to the west. Both sets of Tim Leach's grandparents lived in the area, along with aunts, uncles and cousins.
"I'm related to everybody up there," he said. "My grandmother rode her horse from Dutch Mills to Cane Hill to go to school."
Having a home base in Arkansas was important to Leach.
"We moved so much, that was my identity," he said. "That's who I thought of myself as. All my relatives were such wonderful people. You thought of yourself as being one of them."
Leach said he has visited Cane Hill many times during his life. His parents retired to the area in the 1980s. While driving around Cane Hill, Leach said the idea began to jell that it was ripe for restoration. He soon found others with a similar interest, but Leach had the resources to put the plan into action.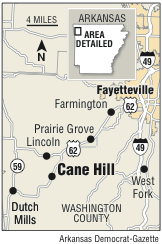 The group formed Historic Cane Hill Inc. and hired Braly, a Lincoln native, to oversee the restoration efforts.
COLLEGE
The group has restored four of the town's most famous structures, including the two-story brick building that once housed Cane Hill College. The building, which dates to 1886, will be dedicated at a ribbon-cutting ceremony at noon Saturday. Public tours will follow.
With the $1.4 million restoration of the college, the Italianate building was returned to the way it looked before it was renovated in 1931.
The original doorways returned. Depression-era windows once again became solid brick walls.
Twenty-four blocks of concrete stabilized the foundation.
"One of the walls was kind of moving out," Leach said. "I think we would have lost it if we had waited much longer."
The college building is a mixture of the old (it contains the first three light fixtures in Cane Hill) and the new (modern kitchen, bathrooms and central air conditioning). Braly said the building can serve as a place for meetings or events.
WER Architects/Planners of Little Rock did the architecture for the college building restoration. Kinco Constructors of Little Rock and Springdale was the builder.
Restoration work was completed earlier on three other Cane Hill buildings: the Methodist Manse, the 1900 A.R. Carroll building and the 1940s Shaker Yates Grocery building, which houses the Cane Hill Museum.
Braly said he's not sure of the date on the manse. The National Register nomination indicates that it was built in 1834, but other documents put the date at 1859.
HISTORY
Northwest Arkansas' economic boom has largely bypassed Cane Hill. The unincorporated community is on a quiet stretch of Arkansas 45. Braly said the only through traffic that Cane Hill gets comes from Stilwell, Okla., 19 miles to the west.
On a quiet Tuesday night in Cane Hill, among the occasional pickups on the highway, a white limousine passed through town. Braly said a family down the road has so many kids that it bought a used limo to haul them around.
Beside the college building, next to the bell tower, is a flat expanse of ground that was once the basketball court for the Cane Hill Blue Arrows junior and senior high teams. Braly said a makeshift goal was attached to a tree trunk, and teams from nearby schools would go there to play outdoor games on the grass court.
If Cane Hill had grown like Prairie Grove, which is 8 miles to the northeast on the more heavily traveled U.S. 62, half of Cane Hill's 16 Historic Register buildings would probably have been lost to development and deferred maintenance, Braly said.
"Cane Hill was at the point that we were either going to save it, or it was going to go away in a short period of time," Leach said.
Braly said Cane Hill School began in 1834. It evolved into Cane Hill Collegiate Institute in 1850 and finally Cane Hill College in 1852, the same year Cane Hill Female Seminary began in the community of Clyde, 1.5 miles to the south.
Most of Cane Hill College was burned by Union troops during the Civil War. The college closed during the war and reopened in 1865. A decade later, it merged with Cane Hill Female Seminary.
A course catalog from 1876-77 indicates that Cane Hill College students were studying Greek, Latin, history, literature, calculus, chemistry, geometry, trigonometry, zoology and astronomy, in addition to other classes such as "Evidences of Christianity" and "Moral Philosophy." There was also an engineering department that offered courses on "Roads and Railroads" and other practical matters.
Only one of the four buildings at Cane Hill College survived the war, but it was burned in 1885 by a moonshiner who was run out of town, according to legend.
It was rebuilt the next year as the two-story brick building that exists today. Classes began there in 1887. About five years later, Cane Hill College closed, and the main building served as a public school until the 1950s.
When Cane Hill College ceased operations in 1891, its successor, Arkansas Cumberland College, was established in Clarksville. In 1920, the name was changed to the College of the Ozarks, and in 1987 the school was renamed University of the Ozarks.
Metro on 05/12/2017