SCOTT -- Marlsgate Plantation is under new ownership for the first time in more than 30 years, but prospective brides need not panic -- the Greek Revival mansion with a stately opulence that stands as a powerful reflection of the Old South will continue to serve as a popular venue for weddings and other special events.
Like their longtime predecessor, David P. Garner Jr., the new owners, Beau and Martha Ellen Talbot, say they will reside in the former Dortch family plantation about 14 miles southeast of Little Rock and keep its doors open to matrimonial ceremonies, tours and other functions.
But the couple say they are developing other programs to more fully tap the potential of the historic property. They include reopening the gift shop and selling products from a Southern lifestyle brand, Grand Prairie, that Martha Ellen has developed; offering classes in the social graces for young people as soon as this summer; and eventually, operating the site as a bed-and-breakfast.
"This is still very, very new, the transition," Beau Talbot said in an interview last week. "We have started co-hosting events already with David. But June 17 will be when we take over completely."
Garner purchased the 11,000-square-foot home and assorted outbuildings in 1985 from the Dortch family -- which resided in the home, built in 1904 and added to the National Register of Historic Places in 1979, for three generations. At one time, the house was the nerve center for a farming operation that totaled 7,000 acres and, at its height, supported 100 families, many of them tenants who lived on the surrounding property.
"There is, perhaps, no other complex of comparable historic value in the state of Arkansas," according to the National Register nomination letter.
Garner restored the home, installed elaborate gardens and opened it for the past 30 years to countless events, all the while making it his home.
"It had previously not been a wedding venue, and it was David's vision to both live here and throw parties," Beau Talbot said.
"We're proud to continue that part," Martha Ellen laughed.
For Garner, it was time for something different. He is moving to Natchez, Miss., where he has purchased another historic property and home called Choctaw Hall. Garner said he is leaving Marlsgate in good hands. The deal was a private one, as Garner and Martha Ellen have been friends for years.
"They have the background, the breeding, the education," Garner said of the Talbots. "They have it all."
The Talbots are Stuttgart natives.
Beau Talbot has experience in banking and land development and owns a Honda motorcycle and all-terrain dealership, White Hall MotorSports.
Martha Ellen Talbot's background is in event planning and nonprofit work. She most recently co-chaired the Hope Ball, an annual fundraiser for the 20th Century Club of Little Rock Lodge, which provides no-cost housing to cancer patients.
"We love a big party," she said. "I love big events. The Hope Ball was just under 900 people. That's just what we love to do. We love to cook. We love to entertain. We love big parties. And we love gathering people."
The announcement of the ownership change came in an April 20 post on the Facebook page for Marlsgate.
"The blessing has come to pass," Beau Talbot wrote. "Martha Ellen Talbot and I have been handed the baton to carry on the wonderful and historic legacy David P. Garner has created at Marlsgate Plantation over the last 39 years, in Scott, Arkansas."
new partnerships
In the Facebook post, Beau Talbot said the couple will become "curators to Marlsgate's vast collection of era furnishings" and will host corporate meetings, weddings, dinner parties, tours and photo shoots.
But unlike Garner, the Talbots said they won't be able to do it all.
"David's family bought this from the Dortch family 33 years ago and did a massive renovation," Beau Talbot said. "And David has been a renowned floral designer and wedding coordinator for all those years. And everything involved with Marlsgate Plantation has been through David. There have been no outside vendors.
"It has been his personal residence and his operation."
The Talbots say they will be relying more heavily on outside vendors to operate the plantation.
"We are looking forward to engaging other vendors in a venue they haven't been in before," Beau Talbot said.
Eventually, people also will be able to reside in the house when the Talbots develop the bed-and-breakfast concept.
"Nobody has stayed in the house but David Garner and his family since he bought it although it was an event center," Beau Talbot said. "And we see so many possibilities with that where this would be a wedding destination ... if the parents, family and/or bride and groom did not have to leave the premises after a wedding.
"A lot of times honeymoons don't begin until the next day ... and we want to make that available. It will be for anybody who wants to stay, but we just saw that as a marketing tool that would be a further feather in our cap to sell a wedding or a party. Of course, this is in the heart of duck-hunting territory. We may have duck hunters that want to stay in upper, upper scale quarters while they go out."
The gift shop will be open by next month and offer an upscale line of products that is labeled Grand Prairie, or what Martha Ellen Talbot calls a "Southern country estate lifestyle."
"It's going to be local," Beau Talbot said. "A lot of the amenities and the fixtures we will have will make people aware of the finer dining, the finer etiquette but was lost but was in all the old plantation homes, Southern homes: How to set a table properly. We'll have the china and the silver and the crystal.
"You're not going to go to our gift shop and find corncob pipes. It's going to be nicer than that."
Both Talbots say they are honored to inherit the plantation and remain open to guidance to ensure the changes they contemplate don't detract from the property's historic value.
They recently helped host groups from two recent bus tours that stopped at the plantation. One was filled with people from Chicago and Detroit and the other with people from Australia and Great Britain.
"To see their faces when they get off that bus and walk up that big walk and see the house," Martha Ellen Talbot recalled. "It's really stunning and so surprising to see a plantation. It's like stepping back in time.
"We feel like we're caretakers of a treasure and a lifestyle of a moment in time. We want to keep it from being lost."
SundayMonday Business on 05/14/2017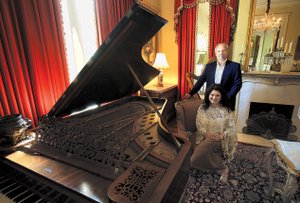 Photo by Staton Breidenthal
Beau and Martha Ellen Talbot, seated near a grand piano at Marlsgate Plantation in Scott, said recently that they love hosting big parties. Marlsgate has been the location of many weddings and events.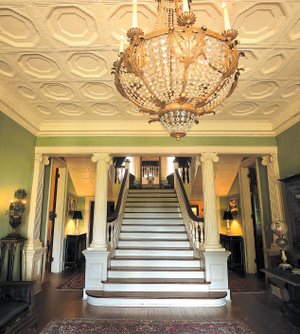 Photo by Staton Breidenthal
The entrance of the Marlsgate Plantation in Scott features an ornate chandelier and grand staircase.