They persisted. And now seven new high school graduates have opportunities awaiting them this fall at top institutions, including Princeton University.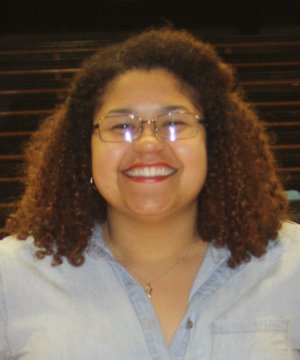 Kirsten Keels, a Class of 2017 graduate of West Fork High School, will attend Princeton University in the fall on a full scholarship after being matched with the university as a QuestBridge Scholar. She is among seven QuestBridge finalists this school year from Washington County.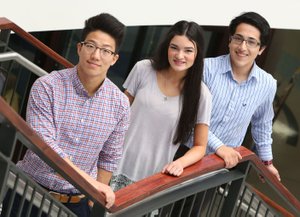 NWA Democrat-Gazette/DAVID GOTTSCHALK Joshua Hong (from left), 18, Kathleen Curlee, 18, and Juan Zuniga, 17, stand Tuesday inside the atrium of Har-Ber High School in Springdale. The seniors received scholarships to attend universities through a QuestBridge program.
NWA Democrat-Gazette/ANTHONY REYES @NWATONYR Springdale High School seniors (from left) Diana Lobaton, Stephanie Trejo Corona and Carol Medina, at their school Wednesday in Springdale. The seniors were accepted into the QuestBridge program and received scholarships for college. Medina will attend University of Southern California, Trejo Carona will attend Rice University and Lobaton will attend Emory University.
The Washington County graduates became finalists through a national QuestBridge program. Six received full scholarships through QuestBridge college partners. A seventh finalist did not match with a QuestBridge partner, but found motivation to seek out other major scholarships.
QuestBridge college partners
• Amherst College, Amherst, Mass.
• Bowdoin College, Brunswick, Maine
• Brown University, Providence, R.I.
• California Institute of Technology, Pasadena, Calif.
• Carleton College, Northfield, Minn.
• Claremont McKenna College, Claremont, Calif.
• Colby College, Waterville, Maine
• Colorado College, Colorado Springs, Colo.
• Columbia University, New York City
• Dartmouth College, Hanover, N.H.
• Davidson College, Davidson, N.C.
• Duke University, Durham, N.C.
• Emory University, Atlanta, Ga.
• Grinnell College, Grinnell, Ia.
• Hamilton College, Clinton, N.Y.
• Haverford College, Haverford, Penn.
• MacAlester College, Saint Paul, Minn.
• Massachusetts Institute of Technology, Cambridge, Mass.
• Northwestern University, Evanston, Ill.
• Oberlin College, Oberlin, Ohio
• Pomona College, Claremont, Calif.
• Princeton University, Princeton, N.J.
• Rice University, Houston
• Scripps College, Claremont, Calif.
• Stanford University, Stanford, Calif.
• Swarthmore College, Swarthmore, Penn.
• Tufts University, Medford, Mass.
• The University of Chicago, Chicago
• University of Notre Dame, South Bend, Ind.
• University of Pennsylvania, Philadelphia, Penn.
• University of Southern California, Los Angeles
• University of Virginia, Charlottesville, Va.
• Vanderbilt University, Nashville, Tenn.
• Vassar College, Poughkeepsie, N.Y.
• Washington and Lee University, Lexington, Va.
• Wellesley College, Wellesley, Mass.
• Wesleyan University, Middletown, Conn.
• Williams College, Williamstown, Mass.
• Yale University, New Haven, Conn.
Source: Staff report
They come from low-income households -- many first-generation college students -- and knew they would need scholarships.
"It still feels real surreal," said Kirsten Keels, who graduated Saturday from West Fork High School. "Sometimes I can't fathom it."
Keels, 18, has a full scholarship to Princeton University and is interested in anthropology and music. Keels lives with her mother and a younger brother in West Fork.
"I wouldn't have even applied if it wasn't for QuestBridge," she said.
[EMAIL UPDATES: Get free breaking news updates and daily newsletters with top headlines delivered to your inbox]
The other six are Juan Zuniga, Kathleen Curlee and Josh Hong, who graduated from Har-Ber High School on Saturday, and Diana Lobaton, Carol Medina and Stephanie Trejo Corona, who graduated from Springdale High School on Saturday.
QuestBridge is a nonprofit group founded in 1994 in Palo Alto, Calif., with a goal of increasing the number of talented low-income students attending the nation's best colleges, according to the organization's website. High school students from low-income backgrounds who are academically qualified often do not apply to selective schools.
QuestBridge has matched more than 4,000 students to 39 college partners that have provided full scholarships since 2003. The group in the fall received 14,491 applications with 5,338 students chosen as finalists.
Students who are matched with a college partner become QuestBridge Scholars. Thirteen of the first 767 scholars named in December are from Arkansas. Students also have the opportunity to be admitted to college partners with full scholarships through QuestBridge Regular Decision.
Princeton bound
Keels remembers dreaming of attending Julliard School and becoming a music teacher when she started her high school education. She sought to be the best in band and choir in her school and then became interested in all-region and all-state music competitions, she said.
She wanted the best education she could receive for the least expense, but thought that would mean staying in state. She would need help with the cost.
Information about the QuestBridge came in the mail, she said. Keels could rank a dozen colleges for a potential match. She wasn't sure of her chances, but submitted the application a week before the deadline. She learned in December she was matched for a full scholarship to Princeton University.
"You can imagine my surprise when I got matched to an Ivy League," she said. "The day that I found out was a whirlwind. I was screaming, howling, half-crying."
Princeton paid for her to visit, and a faculty member who heard of her interest in anthropology suggested she think about taking a trip to Kenya, she said.
"It's completely changed my life and my outlook on life," Keels said. "I knew I wanted to be successful. Now it feels so much more attainable."
Springdale to Chicago
Zuniga, 17, wanted to supersede his parents' expectations and be an example to other Hispanic males in the community. Hispanic males had the highest dropout rate in 2014 at 11.8 percent among males and females who are black, white and Hispanic, according to the National Center for Education Statistics.
Zuniga's parents, who are immigrants from Mexico, did not have the opportunity to attend high school, he said. Zuniga has two sisters, one who earned a bachelor's degree in nursing from Arkansas Tech University and another sister who will graduate this summer with a degree in criminology and sociology from the same university.
He likes music and robotics, but has decided he wants to study psychology and neuroscience at the University of Chicago as a QuestBridge Scholar. He hopes to gain some experience in the psychology field and eventually become a professor.
"There's a lot of uncharted waters and opportunities to grow in that field," he said.
He wants other students, regardless of race, gender or potential obstacles, to know they can accomplish their goals like he is, he said.
"That's why I made it my goal to do what I can to get to the best university I could," he said.
A common bond
Lobaton, Medina and Trejo Corona developed a close bond as daughters of immigrants from Mexico who were challenging themselves in the International Baccalaureate Academy at Springdale High School.
They've spent the last couple of weeks taking tests with the hope of earning an International Baccalaureate diploma.
"I strive to be the best for myself," said Medina, 17. "I've always wanted to study higher education. We're all first gen. It's always been a big dream for us to go to college and do well in school and go to a big university."
Though they will go in different directions, they are all part of the national network of QuestBridge Scholars.
Lobaton, 18, will be at Emory University in Atlanta, where she will study French and international relations. She knew her parents couldn't afford to pay for her to attend college, so she focused on getting a scholarship, she said.
She has three brothers, one who works in construction, one in the Marines and one who recently committed to the Marines. She also has a 10-year-old sister. She has managed schoolwork with a part-time job at Wendy's. She only applied at QuestBridge schools, she said.
"I have always wanted to go to college," she said. "School is so much fun for me. I'm good at it. I was always working toward getting into the harder classes."
Medina, 17, looks forward to studying political science and psychology at University of Southern California in Los Angeles. Her first trip there will be for college. She also plans to study abroad.
Trejo Corona, 17, will attend Rice University in Houston and thinks she will major in premedicine to become a physician, but she's also curious about astrophysics and hopes to have an internship at NASA Johnson Space Center, which is also in Houston.
"I want to make a huge impact on the world," Trejo Corona said. "I want to bring more good into the world."
Lobaton would hear comments about how expensive college was and how she wouldn't be able to pay for it, she said. Medina also faced similar implied sentiments, she said.
Though Medina doubted herself, she and her friends received encouragement from Carol Turley, the International Baccalaureate coordinator at Springdale High School. She told them about QuestBridge their junior year of high school, they said. The 23-page application required essays, financial statements and academic records.
"We pushed back," Medina said. "I can't believe it."
And she wants other students to know they can accomplish their goals, she said.
Headed east
Curlee, whose father is an Air Force veteran and whose mother was born in the Dominican Republic, developed a desire to attend a top university after signing up for a summer acting program at Yale University during her sophomore year.
She remembers slacking off some in her first semester of high school, but after taking an interest initially in Yale, she set goals and made plans to achieve them.
Curlee found information about other students applying for top universities and saw their high test scores, high grade-point averages and extracurricular activities. She doubted herself and nearly did not apply for QuestBridge.
"I'm just a kid from Arkansas whose parents didn't go to college," she said. "Who am I?"
Her confidence has risen since finding out she received a full scholarship to the University of Pennsylvania in Philadelphia, where she thinks she will major in political science and minor in theater.
"It still hasn't hit me yet," Curlee said. "Going to a school like that -- it's been my dream since I was a sophomore. It's all I thought about. Now that I actually did it, I can't believe it."
Hong didn't match with a university through QuestBridge, but becoming a finalist motivated him to seek other full tuition opportunities. He was offered a grant from Babson College in Wellesley, Mass., that will cover his tuition, room and board, and travel for an international internship, he said. It's a top school for entrepreneurship.
Hong has wanted to become a businessman since second grade, he said. He spent his childhood in South Korea, where he parents are still professors. He moved to Springdale in eighth grade and up until he turned 18 lived with a brother. He's now on his own.
In South Korea, children grow up in a competitive environment with parents striving for children to go to prestigious schools, Hong said. That desire stuck with him when he came to the United States, but he did not have his parents here to hover over him.
"I barely knew how to speak English," he said. "That actually made me want to be better. I wanted to show people even though I have this disadvantage, I can always thrive."
NW News on 05/21/2017