It's difficult to find a technology company in central Arkansas that has not been touched by the region's original tech success stories: Acxiom Corp. and Systematics Inc.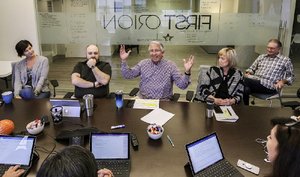 Photo by John Sykes Jr.
Charles Morgan (center) meets with First Orion leaders recently at the company's offices in the River Market District of Little Rock. Morgan is the former longtime leader of Acxiom.
From the company that Acxiom's longtime leader Charles Morgan is now operating -- First Orion -- to SpotRight, Inuvo, Corporate Insight Strategy, the Gadberry Group, Smiley Technologies, Black Oak Analytics and Raft Up, many Little Rock and Conway technology-based companies were created or influenced by alumni of these bedrock companies. Other alumni have been dedicating their second careers to fostering innovation in the region.
Acxiom, a data broker and distributor that helps marketers target customers more efficiently; and Systematics, a financial software company which was sold to Alltel Corp. and then to Fidelity Information Services (now known as FIS); were both founded in central Arkansas in the late 1960s.
By disregarding the stereotypes of Arkansas at the time and maintaining large presences here, these technology giants nurtured and recruited the talent who have paved the way for today's quickly growing technology market.
When asked about the active entrepreneurship of Acxiom alumni, Charles Morgan responded, "God, I hope so. We tried to hire the smartest people we could find."
"These are people that would have been in Texas. They all could have gone out of state and gotten a good job," he said. "We represented an opportunity for them here. It's talent that we kept in the state of Arkansas. And now it's the people that you're talking about."
For some time, Little Rock and central Arkansas has had a healthy assortment of technology-oriented companies, said Jerry Jones, chief ethics and legal officer at Acxiom.
'START THEIR OWN BUSINESS'
"It is natural that those companies would attract people who at some point or another would want to strike out on their own and start their own business," Jones said. "We're seeing that, and that's a great thing. It continues to build the local economy."
Brad Henry, vice president of development finance at the Arkansas Development Finance Authority, called the phenomenon "a pretty standard economic transformation for a state, region or community."
"People leave the large company to go and start their own business that will have some sort of connection to the core of what that large business does. Acxiom is a data company just like SpotRight is, but they do very different things with the type of data they collect. But at the core, they're trying to collect and aggregate data and provide a product and a service to monetize that data."
Scott Howe, the current president and chief executive officer of Acxiom, said that if the company's leaders are effective, Acxiom will develop "attractive" talent.
"We will groom thought leaders who have great ideas to go start their own companies and when they do, we should celebrate that," Howe said.
Jeff Standridge is a former Acxiom executive who has made a second career of helping support new ventures in the region through the Conductor, which mentors and assists startups in Conway, and the Cadron Creek Capital venture fund, which he started with a fellow Acxiom alumnus, Kenny Kinley.
"I call upon everything that I learned over my 19 years at Acxiom multiple times a day," he said. "I would not be able to do what I do today without Acxiom Corporation."
Standridge said the exodus of entrepreneurs from Acxiom took some time to happen because the pay and exciting work environment at a rapidly growing company kept its employees content for some time.
He said that began to shift around 2007 when Morgan left the company, and it went through some years of turmoil and layoffs. "The culture of the organization has changed a bit, and so over the course of the last five to 10 years, we've seen what I would consider to be a burgeoning of entrepreneurs saying, 'OK, I think I'm ready to step out and do my own thing now,' versus the first 30 or 35 years of Acxiom's history."
HALF OF THE NUMBER
Today in Arkansas, Acxiom employs about half of the number of people it did in 2007.
"We never want to see layoffs or closures of businesses, but this has been a positive consequence of that," Henry said. "Because these people no longer work at Acxiom they're able to go and do other very exciting things and hopefully grow businesses that will employ large numbers of people here in Arkansas."
"Acxiom and Systematics are the two large companies that have made it, and out of those two companies have come lots of talent that have done lots of things in the state, not just in the tech business," said Walter Smiley, founder of Systematics.
"If you dig under the cover of a lot of tech companies in central Arkansas, you will find Systematics," agreed Alese Stroud, a former Systematics employee and CEO of Little Rock's Corporate Insight Strategy that consults companies considering mergers and acquisitions.
Smiley points back even further than Acxiom and Systematics for the root of it all.
"We all learned this from IBM. You can't underestimate the role IBM played in this," Smiley said. Smiley, Morgan, Jim Womble, Alex Dietz and other early leaders in tech in Arkansas got their starts with data and computing at IBM.
It wasn't always easy to be from Arkansas though, he said. At the beginning, "The large banks wouldn't talk to us. They didn't believe anything sophisticated and good could come out of Arkansas. It was hard for them to believe that."
Smiley knew that wasn't true: "The fact is we have some very bright, willing, educated people. But most importantly, the group is hard-working and honest."
What evolved into an experienced, knowledge-based workforce also attracted businesses to the area. For example, Merkle, a competitor of Acxiom's, opened a Little Rock office in part because it recognized the talent pool they could draw on.
"We have scaled here because of the knowledge in the Little Rock market," said John Watkins, head of the Little Rock office and senior vice president of marketing technology.
STARTED AT ALLTEL
Brent Birch, director of the Little Rock Tech Park, is an Arkansan who started his career at Alltel Information Services, which originally acquired Systematics.
"I think that the knowledge that those companies existed here made people my age choose a technology track through employment or education, because they saw opportunities to go work for a large employer in this area," Birch said.
"There were always jobs," he said. "If [the companies] weren't here, a lot of people probably wouldn't have chosen that track or they would've just left Little Rock from the get-go."
"Arkansas is really special in the depth and breadth of talent related to data and data management," agreed Todd Greer, former Acxiom executive and CEO of SpotRight. The Little Rock startup helps marketers target customers by mining social media and consumer data.
"They don't teach this kind of stuff in school," he said. "You have to actually get in and do it, and there aren't that many training grounds in the world for learning it like the people of Arkansas have in Acxiom."
Larry Martin said that he and Adam Gadberry left Acxiom around 2000 to scratch "that entrepreneurial itch" and start the Gadberry Group, which provides location-based information data services to its clients. He said, "the learnings of being part of a bigger organization" have been a key driver of their success. He estimated 70 percent of his employees have Acxiom experience.
"In a lot of ways Arkansas is and can be very competitive in the computing and data analytics space because we have strong roots," said Jerry Adams, a former Acxiom executive who has also dedicated his second career to setting up Arkansas for 21st-century jobs and businesses. He is now president and CEO of the Arkansas Research Alliance, which recruits and supports university researchers with high economic development potential.
However, he said encouraging innovation has to be deliberate.
TARGETED EDUCATION INVESTMENT
Through Accelerate Arkansas -- beginning around 2000 -- Adams and other business leaders thought strategically about how to better foster 21st-century entrepreneurship through things like targeted education investment and tax incentives. James Hendren, founder of the early Systematics spinoff, Arkansas Systems (later acquired by EuroNet), was also involved.
"That early work with Accelerate Arkansas really, I believe, was a significant change in the whole ecosystem that has allowed this blossoming to start happening," he said.
Lee Watson is the president and CEO of the Venture Center at the Little Rock Tech Park. Since its start in 2013, the number of startups the organization has worked with has risen from seven to 112. "It does show us how the level of activity has increased over the years," he said.
In a nod to its Arkansan heritage and its faith in the talent pool, FIS, (which started as Systematics) chose the Venture Center to house its FinTech Accelerator for financial technology startups. The second annual program began in early May.
Kelley Bass, former Acxiom executive and current CEO of the Museum of Discovery, recalled a note he sent to Morgan upon his retirement from Acxiom, urging him to be proud of the company's legacy.
"I grew up in Saline County," he wrote. "When people got out of school they went to work at 'the plant' and that happened to be a place that mined bauxite and aluminum. When people went to work at 'the plant' that was Acxiom, they learned skills that let them make more money than they thought they would ever be able to."
"The legacy of Acxiom is going to go beyond the walls of Acxiom," Bass said.
Today, part of that legacy is that there are enough tech opportunities in central Arkansas that many young people working in the industry will never work at Acxiom or FIS. Some don't even know what those companies do.
"I think 10 years ago Acxiom was one of the only companies around if you wanted to work in tech," said Bryan Howe, publisher development manager at Inuvo. "Now it has changed. You've got all these startups around."
Trey Barrett, chief operating officer of Inuvo, said that the marketing technology company he manages with several of his fellow Acxiom alumni is committed to bringing a new generation of jobs and opportunity to central Arkansas.
"If you walked around [our office] there are kids who graduated from the University of Arkansas and the University of Central Arkansas who now have careers where they could work anywhere in the world," he said. "And they're choosing to stay here. I think that's a big deal."
SundayMonday Business on 05/21/2017