Strong population growth in Northwest Arkansas overcame losses in the Delta and Pine Bluff to increase Arkansas' overall population last year, according to new data from the U.S. Census Bureau.
Bentonville gained 2,427 new residents, the most of any Arkansas city from 2015 to 2016. Meanwhile, two other Northwest Arkansas cities -- Tontitown and Cave Springs -- led the state in percentage growth, with increases of 25.1 percent and 17.3 percent, respectively.
In 2016, Arkansas ranked No. 27 in population growth across the United States, showing growth of 0.3 percent. Of its neighboring states, it outpaced Mississippi, Louisiana and Missouri, but Texas, Tennessee and Oklahoma grew at faster rates, census data show.
In central Arkansas, Little Rock continued a trend of modest growth (less than 1 percent), mostly driven by new housing in the western part of Little Rock.
"Little Rock has just developed west," said Tony Bozynski, director of Planning and Development for the city. "It's basically gone out the Highway 10 corridor and then the Chenal Parkway corridor."
He pointed to the city's latest urban development report.
[EMAIL UPDATES: Get free breaking news alerts, daily newsletters with top headlines delivered to your inbox]
In 2016, Little Rock netted 196 new single family homes. West Little Rock led the growth with 220 new single family homes. But in east Little Rock, 64 homes were demolished and four units were added -- a net loss of 60 homes.
In Northwest Arkansas' Washington and Benton counties, Rogers saw 2.6 percent growth in its population between 2015 and 2016, followed by Fayetteville with a growth rate of 1.7 percent and Springdale with a 1.4 percent rate.
"Rapid growth is continuing to occur in both counties; however the pattern of growth occurring more rapidly in Benton County is expected to continue," said Jeff Hawkins, executive director of the Northwest Arkansas Regional Planning Commission.
Suzett Sparks, president of the Northwest Arkansas Board of Realtors, said that the opening of Pinnacle Hills Promenade in Rogers in 2006 began to draw Fayetteville and Washington County residents north to Benton County.
Bentonville had been a bedroom community, but the development of Crystal Bridges Museum of American Art and the Scott Family Amazeum, along with new shops and restaurants have boosted that city's growth.
"It used to be there wasn't much to do in Benton County. If you went to dinner or anywhere, you went to Fayetteville. Now we see people in Fayetteville coming here," she said.
Cave Springs' 25.1 percent growth comes from reaping the benefits of a growing region, just as other cities in the state's northwest counties, city Alderman Larry Fletcher said.
In 2010, Cave Springs had a little more than 1,900 residents; the count for 2016 exceeded 3,800.
While downtown in the bedroom community has not changed much, the growth has affected traffic patterns through neighborhoods, said Fletcher, who has lived there for 15 years.
"It's a nice community to live in," he said. "A lot of beautiful homes are being built."
Managing the growth has come with some high points and some struggles, he said. A problem facing the city is a lack of infrastructure, including a city sewer system that is not large enough to handle the growth that is expected to continue.
Tontitown has maintained its small town atmosphere even as the population has now surpassed 3,000, with the Census Bureau estimating 3,497 residents living in the city in 2016, Mayor Paul Colvin said.
Changes to city codes within the past couple of years have eased the process of building homes for builders and homeowners, Colvin said. Housing developments are going up on the north and south sides of Henri De Tonti Boulevard.
Growth is expected to continue, especially with the close proximity of the Arkansas Children's Northwest hospital, Colvin said.
"It makes for a central point for people to live, to travel for work, or entertainment," he said.
For the second year in a row, North Little Rock lost population. The city has 66,278 residents, down 228 from last year. But it still has nearly 4,000 residents more than recorded during the 2010 Census, according to the bureau's population estimates.
Austin -- located in Lonoke County on U.S. 167 -- was the fastest growing city in the state outside of Northwest Arkansas.
It posted a 9.6 percent population gain in 2016. About 326 new residents call Austin home.
"If you don't want a lot of traffic and everything else, it's here. It's quiet. We have a 24-hour a day, seven day a week police protection," Mayor Bernadette Chamberlain said Wednesday. "We don't have big Wal-Marts or 'nuthin. We have a Dollar General. We have day cares. We have a bank."
But the town has grown. In 2000, the Census recorded just 605 residents. In 2010, the head count was 2,038. In 2016, 3,722 residents lived in the city.
Chamberlain, who has been mayor since 1999, said much of her time leading Austin has been managing the growth. She said many of the new residents work at Little Rock Air Force Base in Jacksonville.
"We're a bedroom community, like Cabot used to be to Little Rock," Chamberlain said. "I guess you want to say we're the bedroom community now."
Cities in the Delta continued to lose population. Moro and Aubrey -- cities with fewer than 200 residents in Lee County -- ranked No. 1 and No. 2 for percent of population loss with a 4.6 percent and 4.5 percent drop respectively.
Marianna, a 20-minute drive east from Moro, ranked third in percent of population loss. Its population declined from 3,765 in 2015 to 3,599 in 2016, a 4.4 percent drop.
Rep. Reginald Murdock, D-Marianna, represents all three cities in the House. He said the population losses are due to one overriding factor -- a decline in the number of jobs.
But new opportunities for residents are coming with the revitalization of a shuttered Sanyo Manufacturing Corp. plant in Forrest City, he said.
Shandong Ruyi Technology Group announced earlier this month that the Chinese firm would revitalize the plant and hire up to 800 workers with wages starting at $15.25 an hour. The plant is also in Murdock's district.
"It's a serious infusion of economic help -- the jobs and all the derivatives of a $410 million investment in the Delta," Murdock said. "That's the revitalization that we could center around."
Sanyo closed the plant in October 2007, costing 300 workers their jobs. Another 350 had been laid off some months before the closing.
Increased mechanization has led to continued job losses in the farming community that has long sustained the Delta, but Murdock said Ruyi plans to use Arkansas-grown cotton, a help to local farmers.
In terms of the total number of residents lost in a single city, Pine Bluff led the state with a 1,140 drop in population last year. The 2.5 percent decline means the city had 43,841 residents last year. The 2010 Census recorded 49,083 residents.
Mayor Shirley Washington did not return a request for comment Wednesday. She has previously touted affordable housing; removing blight; cleaning up the streets; increasing pay and incentives for teachers, police officers and firefighters; preparing youth for jobs in the 21st century; improving community parks and ball fields; and job creation.
Metro on 05/25/2017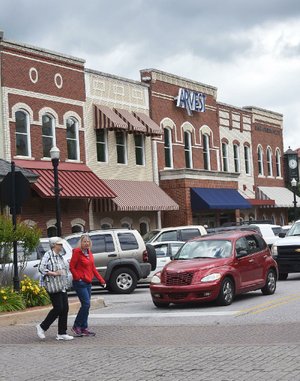 Photo by Flip Putthoff
Pedestrians stroll on the Bentonville downtown square Wednesday.The city had the highest rate of growth and the most new residents of the four largest Northwest Arkansas towns, according to the U.S. census data released Wednesday.