Marc Lore was in the crowd last June when Wal-Mart Stores Inc. Chief Executive Officer Doug Mc-Millon told shareholders and employees gathered in Northwest Arkansas that the company was embarking on a journey to "re-imagine retail."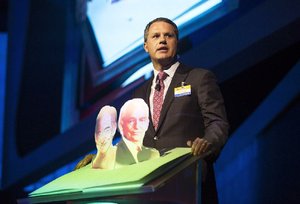 Photo by NWA Democrat-Gazette file photo
Wal-Mart Chief Executive Officer and President Doug McMillon addresses shareholders during the company's annual meeting in 2016. Wal-Mart employees will begin arriving in Northwest Arkansas today for this year's star-studded celebration.
It wasn't known publicly at that time, but two months after Wal-Mart's annual shareholders meeting, the company revealed that Lore would become one of the cornerstones of the plan.
Wal-Mart purchased Jet.com for the hefty price of $3.3 billion last August and, with it, placed Lore — the online retailer's co-founder and a former Amazon.com executive — in charge of jolting the company's underperforming e-commerce business.
The task moves Lore from the crowd last year to center stage this year as Wal-Mart prepares for its annual shareholders meeting Friday in Bud Walton Arena on the University of Arkansas campus. The star-studded celebration, which blends business with entertainment, caps a week filled with festivities.
"I got a chance to see and experience it last year, and it was fascinating," Lore said last week. "I really look forward to being a part of it this year."
Lore is playing an integral role in a transformative period for Wal-Mart, which is trying to make inroads against dominant online retailer Amazon.com. With the longtime New Jersey resident on board, McMillon, U.S. stores chief Greg Foran and other executives have been acting on an aggressive plan aimed at reshaping the business through initiatives, acquisitions and staff restructuring they believe will position Wal-Mart for the future of retail.
Wal-Mart wants to blur the lines between its online offerings and vast network of U.S. stores, creating a seamless experience for customers to purchase any item, anytime and in any way of their choosing — all while maintaining the company's low-cost, low-price foundation. It's still the early stages of the multilayered plan, but first-quarter results announced earlier this month produced plenty of optimism about Wal-Mart's progress.
Wal-Mart reported a 63 percent surge in U.S. e-commerce sales during the quarter, while revealing a 1.4 percent increase in same-store sales and a 1.5 percent increase in traffic. The retailer also stressed that much of the e-commerce sales growth was "organic," coming from Walmart.com instead of just a sales boost from recent acquisitions of online retailers ShoeBuy, Moosejaw and ModCloth.
The results impressed Wall Street, as Wal-Mart's stock subsequently reached a 52-week high. Concerns remain regarding long-term profitability growth — Wal-Mart's net income fell 1.3 percent compared with last year — but the efforts are noticed.
"In the past Wal-Mart was always reacting to what Amazon was doing, but now you're starting to see the tide turn a little bit," said Brian Yarbrough, a retail analyst with Edward Jones. "I think Marc Lore, and everything he's doing there, it's definitely turning heads. I think people are recognizing they're back on the offense again after years of playing defense."
Plenty of groundwork took place before Lore joined the company. Wal-Mart invested billions in cleaning up its stores, increasing wages for employees and training workers to make its physical locations more appealing for customers. The effort has led to 11 straight quarters of same-store sales growth and 10 straight of traffic increases, which have largely come during a period in which traditional brick-and-mortar retailers are struggling to draw customers into their stores.
At the same time, Wal-mart continued losing e-commerce ground to Amazon, struggling to create a thriving online business to operate alongside its store success. Global e-commerce sales sputtered through eight-straight quarters of deceleration before the company announced the Jet.com acquisition last year.
"The path they were on was not a path that was fundamentally transforming the company in a way that it needs to transform," said Steve Dennis, founder of SageBerry Consulting.
McMillon said in August that the Jet.com acquisition was a clear indication Wal-Mart was even more committed to "winning in e-commerce." He added that Lore's experience was "attractive."
It's clear that Wal-Mart is making a big bet he will succeed. Lore received $244 million in total compensation last year, most of it stemming from shares of Jet.com stock as part of the acquisition.
Retail analysts believe it's a hefty price, especially with no guarantee of quick and significant returns. But it's also the type of move some see as needed by Wal-Mart if it is to gain online traction.
Sucharita Mulpuru, an independent retail analyst, said Wal-Mart had tried plenty of tactics but was continuing to lose ground against "the most formidable competitor they've faced."
"One of the next levels of an experiment that you can try is to hire a sort of superstar who has a reputation for disrupting industries and was a former Amazon executive himself," Mulpuru said. "He seemingly has a playbook that could, if anything, be a viable competitor."
While there have been adjustments to the new role, Lore said, stepping into a chief executive position at a massive retailer has been relatively smooth.
No longer does he have to spend a large chunk of time raising capital to fuel Jet.com. Instead, his focus is solely on implementing ways for Wal-Mart to capitalize on its "incredible advantages," including a network of 4,700 physical locations and logistical infrastructure.
"We are moving extremely fast, faster than I thought would've been possible inside a company the size of Wal-Mart," Lore said. "We've made a lot of changes, and we'll continue to. Doug McMillon and the board have done a great job of setting me and the whole e-commerce team up for success."
So far, Wal-Mart has introduced initiatives like two-day free shipping without a membership fee for purchases totaling $35 or more. It was a direct shot at Amazon and its Prime program, which offers free shipping for a yearly subscription fee. Amazon has since lowered the threshold for free shipping for its non-Prime customers from $50 to $25.
More recently, Lore has introduced ideas to integrate the stores and online channels, like pickup discount. The service gives customers a chance to purchase online-only products for a cheaper price if they're willing to pick them up at a store and, as Lore said, "hopefully buy other stuff" while there.
Another new service, Easy Reorder, tracks products purchased with a credit car in a Wal-Mart store and automatically files them to a customer's online account. They can be reordered with one click.
"Some advice I had gotten early on and proved to be extremely helpful was to make sure you work very closely with Greg Foran," Lore said regarding the CEO of the Wal-Mart U.S. division. "If you want to give customers a truly integrated, omnichannel experience, it was important that we were kind of working together to make it happen, both the ecomm and the stores organizations. I think we got off on the right foot."
Laura Kennedy, director of retail insights for Kantar Retail, said initiatives like free two-day shipping and pickup discount are effective. But she believes that the most significant changes may have taken place behind the scenes with personnel moves aimed at integrating the digital and store sides.
Two key examples: Chief marketing officer Tony Rogers now leads a unified marketing organization that includes Walmart.com, Jet.com and Wal-Mart's U.S. stores. Jeremy King was promoted to chief technology officer and now reports to Lore and Foran, bringing together Wal-Mart's U.S. retail and ecommerce technology teams.
"In theory, they're bringing those two groups together and trying to break down some of that silo," Kennedy said about the divide that existed between Wal-Mart's in-store and online operations.
Lore integrated Walmart.com and Jet.com executives into his leadership team, and acquisitions have further injected Wal-Mart with talent. Leadership teams at ShoeBuy, Moosejaw and ModCloth continue to operate those sites as stand-alone businesses and also oversee their specific categories — shoes and apparel, outdoor, women's fashion — across Wal-Mart's e-commerce operations.
The acquisitions are designed to improve assortment and give Wal-Mart expertise in higher-margin categories, according to McMillon. But he stressed that the company is not simply trying to buy its way to e-commerce success. Instead, McMillon said, it will help "speed some things up."
Retail analyst Mulpuru said: "I think they've probably got a lot of critics already because it is a risky strategy. It's the opposite of the conservative approach Sam Walton espoused from day one. It's buying companies that aren't profitable. It is kind of just attempting to gobble up market share. It's doing really, really aggressive things. But the times are different now because Amazon has forced them to be different."
The first-quarter results are promising, but questions remain about Wal-Mart's chances of long-term success and Lore's ability to build a profitable, sustainable e-commerce business.
SageBerry Consulting's Dennis said it's especially hard to predict the latter considering Quidsi — the e-commerce company Lore sold to Amazon in 2010 — was shut down earlier this year after Amazon said it was unprofitable. Jet.com wasn't profitable, either, when Wal-Mart made its move last summer.
"He's got a particular set of skills. If those set of skills are ultimately really helpful to Wal-Mart, I don't know," Dennis said. "But I think if you bring him in, if you believe he's sort of your messiah and you're really looking to swing for the fences and be aggressive and very transformative, I do think you've got to give the guy a fair amount of latitude."
Other analysts agree that Wal-Mart must continue to give Lore the freedom to experiment, but suspect that the window won't be open too long if there aren't significant results. Several agreed the timeline could span about 18 months.
Lore isn't focused on potential deadlines. Instead, he applauded Wal-Mart's willingness to give him the freedom and backing to innovate and build the online business.
"Being empowered to move fast and make the decisions necessary to take the Wal-Mart ecommerce business to the next level is everything," Lore said.
More acquisitions could be on the horizon with the company reportedly working on a deal to acquire men's fashion retailer Bonobos. Wal-Mart will continue to emphasize groceries, with pickup locations expected to expand from about 600 to 1,100 stores this year. The company's online assortment, which has expanded to more than 50 million items, will continue to grow as well.
Lore also said he's challenging his team to meet five ecommerce fundamentals: have products, help customers find them easily, display them well, price them right and deliver them quickly and efficiently. If Wal-Mart can accomplish it, Lore is confident e-commerce growth will continue.
"A lot of the building blocks have been put in place, but there's so much more to be done," Lore said. "We're just getting started."
Wal-Mart transformation timeline
CEO Doug McMillon said Wal-Mart had an opportunity to "reimagine retail again" during last year's annual shareholders meeting. Below is a timeline of key events that have occurred as the company continues its transformation under McMillon:
JUNE 20 — Wal-Mart sells Yihaodian, its Chinese e-commerce business, to JD.com for a 5 percent stake in the company and forms a strategic partnership. Wal-Mart now holds a 12 percent stake in JD.com.
JULY 6 — Wal-Mart completes the rollout of its mobile payment service — Wal-Mart Pay — to all of its U.S. stores. Work began in December 2015.
AUG. 8 — The company acquires Jet.com for $3 billion in cash and $300 million in shares of company stock. Marc Lore is named the retailer's U.S. ecommerce chief.
SEPT. 1 — Wal-Mart eliminates 7,000 back-office positions to improve efficiency. The cuts cover mostly accounting and invoicing workers.
OCT. 6 — Wal-Mart investors are told that new U.S. store openings will slow down and the focus will shift to investments in e-commerce, technology and remodeling existing stores.
JAN. 5 — Wal-Mart acquires ShoeBuy for $70 million and will operate it as a stand-alone site. The company starts an acquisition spree that includes outdoor retailer Moosejaw and women's clothing site Modcloth.
JAN. 6 — Rosalind Brewer announces her retirement as Sam's Club CEO after leading the warehouse business for five years. John Furner, chief merchandising officer, is elevated to CEO.
JAN. 20 — The company begins a round of corporate layoffs, cutting about 1,000 positions before Jan. 31. The layoffs include 511 workers at its headquarters.
JAN. 30 — Wal-Mart introduces free two-day shipping without a membership fee on more than 2 million items. It is Lore's first significant e-commerce initiative.
MARCH 22 — Wal-Mart opens Store No 8, a Silicon Valley innovation hub, to identify, invent and invest in ideas that will "transform the future of commerce" such as virtual reality and machine learning.
APRIL 5 — Another round of corporate layoffs affect about 300 positions in the information systems division. Positions also were eliminated at Sam's Club and Wal-Mart International.
APRIL 11 — The retailer introduces Pickup Discount, a discount for purchasing selected items online and picking them up in one of 4,700 U.S. stores.
MAY 19 — Wal-Mart announces U.S. online sales surged 63 percent in the first quarter of the fiscal year. Samestore sales growth of 1.4 percent also helps the stock reach a new 52-week high.