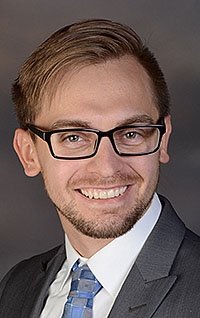 Chris Birch, who will be announcing Monday as a Democrat running for the House District 92 seat in extreme northwestern Benton County. The current representative is Kim Hendren, R-Gravette.
GRAVETTE -- Chris Birch, 28, of Gravette said he will announce today his bid as a Democratic candidate for northwestern Benton County's House District 92.
A Democrat has not run for the state House seat in Gravette and the surrounding area since at least 2000, election records show. The district's last Democratic representative lost his re-election bid in 1994.
Sen. Jim Hendren, R-Sulphur Springs, began his political career by winning that 1994 race. Hendren's father, Kim Hendren of Gravette, is the current representative. Kim Hendren's daughter, Gayla Hendren McKenzie, is running as a Republican to replace her father. Kim Hendren is also Gov. Asa Hutchinson's brother-in-law.
"I have talked to a lot of people in the district, and there is a strong sentiment that political offices shouldn't be inherited," Birch said. This is his first bid for political office.
"Even people who are very conservative, who are Republican and voted for President Donald Trump did so because they are tired of establishment politicians and certain families that gain and maintain power," he said.
Birch is an Air Force veteran and member of the Air National Guard, he said.
"First and foremost, I am running as a concerned father," Birch said. He is divorced and has two children, ages 6 and 4. His commitment to a strong public education system is a core reason he is a Democrat, he said.
"I see a lot of effort being put in to getting vouchers to private schools and establishing charter schools with very little oversight," Birch said. "I don't think that is a good direction to take."
Birch's views also align with Democrats on the value of public service and the rights of minorities, he said.
"I am bipartisan," he said. "It is not my goal to be a polarizing candidate, but to work with Republicans for some meaningful change."
Birch's parents are both career Army personnel who moved to Gravette at the recommendation of family who had moved there, he said. Birch's family moved to the region when he was 4 years old, he said. He graduated from Gravette public schools, enlisted in the Air Force and served six years, according to his account.
Birch said he attained both an associate's degree in criminal justice and a bachelor's degree in legal studies. The two-year degree came from the Community College of the Air Force and the four-year degree from the American Military University, he said.
He is attending the University of Arkansas School of Law in Fayetteville. He hopes to graduate in May and take the bar exam in the summer, he said. He is working as a law clerk in the Washington County Prosecuting Attorney's Office, he said.
So far, neither Birch nor McKenzie has any opponents in their party primaries who have announced. Candidate filing for state offices begins Feb. 22 and ends March 1. The general election is Nov. 6, 2018. Members of the House serve two-year terms.
NW News on 11/06/2017
Print Headline: Gravette Democrat to run for state House
Sponsor Content