It's a long way from the tiny Arkansas Delta town of Montrose to the Iraqi desert. Yet, that's where Montrose native Brinda Jackson found herself, stranded on the side of the road, in the spring of 2003, only about a month into Operation Iraqi Freedom.
There she sat, along with her driver, a specialist in the U.S Army. Stranded in the desert, her big, green camouflaged truck sticking out against the beige backdrop of the desert.
The specialist was armed; Jackson, a civilian, was not.
Jackson, then a project manager with the U.S. Army Corps of Engineers, Little Rock District, was part of a Forward Engineering Support Team, a multidisciplinary unit tasked with building military installations in the newly invaded country, and more duties. The team was assigned to the 555th Engineer Brigade, a combat engineer brigade journeying from Kuwait to Tikrit, Iraq.
Driving through the Iraqi desert, Jackson's truck, one vehicle in a large convoy, suddenly jolted to a stop after a loud boom. The truck had dropped its axle. A decision was made by the convoy's commanders to go forward and send a tow truck for Jackson's vehicle, leaving Jackson there.
OK, Jackson thought. She was stuck only about a mile from a small station guarded by some U.S. soldiers, and a tow truck was promised for later that day. This would only be a minor halt. So she and the specialist waited. That one day turned into a second day. No tow truck. Jackson walked to the nearby station. Soldiers there had not heard of her predicament or of plans for a tow truck. She returned to the truck, and the equipment, to wait on the tow.
A dust storm arose, so fierce that Jackson says she couldn't see her hand in front of her face. The only place to use the bathroom was under the truck. The duo were sitting alone, in the desert, surrounded by miles of a barren brown and yellow landscape.
We're sitting ducks, Jackson thought. Who knows who might come along -- U.S. soldiers, friendly Iraqi citizens, hostile Iraqis, Iraqi forces -- and rescue them or worse?
On the third day, Jackson took matters into her own hands. A U.S. convoy had stopped nearby. Jackson approached, explained their quandary and soon a tow truck was produced, which towed Jackson out of the Iraqi desert.
For her outstanding actions, Jackson earned the 555th Engineer Brigade Commander's Award, a small coin announcing her as "Battlefield Hero of the Day."
Jackson spent roughly two months in Tikrit. By the end of June 2003, Jackson was back home in Little Rock. Now, more than 14 years later, Jackson can chuckle looking back on her Iraqi desert sojourn.
"I found a way out of the Iraqi desert and that was kind of fun," she says. "Well, it's fun now."
Overcoming challenges, though, is nothing new for Jackson.
. . .
Here's the story, of a young Arkansas girl, who watched The Brady Bunch as a child. The girl, Jackson, was curious about the dad, Mike Brady, who worked as an architect. The job seemed interesting; plus, Brady usually arrived home carrying a blueprint tube.
That interested Jackson even more. She thought: Why can't I become an architect?
This was around the fifth grade, and Jackson never changed her mind. Now 56, she graduated from the University of Arkansas, Fayetteville, in 1985 with a degree in architecture, worked at a Little Rock architectural firm from 1985 to 1989 and joined the Corps of Engineers in 1990.
She passed the Architectural Registration Exam in 1991, becoming the first black female registered architect in the state.
"If you have a dream, stay focused and realize your dream," she says. "It's all about being focused."
Jackson's parents, William and Bernice Jackson, were farmers in the Arkansas Delta, planting a combination of cotton and soybeans before transitioning to all cotton. The farm was in Boydell, north of Jackson's hometown of Montrose, which is 12 miles west of Lake Village.
Jackson's siblings included six older sisters (the oldest died in 2013 of breast cancer, and Jackson donates time and money to breast cancer research, such as the Susan G. Komen Race for the Cure, in which she also participates). She also has a younger brother, and their parents taught the brother and sisters about working hard to get ahead in life but also about the importance of education.
"They instilled in us the valueof education because neither one of them was afforded the opportunity to graduate from high school," Jackson says of her parents. Her dad died in 1984; her mom in 2012.
"They knew the importance and value of education so they always told us that education was the key; you've got to get an education."
William Jackson would sometimes come home after working all day on the farm and do the chores of the older sisters so they could do homework and study, says Alice Maxwell, 68, and one of Brinda Jackson's older sisters.
"He would prefer that we do our homework versus the chores," says Maxwell, who received a master's degree in mathematics and now lives in White Hall.
"I learned integrity and honesty from my parents. They were very, very high moral people, church-going people."
Jackson earned good grades, receiving a scholarship to UA. And at graduation from Lakeside High School in Lake Village in 1979, she thought she'd also receive a private scholarship, which was always awarded to the valedictorian of the graduating class, which she was, becoming the first black valedictorian at the integrated high school.
She didn't. When it came time to award the valedictorian scholarship, the person presenting the scholarship said the awarding process would be different and the scholarship went to the salutatorian, a white classmate of Jackson's.
It was the first Jackson heard that she was not receiving the money.
Remembering the day almost 40 years on, Jackson doesn't name names, though one suspects she could, as slights this deplorable are not soon forgotten. Still, the moment "devastated me," she says. Not right away, as Jackson had to deliver her valedictorian address. When she got home, though, she "fell apart." Her dad consoled her, reminding her she was still going to UA, the first in her family to attend that school, although other older siblings had already attended or graduated from other colleges.
. . .
Going into college, Jackson thought she'd graduate with a degree in architecture, start her own design firm and live happily ever after -- just like Mike Brady. Then she got out of school and understood the financial possibilities.
"Mike Brady is TV," she says. "That's not reality for architects out there."
After graduation in 1985, Jackson was offered a job in a northeast Arkansas town that she doesn't disclose. She was in the process of moving -- securing an apartment, turning on utilities, meeting people around town -- when the owner called and said, no, there's no job anymore. The whole ordeal still seems suspicious to Jackson, and she was left scrambling for a new job and getting refunds on deposits.
Another devastation is how Jackson describes the trauma.
Still, Jackson was focused, and the experience reinforced a life mantra.
"My theme in life has always been to keep your life as simple as possible," she says. "I like my life to be simple. I don't like a lot of complexities, a lot of drama. I don't like that in my life. I like for it to be simple so I can focus on the important things."
She moved to Little Rock in 1985, starting at a small firm that focused on designing school buildings. While working at the firm, older architects taught her of the realities of the business: During construction downturns, there was no need for architects. One architect told her that the longest job he'd had was for two years. There was a lot of bouncing around in the industry. They encouraged her to get a government job.
Jackson took their advice, applying at the U.S. Army Corps of Engineers, Little Rock District. She started there Jan. 22, 1990. Her first position was working as an architect in the specifications unit. About a year later, she was doing design work, and she has worked on projects at military installations (Corps architects are designers for such places) around the country, from the Little Rock Air Force Base to Fort Sill, Okla.
In 1999, Jackson was promoted to project manager, leading a project delivery team, a multidisciplinary team that works on Corps projects. Since 2008, she has held her current title, chief of the Corps' Civil Works Programs Branch in the Little Rock District. She oversees a dozen staff members and a budget of about $200 million in the Little Rock District, which encompasses most of Arkansas and some of Missouri.
Jackson has been Shirley Boldon-Bruce's supervisor at the Corps of Engineers for eight years. Boldon-Bruce, a project manager, has been employed by the Corps for 34 years.
"[Brinda] is consistent, professional and straightforward," Boldon-Bruce says. "If you do your job well, you'll have no problem with Brinda Jackson, but she's fair and allows you to express yourself.
"Brinda does a good job in recognizing her folks. She really recognizes the hard work, successes and achievements in our branch. She's a great boss."
During her Corps career, Jackson has garnered several awards, such as Little Rock District Architect of the Year in 1995 and Civilian of the Year for the Little Rock District in 2013. Jackson was inducted into the Arkansas Women's Hall of Fame in August.
Her work with the Corps has taken her to Table Rock Lake (where she was a temporary operations project manager), Washington, Dallas and, yes, Iraq.
"I enjoy that I get a chance to do a variety of things," she says. "I also enjoy the fact that even though what I do is not the difference between life and death for the district -- it still makes a big difference for how we operate as a district because money is how we operate."
Randy Hathaway, Jackson's supervisor who serves as the deputy district engineer for the Little Rock District, says Jackson is a great leader because of three central reasons. First, she's a "servant leader," meaning she sees the value of other people and serves them first. Second, she's driven.
"She works as hard or harder as anyone," he says. "She believes hard work pays off. She sets that example. That's how she's gotten one step ahead."
Third, Hathaway says Jackson understands succeeding is all about teamwork.
"She's a model for all of us," says Hathaway, who has been Jackson's supervisor for about 10 years. "I use her as an example."
. . .
Jackson doesn't use her architectural degree anymore, but she's OK with that. She maintains her status as a registered architect (she's also a registered project management professional), and she still uses her design skills from time to time, like when she recently moved offices on the seventh floor of the Federal Building in downtown Little Rock.
"I did some sketches to see how everything would fit, like if I turned my desk a different way," she says.
Her corner office is filled with dull, black budget binders on bookshelves punctuated with colorful Cow Parade figurines, such as a "Picowso" cow and Taxi Cow, that she collects.
Her job "consumes" her life, she says, so there's not much time for hobbies, although she does enjoy gourmet cooking, a hobby she started in the last dozen years or so.
"I want to be a caterer when I retire," she says. "But I don't want to do catering to get rich; I want to do it as a hobby."
She cooks for family birthdays and holiday celebrations, and her cheesecake is raved about, she says. Her husband, David Switzer, enjoys all her cooking, from chicken and dumplings to braised short ribs. The couple have been married for 10 years and live in west Little Rock. Switzer is the owner of a stucco contractor business.
Jackson has lived her life -- from Montrose and UA to the Corps of Engineers -- wrapped in her strong faith, a belief that has "always grounded me," she says. She grew up in the church, where her dad was a deacon at Evergreen Church in Boydell. She is now a member of a local Little Rock church.
That faith has centered her, through the trials and successes of her life.
"When I think things are overwhelming, I know there's a higher being. I've always been a believer."
And being a believer helps -- especially when stuck in the Iraqi desert or facing other challenges in life.
SELF PORTRAIT
Brinda Jackson
• DATE AND PLACE OF BIRTH: March 20, 1961, McGehee
• THE WORST JOB I EVER HAD WAS working in a garment factory the summer I graduated from high school.
• MY CHILDHOOD HERO WAS William Jackson Sr., my dad.
• MY FAVORITE ARCHITECT IS I.M. Pei.
• MY FAVORITE CITY TO VISIT IS San Francisco.
• MY MOST PRIZED MATERIAL POSSESSION IS: "Bruiser," my sports utility vehicle that has all the bells and whistles.
• MY FAVORITE CHARACTER TRAITS IN PEOPLE ARE honesty, integrity and loyalty.
• MY PET PEEVE IS selfishness.
• WHAT'S SOMETHING YOU ALWAYS HAVE ON YOU: A white gold necklace with a cross; I never take it off.
• THE ONE THING I WILL NOT EAT IS raw oysters or rare steak.
• THE PERFECT CHEESECAKE IS: mine.
• ONE WORD TO DESCRIBE ME: reliable.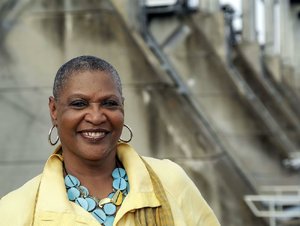 Photo by John Sykes Jr.
"Mike Brady is TV. That's not the reality for architects out there." - Brinda Jackson
High Profile on 11/12/2017