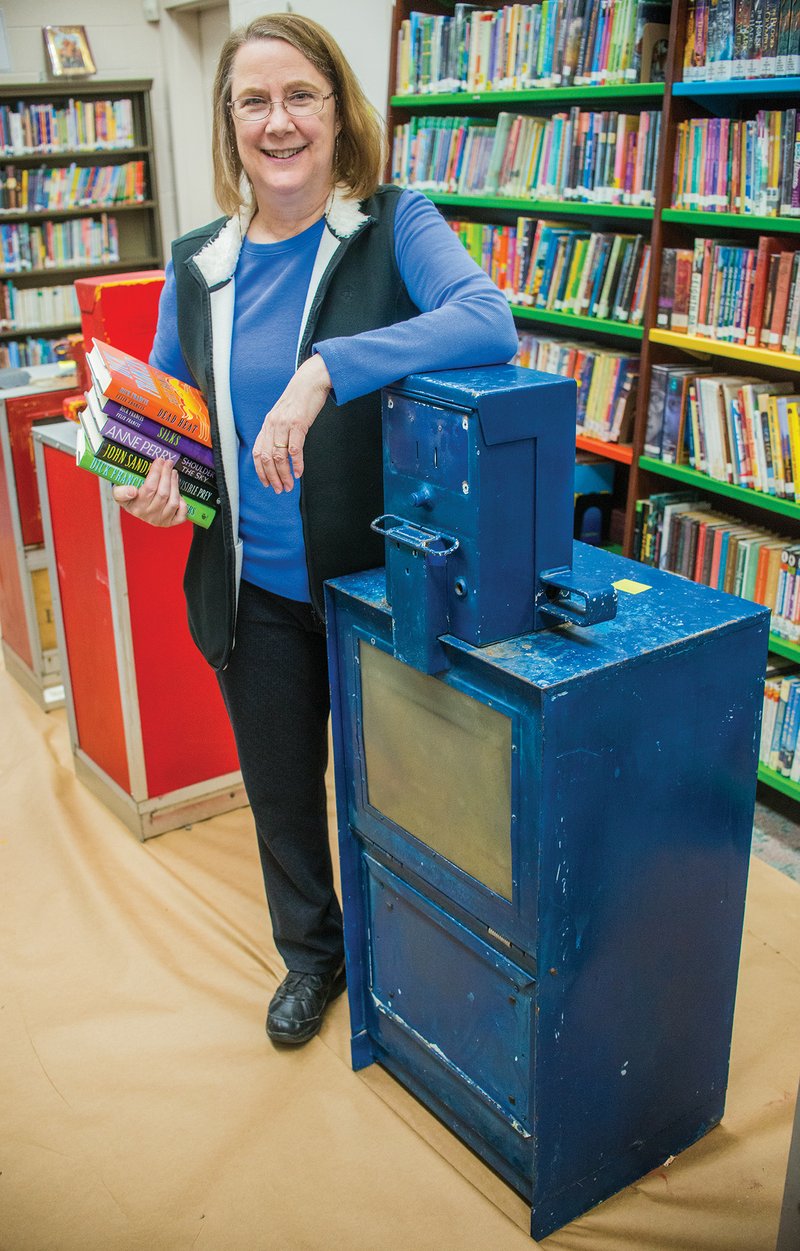 Amy Ketzer, director of the Grant County Library, stands next to a used newspaper stand in the library. The donated stands will be refurbished as Little Free Libraries to be spread across Grant County. ( William Harvey)
SHERIDAN — The Grant County Library is in the early stages of placing Little Free Libraries in Sheridan and all around Grant County at the beginning of the year.
"It is a large rural county," said Amy Ketzer, the Grant County Library director. "Not everybody has the time or means to come to Sheridan to come to the library.
"We want to get as many books into as many hands as we can."
The Little Free Libraries are refurbished newspaper stands that were donated to the library.
"The idea is to take a book and leave a book," Ketzer said. "Hopefully, the communities will share their books with their neighbors."
The boxes will initially be stocked with used books from the library and book drives at the schools, and it is hoped that new books can be purchased with grant money.
"We are always getting donations, and we are always withdrawing books from our library collections," Ketzer said. "There is not a set number, and there is not a shortage of books, either.
"The school has boxes already set aside to stock these with."
For the project, the library is partnering with several schools and other organizations, including Sheridan Elementary School, East End Elementary School and Poyen Elementary School.
"This summer, we became a RISE (Read Initiative for Student Excellence) School," said Lindsey Bohler, Sheridan Elementary School principal. "And it is our objective to get students to read outside of the school.
"We heard about what the library was doing, and we just went into a partnership with them to get it going and get it started. We are just in the beginning stages of it."
Bohler said Dottie Goode, the librarian at Sheridan Elementary, has been tasked with writing a grant to the Walmart Supercenter in Sheridan to help purchase books.
Right now, the library has seven used newspaper dispensers ready to be transformed. Ketzer said two will be placed in Sheridan, and the rest will be placed in Prattsville, Grapevine, Leola, East End and Poyen.
Ketzer said the dispensers will be painted and ready for use by January.
"We are trying to get more kids with books in their hands outside of school," Bohler said. "If we place [the little libraries] outside businesses, hopefully, they see them and want a book in their hand instead of a phone."
Bohler said she will contact businesses around Grant County and ask them for their support soon.
"The book drives will be the first week of December," Bohler said. "We will then load [each Little Free Library] up with books, do the ribbon cutting of it and the unveiling.
"We just haven't set an official date yet."
Bohler said Poyen's Emilee Webb, the 2017 Miss Arkansas Valley Outstanding Teen, is aiding in the cause. Her main platform is Reading Readiness With Rudy Reader. The Beta Epsilon Chapter of Delta Kappa Gamma is also contributing and has already pledged $200 to buy new books to keep in stock.
"It is just going to take a little bit of time to get everybody together," Bohler said.
Bohler plans to contact the art teacher at the high school to ask students to help paint and decorate the dispensers.
"We are tying to get as many kids' hands on them as possible so they can take a little ownership of it," Bohler said.
For more information, contact Ketzer at (870) 942-4436.
Staff writer Sam Pierce can be reached at (501) 244-4314 or spierce@arkansasonline.com.
Sponsor Content