First Orion, an Arkansas company that develops and sells software to help cellphone users identify and block unwanted calls, announced Monday that its new global headquarters will be in Argenta, the downtown neighborhood in North Little Rock.
The company's chief executive officer, Charles Morgan, said the location in the 500 block of Main Street and next to the planned $4 million Argenta Plaza will be its fifth and hopefully last location since the company was founded almost 10 years ago.
"We plan on building a building here that will allow us to grow to over 300 [employees] without moving every three years," he said.
The building, which will be five or six stories with the ground-floor reserved for retail establishments that will include restaurants and a fitness center, represents an investment by the company of slightly more than $10 million, not including the infrastructure that will go into the building to support the company's workforce, Morgan said.
Now housed in the Museum of Discovery building in the Riverfront area of downtown Little Rock, First Orion employs about 90 workers in Little Rock. By the time Morgan said he expects the new building to open in January 2019, he said the company expects to have 180 employees based in it. The company also has offices in Seattle, Dallas and London.
"We expect to grow that at the rate of 50 to 100 [employees] a year beyond that," Morgan told reporters after the formal announcement at the site of the headquarters.
Annual payroll is about $10 million for the privately held company, which projects $40 million in revenue in 2018, he said. At a news conference in 2012 in Conway to announce an expansion that would add 121 jobs to the 24 the company then had, the average projected pay for those jobs was $38 an hour, or about $79,000 annually.
The company's primary customer is the cellphone giant T-Mobile.
"Today, we're providing scam protection for 40 million T-Mobile subscribers, quickly moving to about 70 million T-Mobile subscribers in the next month or so," Morgan said. "Scam protection is the first big product that we've had. We've also had a number of other products, very exciting ones announced, getting traction ... worldwide. It's a very exciting time for our business."
With Morgan at Monday's announcement was North Little Rock Mayor Joe Smith and Mike Preston, director of the Arkansas Economic Development Commission.
All three said locating a high-tech company in the downtown mixed-use Argenta neighborhood -- known for its housing, entertainment and transit amenities -- is about attracting and retaining young, skilled Arkansans.
"It demonstrates that there are ways for young people looking for high-paying technology-related jobs to find jobs in Arkansas," Morgan said. "They don't have to move out of state."
"We are creating a walkable, a liveable, a workable community in our downtown," Smith said. "We're creating a city our children and our grandchildren will refuse to leave."
The company is working with the Arkansas Economic Development Commission on an incentive package, which agency director Preston said likely won't be finalized until the end of the month.
"We're still working out the details on that," Preston said. "We're still negotiating with Charles and his team exactly what the scope of the project is going to be in terms of investment, number of employees. That's what we will base the incentives deal on."
Preston said companies like First Orion make it easy to pitch Arkansas to companies all over the world.
"We're excited about the growth and the opportunity that we have," he said. "I travel the world, I travel the country, looking to bring back jobs to Arkansas. I just got back from a trade mission to Asia. Time and time again, we found ourselves talking about the great strengths that we have in Arkansas. We can point to companies like First Orion and what you guys are doing here today and the future you have laid out."
Preston pointed to Morgan's enviable track record. As chief executive officer of Acxiom, Morgan built a company worth $1.4 billion that employed 7,000 people worldwide.
"Charles Morgan has done this before in Arkansas," Preston told a crowd of dignitaries and employees of both the city and First Orion. "And here he is doing it again."
First Orion employees arrived for the announcement on a Rock Region Metro streetcar, which Morgan said was fitting illustration for the larger central Arkansas.
"Right now, we're in downtown Little Rock and we made a statement today by coming on the trolley," he said. "The statement is we think that central Arkansas, the connection between Little Rock and North Little Rock, is a very important one that is symbolized by the trolley line that connects these two cities. We brought our people over on the trolley to emphasize that, that we look at central Arkansas as our home, as I did for Acxiom previously."
For Smith, the announcement represents a capstone on redevelopment efforts in the downtown area.
It already includes a $16 million 162-unit apartment development called Thrive Argenta a block off Main on property bounded by East Fourth and East Fifth streets and Poplar and Magnolia streets.
Smith announced the concept of what is for now called the Argenta Plaza on Main Street between Fifth and Sixth streets. Preliminary plans feature a free-standing water wall, jetted fountains, oxbow lake-shaped berms, an audiovisual screen wall and a "front porch" complete with porch swings, according to a conceptual look of the planned plaza Smith showed in September.
Monday night, the North Little Rock City Council approved appropriating $4 million for the plaza. The money is from a $1.4 million special projects fund previously set aside for the plaza's development and another $2.6 million from the city's Sales Tax Capital Improvement Fund comprised of sales tax dollars saved, Smith said, from the previous three years. The city's current 1 percent sales tax dedicated 25 percent toward capital improvement.
None of the plaza's $4 million will come out of the new 1 percent city sales tax North Little Rock voters approved in August, Smith said. The new tax isn't effective until Jan. 1.
"This is old money," Smith told council members of the plaza funds. "During the last two years we've been very conservative with our capital money."
Council members also approved legislation endorsing the purchase and sale agreement for a second office building on city property just beyond the plaza's north side. The planned $4.8 million, three-story building will be constructed by the city's Downtown Development Board and be leased to the North Little Rock Convention and Visitors Bureau; Taggart Architects, which is designing the plaza; and the Arkansas Automobile Dealers Association. Each tenant will pay one-third of the building's cost.
"Today, we add an exclamation point to Argenta neighborhood, we add an exclamation point to the Argenta entertainment point and we begin in bold letters, the Argenta business district," Smith said. "Thank you, Charles and First Orion, for bringing the first shining star in our business district."
Information for this report was provided by Jake Sandlin of the Arkansas Democrat-Gazette.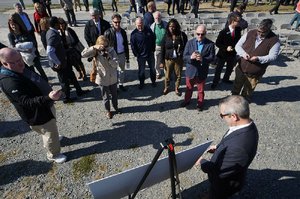 Photo by Mitchell PE Masilun
People take photos of a poster showing the design of First Orion's headquarters after a news conference Monday in North Little Rock.
A Section on 11/14/2017