Heavy-metal rocker and animal-welfare activist Tommy Lee has called for an end to the chuckwagon races in Calgary, Alberta, and the running of the bulls in Pamplona, Spain.
Now he's trying to stop the Yellville turkey drop.
Lee sent a letter late Tuesday to Yellville Mayor Shawn Lane about the annual Turkey Trot festival, at which live turkeys are tossed from a plane over nearby Crooked Creek in a 50-year ritual referred to as the turkey drop.
The Federal Aviation Administration says the practice doesn't violate any of its regulations, and a local prosecutor doesn't plan to pursue animal-cruelty charges against the pilot.
Lee, a drummer, is co-founder of the band Motley Crue, which has sold more than 100 million records.
"I've met some wild Arkansans over the years while touring there with Motley Crue, and I thought I'd heard it all," wrote Lee. "But I just heard from my friends at PETA about a twisted Ozark ritual that even the most deranged headbanger couldn't invent: dropping live turkeys from a plane as the 'entertainment' at the 'family-friendly' Turkey Trot festival. I'm writing to add my voice to the thousands of others asking you to help deep-six this sick stunt.
"Arkansas offers plenty of cool outdoor gatherings that don't rely on sadism, from the Lights of the Ozarks [in Fayetteville] and the Mountain View Bluegrass Festival to my favorite: Wild Women Wednesday at Pinnacle Mountain State Park," wrote Lee. "If those attending the Turkey Trot want blood and guts, they can hit the Sun Valley Cinema afterward and see the newest slasher movie."
According to arkansasstateparks.com, Wild Women Wednesday is "a ladies hike on one of Pinnacle Mountain's gorgeous trails."
Thea Hoeft, a seasonal front desk clerk at Pinnacle Mountain State Park, 17 miles northwest of Little Rock, said men can go on the Wild Women Wednesday hikes, but they usually don't. Hoeft said she hadn't heard about Lee hiking with the ladies.
Yellville's Mayor Lane couldn't be reached for comment Tuesday.
Rick Canny, Lee's manager, confirmed the authenticity of the letter.
"It is definitely not fake news," said Canny. "Tommy has been involved with PETA for a long time. He speaks up when he thinks it's something he should lend his voice to."
Canny said Lee was in the recording studio Tuesday and unavailable for comment.
Canny said he received a copy of the letter from Lee.
Another copy of the letter was sent to the Yellville Area Chamber of Commerce. A copy was also furnished to the Arkansas Democrat-Gazette by a spokesman for People for the Ethical Treatment of Animals.
"As a longtime fan of the Ozarks, I respectfully ask you and the Chamber of Commerce to use your power to drop the turkey drop," Lee wrote in the letter's last sentence.
City, chamber and Marion County officials have said that, while they support the Turkey Trot festival, they have no involvement in the dropping of live turkeys from airplanes. That has been done, historically, by "Phantom Pilots."
The Phantom Pilot of this year's festival apparently didn't violate any FAA rules, said Lynn Lunsford, a spokesman for the agency.
Live turkeys were dropped from a plane -- one per flyby -- as it made several trips over the festival on Oct. 14, but the turkeys were released over Crooked Creek and adjacent fields, not over people or buildings.
"The investigators determined that the flights violated no regulations because the birds were dropped away from the crowds at the festival," Lunsford said in an email.
Several turkeys were dropped Oct. 14 from a 1966 Piper PA-28-140 that is registered to Aldino Raimondi of Yellville, according to FAA records. Raimondi didn't return telephone messages left for him Tuesday.
The FAA investigated Dana Woods and his flight path in 2015 and determined that it violated no agency regulations. Woods is a pharmacist and Mountain View alderman who was the Phantom Pilot for about 15 years, including 2016.
Lunsford said Raimondi apparently followed the same flight path as Woods. The FAA relied on testimony from witnesses because it didn't have agents at this year's festival.
The agency has no jurisdiction over animal-cruelty complaints, said Lunsford.
"FAA regulations don't specifically deal with dropping live animals out of airplanes, so we have no authority to prohibit the practice," Lunsford said. "This does not mean we endorse it."
A Bruno woman filed animal-cruelty complaints with the Marion County sheriff's office regarding the turkey drops in 2016 and 2017.
Rose Hilliard alleged animal cruelty and abandonment under Arkansas Code 5-62-103. It's usually a misdemeanor punishable by up to a year in jail and a fine of up to $1,000. Upon a fourth conviction within five years, cruelty to animals becomes a felony in Arkansas, and the guilty party is ordered to undergo a psychiatric evaluation.
Marion County Sheriff Clinton Evans said he was informed Tuesday by Deputy Prosecuting Attorney Kenford Carter of Arkansas' 14th Judicial Circuit that he wouldn't pursue charges in either case, for 2016 or 2017.
"The prosecutor's office will not be prosecuting them," said Evans.
He said Carter didn't elaborate. Carter couldn't be reached for comment Tuesday.
For more than 50 years, an airplane has flown by the festival and dropped live turkeys. People chase the turkeys and often return with them to the festival on the downtown Yellville square so they can show them off.
While the turkeys usually spread their wings and glide to a landing, some are apparently confused and try to flap their wings. Instead of floating, they fall. Out of a dozen turkeys that were dropped during the 2016 festival, two reportedly died on impact.
Wild turkeys can fly at speeds up to 55 mph, but they usually fly from treetop to treetop, at an altitude of less than 100 feet.
During the turkey drop, the airplane is at an altitude of at least 500 feet.
Yvonne Vizzier Thaxton, a professor of poultry science at the University of Arkansas, Fayetteville, said that altitude would be enough to cause stress to the birds. She called the turkey drop a "horrific act of abuse."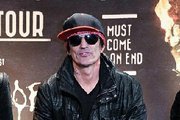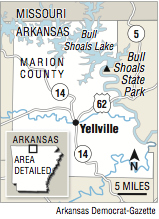 Metro on 11/15/2017