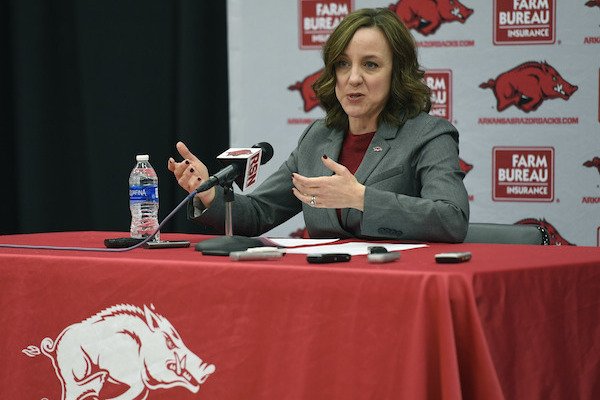 Julie Cromer Peoples, interim athletic director for the University of Arkansas, talks about the decision to fire Arkansas coach Bret Bielema following a Razorbacks NCAA college football game against Missouri, Friday, Nov. 24, 2017, in Fayetteville, Ark. (AP Photo/Michael Woods) ( Associated Press )
When it comes to athletics, University of Arkansas, Fayetteville Chancellor Joe Steinmetz is arrogant, oblivioius or doesn't realize he is not at Ohio State University anymore.
Coaches line up to work at Ohio State.
At Arkansas, coaches have to be recruited, properly vetted and passionate about all things Razorbacks. And it didn't get easier with the way the UA treated Bret Bielema.
Transparency with the Razorback Nation is a must.
Friday night at a news conference, interim athletic director Julie Cromer Peoples said she made the decision to fire Bret Bielema after consulting with Steinmetz. She claimed the decision wasn't made until after the loss to Missouri, and it was done immediately so the players who were about to scatter all over the region wouldn't find out through a phone call or social media post.
Bielema had just finished the postgame prayer when he was summoned out of the locker room and fired. Needless to say, it was a shameful way to treat a coach and the national media ripped the UA for hours.
Bielema deserved better because he did nothing to embarrass the UA, which couldn't wait 12 hours to fire him.
As for the players, it is highly doubtful they were going anywhere. The Thanksgiving holiday was half over, and they have classes Monday.
The news conference in Barnhill Arena had been set up hours before Cromer Peoples appeared at 7:42 p.m. for the 7:30 p.m. meeting with the media.
It was as self-serving of a news conference as experienced in 38 years of writing columns about the Razorbacks.
This column has nothing to do with gender, just what Cromer Peoples said. If a guy had made the same statements a couple of hours after the football coach was fired, the exact same column would have been written. Any person who seems to have an agenda deserves scrutiny.
Not only did she take credit for firing Bielema but she also said she would be on the point for hiring the next head coach; that it wasn't important to have an athletic director, although the UA did with her; that she had a vast network she would consult with; and there would be NO search committee.
That last statement was questioned not once, not twice but three times by the media, maybe more by the board of trustees.
Apparently Cromer Peoples thinks the AD job is important enough to have an advisory committee and the head coaching job isn't, which is a totally alien way of thinking in the world of college football.
Football fans don't spend money and gather 72,000 strong to watch an AD operate, but they do to see a coach win, which is why Bielema was fired -- he didn't win enough games.
Cromer Peoples said she had experience in coaching searches, citing the fact she was on the search committee at Indiana when it hired Kevin Wilson.
Indiana is a basketball school and a football dumpster fire, and Wilson resigned in December after claims of player abuse. He had a 26-47 overall record and 17-37 mark in the Big Ten.
Friday night's well-planned news conference -- her opening statement truly was brilliant with five references to Bielema, four times she used "I" and 10 times "our" or "we" -- made it seem that Steinmetz has performed a campuswide search for an AD and settled on Cromer Peoples.
It was the impression she left with several well-respected journalists.
Educated doesn't always mean smart about all things, and what Cromer Peoples and Steinmetz need to understand is the Arkansas Razorbacks do not belong to them. They are not a toy. They are a program that belongs to the Razorback Nation.
Sports on 11/26/2017
Print Headline: Steinmetz, Cromer Peoples causes for concern
Sponsor Content