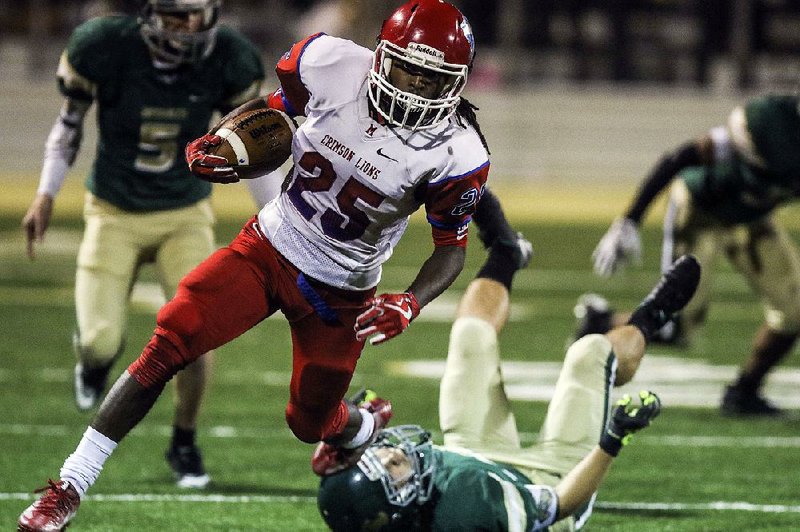 Little Rock McClellan's Tyrse Lair (25) has started at quarterback and cornerback in helping the Crimson Lions reach the Class 5A state championship game against Pulaski Academy. ( Mitchell PE Masilun)
Little Rock McClellan Coach Maurice Moody couldn't help but heap praise on his senior class during the middle of his team's practice Tuesday at War Memorial Stadium in Little Rock.
McClellan's seniors -- led by quarterback/linebacker Tyrse Lair, running back/linebacker Tommy Crumpton, running back/free safety Andre Campbell and wide receiver/cornerback Jaylin Cunningham -- have been a part of one of the state's biggest turnarounds. The Crimson Lions (10-3) had one victory in 2013, Moody's first season. The current senior class won 10 games in 2015, eight in 2016 and 10 so far this season.
"This group is closer than any one I've had in a long time," Moody said. "They're truly a brotherhood. They're what you want in a football team. They're a class act. They take care of things on and off the field. You don't hear about them getting in any trouble at school or outside of school.
"I really like this group of kids. I'm going to hate it when they're gone, but at least they're finishing on a high note, win or lose."
The high note is playing in the Class 5A state championship game Saturday against Pulaski Academy (13-0).
The Crimson Lions practiced at War Memorial Stadium on Tuesday for two-and-a-half hours -- ending after sunset in Little Rock without the stadium lights turned on -- to prepare for their second matchup of the season against the Bruins, who won the first game 61-29 on Oct. 27.
Saturday's game marks the last one for 19 seniors at McClellan, including Crumpton.
"It's surreal, the way people are treating us," Crumpton said. "Everybody is wanting you to beat PA. On Saturday at 6:30 p.m., these stands are going to be packed with people from Little Rock, I'm telling you."
Lair has been McClellan's catalyst during its playoff run as he moved to quarterback in place of classmate Bennie Kemp (who still starts at linebacker for the Crimson Lions).
In a 60-52 quarterfinal victory at Alma on Nov. 17, Lair, 5-6, 150 pounds, accounted for 358 all-purpose yards and 4 touchdowns, including a 75-yard kick return. Last Friday in the semifinals at Wynne, Lair rushed for 110 yards and threw for a touchdown in a 22-14 victory over the Yellowjackets.
It was a move Moody said was necessary, as he wanted McClellan to be more of a big-play offense as it advanced in the Class 5A playoffs.
"We knew coming into this year he could play quarterback. He was on our radar," Moody said. "But he's the smallest kid out there. He's got the biggest heart. He's the smartest kid on the field. I didn't think he could take the pounding.
"We were were waiting on the right time."
Lair was waiting for his opportunity.
"They knew I played quarterback in middle school," Lair said. "They said they were going to give me a shot. It's worked out, so we're going to roll with it."
McClellan was the No. 3 seed from the 5A-Central Conference, but Moody felt the draw his team received in the Class 5A playoffs worked to its favor.
"We thought we could make some noise in the playoffs," Moody said. "Beating Batesville? That doesn't happen often, but we've done it twice in three years. Alma, they're tough and an extremely well-coached ballclub. Then, we're going down to Wynne, with their tradition. You've got state championships, runner-ups, all of that history and that tradition.
"It's been huge for our program. It's a testament to the kids we have. The hard work we've put in. The mentality of never quit, don't give up. We're reaping some of those benefits."
State championship schedule
At War Memorial Stadium, Little Rock
FRIDAY'S GAME
CLASS 6A
Greenwood vs. Pine Bluff, 7 p.m.
SATURDAY'S GAMES
CLASS 7A
North Little Rock vs. Bentonville, noon
CLASS 5A
Little Rock McClellan vs. Pulaski Academy, 6:30 p.m.
FRIDAY, DEC. 8
Class 3A state championship game, 7 p.m.
SATURDAY, DEC. 9
Class 4A state championship game, noon
Class 2A state championship game, 6:30 p.m.
Semifinal schedule
FRIDAY'S GAMES
CLASS 4A
Warren at Joe T. Robinson
Arkadelphia at Pea Ridge
CLASS 3A
Osceola at Junction City
McGehee at Rivercrest
CLASS 2A
Foreman at Earle
Mount Ida at Camden Harmony Grove
Sports on 11/29/2017
Print Headline: Seniors build LR McClellan from ground up
Sponsor Content