FAYETTEVILLE -- Spencer Sumlin credits the Fayetteville Virtual Academy for putting him on track to graduate high school.
"I was not only distracted in class but a distraction in class," he said jovially of his time in a traditional school setting.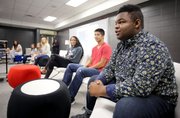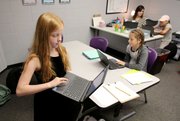 Student demographics
The 214 students at Fayetteville Virtual Academy came from homeschooling backgrounds, private schools, other charter schools and several different public school districts including:
• 136 students from Fayetteville
• 11 from Bentonville
• eight from Springdale
• five from Prairie Grove
• one from Rogers
• one from Huntsville
• one from Farmington
• one from Greenland
• one from Van Buren
• one from Fort Smith
• one from Lincoln
• one from Elkins
• one from the state of Wisconsin
• one from West Fork
Source: Fayetteville Virtual Academy
His attention deficit hyperactivity disorder and the traditional school setting often clashed, and his grades suffered. So when the Virtual Academy expanded this year to grades nine through 12, Sumlin and his parents saw it as an opportunity.
"It's been one of the most successful things that we've done because it allows me to do my work in short bursts of high activity that just really work for me," Sumlin said.
The academy opened in the 2016-17 school year with 60 students in fourth through eighth grades.
It has a maximum enrollment of 225. There were 214 students enrolled as of Monday, 128 of which are high school students, said JoAnna Lever, principal.
Nearly half the high school students are hybrid students, meaning they take at least four of their seven classes through the academy and at least one class at Fayetteville High School, she said.
The academy is at 300 S. Ray Ave., which housed Happy Hollow Elementary until it moved into a new building at 2175 E Peppervine Drive.
Students are provided live, guided study sessions at least twice a week, take weekly field trips and take part in monthly service learning projects, Lever said. Students can participate in activities at Ramay and Woodland junior highs and at Fayetteville High School.
They interact with their teachers face-to-face on guided study days, through Zoom -- an application similar to Skype -- by email or phone.
The academy expanded its full-time teaching staff from three to nine and added 26 adjunct teachers to help instruct the 43 elective courses the school offers to its senior students.
Several high school seniors said they decided to switch from the traditional school setting to the Virtual Academy because of the flexible schedule. It's ideal for athletes with rigorous training schedules, students with health issues and those who grasp course material faster than their peers.
Virtual Academy students can participate in Fayetteville High School athletics and other extra curricular activities.
"It allows me to take my work with me rather than having to play catch-up all the time," said Jessica Killenbeck, who travels frequently to ride horses competitively. "It makes you responsible for your own time."
Killenbeck and seven of her peers talked about their Virtual Academy experience to district officials, Sen. Uvalde Lindsey, D-Fayetteville, and Reps. Greg Leding, D-Fayetteville, and David Whitaker, D-Fayetteville, during their Take Your Legislator to School visit Monday.
Many people think that because of its name the school is technology heavy, Lever said.
"We are in a sense, but it's more about personalizing learning, and I really feel like that's what we're in the business of," she said.
The intent of personalized, or student-focused, learning is to move away from the traditional education system where the instruction is delivered to students in groups to where the student is the center of the instruction, said Denise Airola, director of the Office of Innovation for Education at the University of Arkansas.
Being a central role to their own learning allows students to develop personal competencies, such as how to self-advocate, manage time, think critically and develop a passion for learning, she said.
There is a growing interest throughout the state as well as nation to offer more opportunities for student-focused learning, Airola added.
"It just really allows us to elevate what's possible for kids," she said.
The Virtual Academy is an arm of Fayetteville Public School's high school, junior high, middle and elementary school experience, said Superintendent Matthew Wendt.
"We just felt like the experience for a student can be outside of the traditional building that he or she might attend," he said, adding that high school students are asking for more flexibility. "There's a buffet of issues and experiences that kids have."
The Virtual Academy plans to increase capacity to 350 in the 2018-19 school year and 500 in 2019-20. It also plans to add kindergarten through third grades in 2019-20 school year.
NW News on 10/02/2017