WASHINGTON -- At Nationals Park, thousands of fans poured into the stands on the last Saturday of the regular season, ready to cheer on their playoff-bound baseball squad.
But Rodney Slater, an Arkansan and one of the team's founding partners, had things on his mind besides pennant races and World Series rings.
The former secretary of transportation was focused, for the evening, on the Washington Nationals Youth Baseball Academy, which takes the national pastime and a lot more to kids from some of the city's poorest neighborhoods.
Closer to game time, the team would be promoting the program and recruiting volunteers, using the giant video screen in the outfield to spread the message.
Slater, 62, showed up 90 minutes early so he could greet participants and highlight the program's accomplishments. He serves as chairman of the academy's board of directors.
"We've got about 150 kids in the program. The objective is to teach them about life and setting goals and to use baseball as a metaphor for that," he told the Arkansas Democrat-Gazette.
The participants are third- through eighth-graders.
The academy is based in Washington's Ward 7, across the Anacostia River from the gleaming monuments and the modern high-rises. Ninety-five percent of its residents are black. Forty percent of its children live in poverty.
Many of them live in the housing projects that dot the area.
The academy's strategic plan is full of grim statistics about the community it serves: "Nearly 60% of students drop out of high school before graduation. ... More than 40% of young people under the age of 18 are obese. ... Violent and property crime rates reign as the highest in the city."
The goal, the plan states, is to help children "develop the skills and resiliency necessary to overcome the challenges of poverty, reach their full academic potential, and lead long and healthy lives."
"This is a really positive outlet," said Tal Alter, the academy's executive director.
The after-school program is held three times per week.
"Kids are here from 3:30 until 7:30. They get a snack. They spend an hour doing their homework, an hour playing baseball, an hour with mentors and then they have dinner," he said. There's a summer program as well.
The academy takes a "holistic" approach, Alter said, promoting academics, health and food education, community engagement and sports -- baseball and softball, to be precise.
The academy is located on 9 acres and includes three ball fields, indoor practice facilities and locker rooms, plus seven classrooms and a kitchen.
Toward the back of the property is a community garden, funded by Wal-Mart, where a variety of fruits and vegetables grow.
"Kale, cucumber, squash, corn. ... All organic," Alter said as he showed off this year's crops.
There are sunflowers and Swiss chard, oregano and eggplant. Even a small orchard.
"I think next year will be our first harvest with pears and plums and peaches and pawpaws and persimmons and figs," Alter added.
The kids are encouraged to participate in the horticultural projects.
"It's a lot easier to encourage a young person to eat a tomato for the first time if they see it growing and they're a part of helping grow it," Alter said.
The academy's community activities are extensive. It hosted a health fair Wednesday and will launch a "financial confidence" course later this month, focusing on budgeting, saving and debt reduction.
Cooking classes get underway next week.
Since it opened in 2014, the complex has hosted thousands of events, attracting about 15,000 unique participants each year.
On a recent afternoon, all three ball fields were occupied.
Slater, who spent his childhood in Marianna, remembers what it's like to live in government housing; to attend segregated schools; to lack the sporting equipment that many children take for granted.
He makes sure the kids the academy serves have all the supplies they need.
As a youngster in Lee County, Slater was a St. Louis Cardinals fan.
In those days, "everybody from Arkansas was rooting for the Cardinals," he said.
He never imagined, growing up, that he'd one day be part owner of a ballclub.
"No. No," he said, laughing softly as he recalled those years. "I mean, I had a little difficulty even playing the games because we didn't have many left-handed gloves to pass around. I remember actually using a right-handed glove. You'd catch, you'd take off the glove, you'd throw. That's not an efficient way to play the game, but it shows ... how there can be a few limitations that you have to overcome."
The academy hopes to help youths surpass any obstacles that would hinder their success.
"The objective is to really teach them life lessons through baseball," Slater said. "We call them scholar-athletes because the emphasis is on scholarship. ... We also seek to positively impact their families as well."
The academy's board includes members of the Lerner family, the principal owners of the team, as well as Anthony Rendon, who finished the season with 25 home runs, 100 runs batted in and a .301 batting average.
The all-star-caliber third basemen said he believes in the academy's mission.
"You're taking not-so-privileged youths, and you're trying to create a better environment for them, using baseball to do that."
The team's manager, Dusty Baker, said the outreach is good for kids.
"It keeps them out of the streets. It keeps them out of the malls. You might get a few kids playing in college or even in the pros [eventually]," he said.
Regardless of their athletic abilities, they'll benefit from baseball because "it's a lot like life," Baker said. "You've got ups and downs. Hot and cold times. There's times when all you have is faith."
The sport isn't easy, Slater said.
"Baseball is a tough, tough game. You're striking out a lot, so you've got to develop a sense of ... resilience, persistence, focus," he said.
It's taken persistence to make baseball a success in the nation's capital.
The Washington Senators, the city's team from 1901-60, moved to Minnesota and became the Twins. An expansion team, also named the Senators, played from 1961-71, then moved to Arlington, Texas.
It would be more than three decades before major league baseball would return. The Montreal Expos, launched in 1969, moved to Washington and became the Nationals, arriving in time for the 2005 season.
The new arrivals struggled. They had losing records six of those first seven seasons. But they turned a corner in 2012, finishing first in the National League East Division.
They've been in contention ever since, drawing more than 2 million fans each year.
This year, the team went 97-65, winning its fourth division crown in six years.
"I think we're going to see good things from them in the postseason," Slater said as he looked ahead to the playoffs.
First up is the defending World Series champion Chicago Cubs.
The best-of-five division series started Friday, with game 2 Saturday night. The two teams are to meet again Monday.
Slater said he looks forward to watching the action.
"Baseball has always been a sport to be enjoyed," he said. "It's not as fast-paced as, say, basketball or soccer or football. But it's a game that has its own drama. It has its own suspense. It has its own spirit, and it's just a wonderful game."
The number of blacks playing major league baseball has dropped over the past four decades.
In the mid-1970s, they made up roughly 18 percent of the rosters. By 2016, that figure had dropped to 6.7 percent, according to an analysis published by the Society for American Baseball Research.
Baseball officials are concerned about the drop.
"We're trying to work on that," Slater said. "Commissioner [Rob] Manfred is definitely committed to taking baseball to the breadth of our community, urban and rural areas and all sectors of society."
Scarcity of resources contributes to the problem, Slater said. "Clearly baseball requires a lot of time, it requires a fair amount of equipment and the fields are not as plentiful as, say, basketball courts."
The baseball academy and others like it are making inroads, however, Slater said. "I think this is the kind of program that can help us address that issue."
Hopefully, he said, these young people will eventually be part of the "next generation of fans and players."
Youth academy participants and their parents give the program high marks.
"I play pitcher, shortstop, second base, third base and outfielder," said 12-year-old Dejuan Taylor. "I don't know why I like it. It's just fun."
His father, Jeris Taylor, said the academy is a valuable resource.
"This program, it's good for the kids on the east side of the river," he said.
The sport faces stiff competition in urban communities, he said.
"African-American kids, they enjoy basketball and football. You rarely catch them playing baseball," Taylor said.
But Dejuan is crazy about the game, Taylor added. "He's been in it since he was 9 years old," the father said. "By him playing baseball, he progresses. As he gets older, he's getting better."
Alter, the academy's executive director, called Dejuan "a good player. He's got a lot of potential."
But the metrics for measuring success can't be printed in a box score, he said.
"We're not trying to make Dejuan into a major league baseball player. We're trying to make him into a major league person," he added.
Photo by Frank E. Lockwood
Rodney Slater, who grew up in Marianna, remembers what it's like to live in government housing, attend segregated schools and lack the sporting equipment that many children take for granted.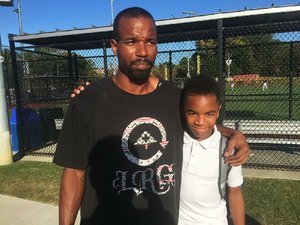 Photo by Frank E. Lockwood
Jeris Taylor and his 12-year-old son Dejuan attend a recent session at the baseball youth academy in Washington. "This program, it's good for the kids on the east side of the river," Jeris Taylor said.
SundayMonday on 10/08/2017