Shelter in place: to seek safety where one is.
The phrase is also the title of a new exhibit by Culture Shock Arkansas Art Collective, a group of female Arkansas artists. "Shelter-in-Place," showing through Oct. 27 at North Little Rock's William F. Laman Library, brings together work by nine of its members who explore how, where and why we shelter and, perhaps, from what.
Melissa Gill's Center offers refuge in the natural world in a 10-foot-tall construction with a PVC pipe frame and beautiful forest relief prints on paper sewn together. Gill's stunning prints create an inviting, serene atmosphere that allows the viewer to enter and find peace in nature and, ultimately, to shelter in place within one's center. The top of the shelter is an open "sky" populated by origami birds and butterflies. If there had been a place to sit inside, I might still be there.
As you approach Tammy Harrington's pink-hued Encounter and turn into its entrance, an almost startling primal-like image seizes the viewer's attention. Have we just stepped into an alternate plane of existence? Harrington's paper-cut patterns are delicate, but the message is hardly fragile: sometimes the refuge you may not have known you needed presents itself to you. Her installation has a striking sky of delicate white cut-paper patterns with clouds and birds against pink netting; the sides have exquisite cut-paper birds. Beautiful.
Dawn Holder, who won the Grand Award at this year's "Delta Exhibition" at the Arkansas Arts Center, takes a more complicated view of sheltering in place. Memory meets reality in The Trouble With Nostalgia (The cadaver is its own image). As its title suggests, memory and perception aren't always accurate and are an unreliable refuge.
A 10 1/2 foot tall wooden frame suggests a building's outline. Inside, Holder has placed a bright electric green-painted bush that is real and unreal, upside down in its center. On the floor is a cobblestone-like pattern of broken concrete topped with fake turf atop soil. Much can be taken from this work of cultural/social commentary, such as: human creations will ultimately be undone by the natural world. It is as though, frightened of nature, we do our best to control it or hide from it. Ultimately, real grass trumps fake turf; nature may be damaged by us, but it will always outmaneuver us.
The color pink also figures prominently in Sandra Luckett's gauzy Pretty on the Inside. And it is. A pink-tinged fabric covers a wooden A-frame construction. Inside this tent-like shelter we see a chandelier and lots of handmade items, mostly fabric-based, to captivate the viewer. It shelters the spirit with comfort, joy and creativity.
Rachel Trusty's unsettling Home Is Only a Memory chills and fascinates. The tent's entrance is closed, our warm memory of home meets a cold reality -- it's gone. Trusty's creation also may stir psychological and familial landscapes and memories that inhabit the place we either run to or away from.
Other participating artists are Melissa Cowper-Smith, Sofia Gonzalez, Louise Halsey and Holly Laws. The exhibit provokes thought and, if one is willing, invites reflection on what shelter and place mean to each of us.
"Shelter-in-Place," through Oct. 27, William F. Laman Library, 2801 Orange St., North Little Rock. Hours: 9 a.m.-8 p.m. Monday-Thursday, 9 a.m.-5 p.m. Friday-Saturday. Info: (501) 758-1720, lamanlibrary.org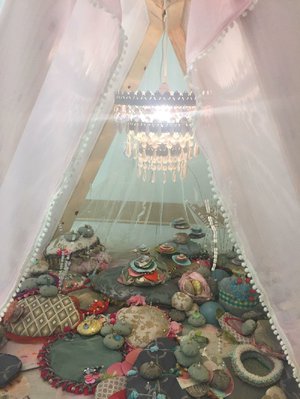 Photo by Ellis Widner
Sandra Luckett's Pretty on the Inside is a mixed media work showing at the William F. Laman Library in North Little Rock. It is part of the exhibit "Shelter-in-Place."
Email:
ewidner@arkansasonline.com
Style on 10/10/2017