FAYETTEVILLE -- Fifth-year Arkansas Razorbacks football Coach Bret Bielema has a substantial buyout written into his contract, but it is not as high as reported.
Based on an evaluation of the contract by legal counsel for the Arkansas Democrat-Gazette, Bielema would be owed a little less than $5.9 million in buyout payments if dismissed at the end of the season.
The buyout owed to Bielema is decreasing by about $159,000 per month based on language and figures included in his original employment agreement and an amended contract that became effective Feb. 6, 2015, after the Razorbacks finished a 7-6 season by defeating Texas 31-7 in the Texas Bowl.
The buyout has been reported widely as $15.4 million, but that number is used only as the basis to calculate the actual buyout figure. The amount used to calculate Bielema's buyout on Jan. 1 drops to $11.7 million.
University of Arkansas, Fayetteville officials declined comment for this story, and UA legal counsel could not be reached to confirm the calculations.
There has been no indication Athletic Director Jeff Long is considering making a change at head coach. In fact, Long expressed full support of Bielema during an appearance at the NWA Touchdown Club on Sept. 6.
"I'm 100 percent behind Bret Bielema," Long said when asked whether Bielema was on the hot seat entering the season. "He's our football coach. He's building our program. He's doing many, many things right. As I said today to this group, sure we'd like to win a few more games.
"Nobody wants to win more games than Bret Bielema. That's what we're here for, and that's what competition is all about. So, yes, I support Bret Bielema and he is our coach and he's doing a good job. And you know what, with a few more wins he's doing an incredible job."
Bielema and the Razorbacks are 2-3 overall and 0-2 in the SEC after a 48-22 loss at South Carolina on Saturday in which Arkansas was favored by 2½ points. Fan unrest on social media, talk radio and other forums ratcheted up after the loss.
The Razorbacks, who have lost their past five games against Power 5 opponents, take on No. 1 Alabama on Saturday in Tuscaloosa. The Crimson Tide have won 10 games in a row in the series.
Bielema has a 27-29 overall record and a 10-24 mark in the SEC at Arkansas.
Bielema expressed optimism Monday that the Razorbacks could bounce back this season.
"The good news is we have good kids who haven't shown any ... bad signs of losing that [hope] ... any lack of effort, any lack of discipline, any in-fighting," he said. "It's more of a message of unity and persevering."
Later in his news conference, Bielema said: "Everyone is going to have commentary, I get it. But they really, truly are a team that is not very far away from being where they need to be."
After inheriting a rebuilding situation from the 2012 season left over from Bobby Petrino's messy departure and John L. Smith's interim season, Bielema's first Arkansas team went 3-9 overall, 0-8 in the SEC.
The Razorbacks snapped a 17-game losing streak against SEC competition with a 17-0 upset of No. 17 LSU en route to the 7-6 finish in 2014. Bielema's 2015 team went 8-5, including a 5-3 record in the SEC that tied for third place. The 2015 team finished on a high note with a 45-23 victory over Kansas State in the Liberty Bowl, making Bielema the first Arkansas coach to win bowl games in back-to-back seasons.
The 2016 team alternated victories and losses for nine consecutive weeks after a 3-0 start, reaching a high of No. 16 in The Associated Press poll with a 4-1 mark before falling 49-30 to Alabama at Reynolds Razorback Stadium. Arkansas had a 7-4 record before blowing big halftime leads against Missouri and Virginia Tech to finish 7-6.
Bielema's actual buyout is determined by a formula included within the language of his original deal, which was made effective Dec. 4, 2012, and signed the next August.
It uses the $15.4 million figure as a numerator and divides that by the total number of months (97) in the full term of his contract. That figure of $158,762.88, called the "monthly value of the total guaranty payment," would then be multiplied by the remaining number of months on the contract, which runs through Dec. 31, 2020.
Based on that equation, Arkansas would owe Bielema about $5.874 million to terminate his contract after the season concludes Nov. 24, plus a prorated amount for any partial months of employment.
That figure would be offset by the gross amount of any salary earned by Bielema through December 2020 -- including for consulting or administrative jobs in college football or the NFL -- or any work outside of coaching, such as a side business.
The buyout money owed to Bielema would be paid on a monthly basis as a guaranty of The Razorback Foundation, the fundraising arm of the UA athletics department, or a financially responsible third party arranged by the university, per the contract.
Bielema's salary this season is $4.2 million based on the amended contract from February 2015. He has athletic- and academic-based incentives that could total up to $1 million each year, although the maximum amount he could earn this year is likely $250,000, mostly for players' classroom achievements that are reflected in the NCAA's Academic Progress Rate and Graduation Success Rate.
Bielema would earn a minimum bonus of $50,000 if Arkansas makes a bowl game.
In addition to Bielema's buyout, each of Arkansas' nine full-time assistant coaches have buyouts, according to standard language located in each of those contracts. Assistants are promised up to six months' pay if they are unable to find employment after a head coach is fired, which would total up to $1,972,500 based on the most recent signed contracts.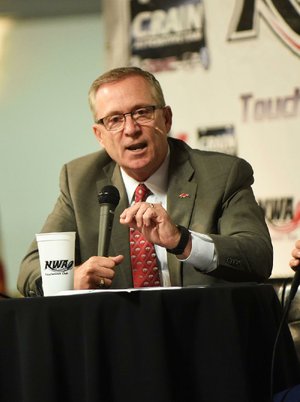 Photo by Flip Putthoff
Jeff Long, University of Arkansas, Fayetteville, athletic director, is shown in this photo.
Sports on 10/12/2017