As the judges huddle, the studio audience chants:
"Black Cobra! Black Cobra! Black Cobra!"
It's the Sept. 26 live finale of the ninth season of Ink Master, the Spike television reality show/competition centered on all things tattoo. Matt O'Baugh and Katie McGowan of Black Cobra Tattoo Studio in Sherwood stand on a New Jersey soundstage in front of the boisterous crowd, the three judges, ousted contestants, a bunch of cameras and millions of television viewers to learn their fate.
This is the pair's last hurdle in an over monthlong process on the show that involved intricate tattooing challenges and staving off rivals from 17 other shops in hopes of winning a grand prize of $200,000 and the title of Master Shop. The only thing standing between them, all that loot and tattoo glory are the other two finalists, Aaron "Bubba" Irwin and D.J. Tambe of Old Town Ink in Scottsdale, Ariz.
Host and judge Dave Navarro, along with fellow judges Oliver Peck and Chris Nunez, after conferring for about 20 seconds of TV time, are ready to announce a winner.
"The judges have decided," Navarro says, and the decision was unanimous.
Old Town Ink wins.
WRITTEN IN INK
So, was there any prize money for second place?
"Nothing," says O'Baugh, 37, with a laugh.
"But at least we got second," McGowan, 31, adds.
The two are seated on a couch earlier this month at Black Cobra, the shop O'Baugh opened in May 2012, and which McGowan joined a few months later. It's Monday, so the shop is closed, and they're talking about their lives in ink and their time on Ink Master.
O'Baugh, with his bearish build, beard and trademark scally cap, grew up in North Little Rock and gave himself his first tattoo -- a black widow spider on his ankle -- at about age 14 or 15, and was soon inking his buddies for fun.
"I had a cousin that used to baby-sit my younger brother. I walked in one day and she was poking a tattoo on herself and I thought that was the coolest," he says about his first exposure to the ink-and-flesh arts.
He graduated from North Little Rock High School and studied sculpture at Kansas City Art Institute in Missouri, but bailed after three years to tattoo full time.
"I realized that people who were graduating were going back home to work for their parents, moving furniture, installing satellite dishes ... things you don't need an art degree to do," he says. "That was a big part of that decision, for me. I was going to do my own thing, to put myself out there and do something with art that I could sustain myself with."
The first tattoo he applied to a paying client was of a tribal sun with a splash of color on a woman's leg at Dark Side Tattoo in Little Rock, although it didn't start off very well. He had a bobble while preparing her skin for its ink.
"I cut her shaving" he says, laughing. "Her confidence level was on the floor. I was nervous, but I tried not to show it. I was working with people who had been tattooing for years and I was trying to show off. But it really was a good tattoo."
His favorite subject is pet portraits, he says, and calls his tattooing style "illustrative realism," which features realistic textures and graphics but stops short of photorealism. His work can be seen on Instagram at @mattobaugh.
McGowan, dressed in black overalls, a colorful top and her arms covered in bright, eye-popping art, grew up in Conway and dropped out of Hendrix College after three years to tattoo.
"I grew up drawing. Once I got to college, I started taking art classes," she says. "I've always had a natural interest and I felt like I started to hone in on drawing better once I started working in the tattoo shop."
Her first tattoo was on her side and was her own design of a sparrow with roses.
"It hurt really bad," she says.
Her first job was as a piercer and tattoo apprentice at a shop called Primal Urge, located in a double-wide trailer in Conway.
"It was the spot," she says, laughing. "It was gnarly. It had carpet and a stripper pole. I did one tattoo there."
When Primal Urge closed, McGowan went to work at a shop in Benton, where she started tattooing in earnest: "The owner was super encouraging of me tattooing. I did my first paid tattoo on a girl in Benton."
Her style leans toward the neo-traditional and her images are feminine, colorful and bold. She posts news and examples of her work on Instagram at @katietattoos.
MASTER SHOP
Season nine, subtitled Shop Wars with 36 contestants from 18 studios competing, was not the first time O'Baugh and McGowan left their marks on Ink Master. The Black Cobra duo made their debut in 2015 during season six -- Ink Master: Master Vs. Apprentice.
McGowan had seen bits and pieces of the show, but O'Baugh was a regular viewer.
"I was a fan," O'Baugh says. "I had watched all of the seasons leading up to it. I thought I could do just as well as they're doing."
There was also the nagging sense that what he was seeing on TV didn't line up with his experience in the tattoo world.
"You see a lot of big egos, a lot of s*** starters," on the show, he says. "For the most part, I don't think that's an accurate depiction of the industry and how tattooers really are. I wanted to be a good representative for our industry and for our state. There are some really good shops in central Arkansas. We have a lot of talent here and being a good representative of that was important to me."
He had actually been through two seasons' worth of interviews with producers before his wife, Jessica, urged him and McGowan to attend a tryout in Austin, Texas.
"We left here on a Saturday night and drove through the night and made it an hour before the audition started," O'Baugh says. "We walked in like zombies."
They clicked with producers, though, and after a series of interviews were chosen to compete.
"Matt and Katie were a perfect choice for season six, for which the competition format was Master vs. Apprentice," says Andrea Richter, executive producer for Truly Original, the company behind the Ink Master series. "They have worked together for many years and have a great and supportive working relationship. And even though they were competing against each other that season, they did everything they could to try and help each other along."
They both exceeded their own expectations during the season. McGowan made it all the way to the 11th round and O'Baugh inked his way to the finale, where he finished third (once again out of the money, as cash was only awarded to the top two).
That experience was an eye-opener.
"I thought it was going to be like a tattoo resort," O'Baugh says.
More like boot camp, actually, with a grueling, six-day-a-week shooting schedule of up to 16-hour days. For O'Baugh, who made it through the whole season, it also meant nine long weeks away from home, living in a New Jersey loft with the other contestants and with only minimal contact back home with his wife and their son, Henry, who is now 5.
"The most relaxed part of being there was actually doing tattoos," McGowan says. "That was the only time I was in my zone and doing my thing."
NO LONGER ROOKIES
So the pair were grizzled veterans when they returned for season nine in an attempt to claim the title of Master Shop. The theme for the season was collaboration, with teams of two workers from the same shop competing against other shops.
Another difference was that O'Baugh and McGowan came in halfway through the season, which started filming in February, as opposed to being there from the beginning. Their first appearance was on episode eight.
"When we decided season nine would be shops competing as a team, they were a perfect choice to return," Richter says.
O'Baugh says, "That was an advantage for us. It made it more comfortable."
McGowan says. "I didn't have the same nerves going into season nine. I felt like it was a lot easier. We had already been through it."
They breezed through their first challenge, re-creating Edgar Degas' classic painting Dancers at the Barre in tattoo form on a "canvas," Ink Master-speak for the person getting tatted up. They went on to win a pair of "flash challenges" in episodes nine and 10 and progressed steadily to the penultimate episode, dubbed the "Marathon to the Finale."
"It was a street-type tattooing environment," McGowan says. "I loved it."
They also battled through reality-show drama, as when McGowan pointed out to the judges a flaw in an opposing team's work. Navarro would later refer to the dust-up as "thumbgate."
In the finale, a bright, colorful mandala tattoo by McGowan won the vote by viewers and sent Black Cobra to battle Old Town Ink.
"The viewers chose ours, which was awesome," she says. "That was a real shining moment. We were jumping up and down so much I thought my weave was going to fall out."
Nunez called it "one of the nicest tattoos" he'd seen from McGowan.
The final judging was of a pair of back tattoos from both teams, one black and gray and one color, done at their home shops with each artist working equally on both tattoos. Each piece took 35 hours to create.
"Their tattoos were impressive," O'Baugh says of Old Town's designs, a colorful, snaking dragon and a Gothic black and gray portrait of a weeping woman. "I thought our advantage was that we were the only team that carried the spirit of the competition through into the finale, working collaboratively and doing two pieces like one artist did them."
"We wanted to win," McGowan says. "Everybody did a good job, but I really felt like ours truly showed collaborative workmanship."
McGowan and O'Baugh went with a "birds of prey" theme for their final pieces, highlighting their bold linework and use of color. Both tattoos are striking in their attention to detail and design. The color entry is of a hawk in flight clutching a torch with falling leaves against a filigree and a glowing, yellow orb. The black and gray piece shows an owl with a lamp in its talons and similar leaves and filigree.
Peck said both of the Black Cobra entries were "applied flawlessly" and were "technically bulletproof." The only negative critiques from Peck and the other judges had to do with what they thought were minor perspective and shading imperfections on each piece.
"There was nothing [bad] they could say about our back pieces from a technical standpoint," McGowan says. "I thought it was cool they acknowledged that. We put a lot of time into making sure everything was squeaky clean and tight."
POST-MASTER
They may not have won, but O'Baugh and McGowan have picked up some perks from being on TV. They are often invited to tattoo conventions at home and abroad. Two days after this interview, McGowan would jet off to Guatemala, expenses paid, for a tattoo convention. They've both also traveled to France to tattoo. O'Baugh gets recognized pretty often, while grocery shopping in town or even on a trip to Rome, where an Ink Master fan cornered him as he was looking at sculptures.
"It's been great for us, but it's also been great for all the guys in the shop," O'Baugh says, spreading the love to his Black Cobra crew that includes artists Blake Cranford, Paul Lee, Jesse Perez and Shawn Garrison; piercer Kyle Hatch and receptionist Carah Still.
But this may be it for O'Baugh's reality show career.
"If we do this again," McGowan begins, before looking over at him, "which I don't think you would."
"No. I don't think I would," O'Baugh says. "You put in so much work and being away from home, that's the big one. Having a 5-year-old and a business and having to leave all that, it's super difficult."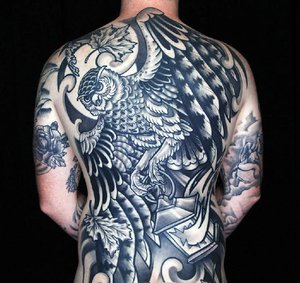 The bold, black and gray tattoo was inked by Matt O'Baugh and Katie McGowan on the back of a "canvas" for the finale of the latest season of Ink Master.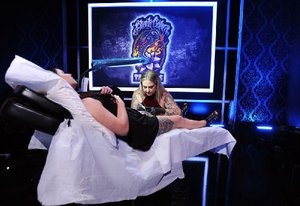 Photo by Special to the Democrat-Gazette/BRAD BARKET
Katie McGowan works on the mandala tattoo that won the viewers' poll and propelled her and Matt O'Baugh into Ink Master's season nine finale.
Style on 10/24/2017