Wal-Mart Stores Inc. customers in a few Arkansas stores will soon cross paths with robots roaming the aisles.
The Bentonville company said it will begin using autonomous devices in about 50 stores next month that are programmed to scan store shelves and identify things like out-of-stock items or products incorrectly priced or placed in the wrong spaces. Wal-Mart stores in Searcy, Sherwood and Pine Bluff will be among the first to introduce the robots beginning in early November, according to the company. A Wal-Mart store in Rogers will have a robot early next year.
The 50-store trial is an extension of a test first conducted in Pennsylvania as the retailer explores ways to use technology to improve its operations. John Crecelius, Wal-Mart U.S. vice president of central operations, said the expansion will give the company a chance to collect and analyze additional data as the robots take on tasks typically done by employees.
"If you think about trying to go through a facility with all these different [items] and figure out if your prices are accurate, it can be very time-consuming," Crecelius said. "Then to try to figure out what to do about it. Imagine how much time you've lost in doing all that."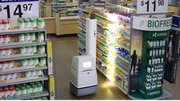 The robots being tested as a possible solution were produced by California-based Bossa Nova Robotics. Martin Hitch, the company's chief business officer, said Bossa Nova has been developing the technology for five years and began a partnership with Wal-Mart about three years ago.
A robot will be kept at a recharging station in a selected store and will move into action when it receives a "mission" like scanning aisles to locate inaccurately priced items. The information collected will be relayed to employees, who then will determine how to prioritize and correct any problems that it finds. Hitch said the information will give department managers and other employees "visibility across the entire department before they start the day."
"It's still really all about the A to Z process of capturing data, analyzing data, creating actions and then taking actions," Hitch said. "Within that, we're good at doing a part of it, and we're terrible at doing a part of it. When it comes to picking the product up, the robot has no arms. That's a really difficult science, and it's a slow, slow science. We know that the store associates will always be better at that."
Automation is taking a larger role in retail as companies like Wal-Mart work to improve efficiency and control costs. Last year, Wal-Mart introduced cash recycler machines at its stores and centralized invoicing operations, leading to the elimination of about 7,000 backroom positions at the store level.
But Wal-Mart said the in-store robots are not replacements for workers. Instead, the company described the technology as a tool intended to aid employees and improve customer service, creating a quicker way to ensure that the right items are in the right places with accurate prices when shoppers search for them.
"It has an objective to go look at certain things," Crecelius said. "For example, we might have it run very early before our morning associates show up so that when they show up, we have the right information to say this is what's most important. This is where we need your help right now and this is what's most important to the customer. It helps them figure out what's most important without having to go through the entire facility to figure those things out."
Wal-Mart continues to invest in technology as it competes with retailers like Amazon.com. It is using drones in distribution centers to check inventory more efficiently and keep up with customer demand. Last year, the retailer began testing large, orange towers in its stores that dispense products that have been ordered online by customers. The test has since expanded with Wal-Mart planning to have about 100 pickup towers installed in stores this year.
Brad Bogolea, chief executive officer of California-based Simbe Robotics, said earlier this month during the Northwest Arkansas Technology Summit that brick-and-mortar retailers like Wal-Mart must "embrace technology" to remain relevant.
His company has developed Tally, an autonomous device that performs store functions similar to the Bossa Nova robots being used by Wal-Mart. Bogolea said the goal of in-store helpers like Tally is to perform time-consuming tasks that free up employees to concentrate on other customer-facing jobs.
"Today retailers perform manual audits across their footprint to try to keep track of the health of product on the shelves," Bogolea said. "This is an incredibly mundane, monotonous, time-consuming process that takes retailers like Wal-Mart hundreds of hours every week. ... Any retailer in the top 15 spends over a quarter billion a year just performing shelf audits. There has to be a better way."
Bossa Nova's robots will operate during the day and have on-site technicians monitoring their actions as they interact with objects and customers. But Hitch said the robots are fully autonomous, and the technician is "100 percent hands off" during the tests. The technicians will move off-site next year, and the robots will continue to be monitored from afar.
Hitch added that Bossa Nova's robots have recently reached more than 620 miles of autonomous driving and have never had a collision. Three-dimensional imagery shows all the obstacles that are in an aisle, and the robot is programmed to move around them if possible, or return later. It also is careful around humans.
"If we encounter a person, we have this view of be respectful first," Hitch said. "The robot will always stop. We move backwards to move away from the person. So we're giving them the space."
Crecelius said there are a number of different ways the retailer can use the information collected during the 50-store test. The data will be analyzed by Wal-Mart employees, and the company will determine the next step.
There are no current plans to introduce the robots in additional stores, but Crecelius said the company has been "fairly impressed with how it works" so far.
"From our perspective, when you're doing things like this you're trying to improve your service to your customers and trying to make things simpler and easier for your associates at the same time," Crecelius said.
A Section on 10/26/2017