BARCELONA, Spain -- Spain fired Catalonia's regional government and dissolved its parliament on Friday after a Catalan declaration of independence that flouted the country's constitution.
Lawmakers in the Catalan parliament voted to unilaterally declare independence, prompting the swift crackdown by the Spanish government, which also called an early election in the region.
Hours after Catalonia's secession move, the Spanish Senate granted the government special constitutional powers to stop the wealthy region's move toward independence.
Spanish Prime Minister Mariano Rajoy's conservative government then called an urgent Cabinet meeting late Friday, after which Rajoy emerged to announce the emergency measures, including regional elections called for Dec. 21.
"We believe it is urgent to listen to Catalan citizens, to all of them, so that they can decide their future and nobody can act outside the law on their behalf," Rajoy said.
"We never wanted to reach this situation, never," he said.
In Barcelona, Catalonia's regional capital, Rajoy's announcement in a televised address was greeted with jeers and whistles of disapproval from crowds who had gathered at the gates of the government palace to celebrate their parliament's moves toward independence.
"It's not about suspending or meddling in the self-government [of Catalonia], but to return it to normality and legality as soon as possible," Rajoy said.
The government and Spain's Constitutional Court have both said the secession bid was illegal, and after Friday's independence vote, Rajoy said it was a move that "not only goes against the law but is a criminal act."
Rajoy also said he was firing the head of the Catalan regional police, shutting down the Catalan government's overseas offices, and dismissing its representatives in Madrid and in Brussels, where the European Union has its headquarters.
After the Catalan parliament independence vote, Rajoy said it was a move that "in the opinion of a large majority of people not only goes against the law but is a criminal act."
The Senate's decision giving Rajoy special powers trumped the Catalan regional parliament's vote to secede, which was likely doomed because the Constitutional Court has consistently ruled against any steps toward independence.
The battle around Catalonia's future is far from over, however.
A backlash to Madrid's moves was expected, with planned street protests and the possibility that regional government workers could follow a policy of disobedience or noncooperation. One Catalan labor union was already calling on workers to stage a general strike Monday.
On top of that, the Dec. 21 election risks delivering a steadfastly pro-independence Catalan parliament, even if recent polls have suggested the region of 7.5 million people is roughly evenly split on secession.
Many Catalans strongly oppose independence and a group of so-called unionists was organizing a large-scale protest for Sunday in Barcelona.
On Friday night, hundreds of people against independence marched in downtown Barcelona.
A spokesman for Spain's prosecutor's office, meanwhile, said it would seek to file rebellion charges against those responsible for the Catalan independence vote.
DAY OF JOY, DESPAIR
The tense day, featuring emotional speeches and scenes of joy and despair, went to the heart of Spain's political and cultural history.
The 1978 constitution, drawn up after the end of Gen. Francisco Franco's decadeslong dictatorship, created a decentralized Spanish state that devolved power to 17 autonomous regions, including Catalonia. The regions have broad administrative and legal powers. The Spanish constitution, however, also describes Spain as "indivisible."
Catalonia has its own cultural traditions and its own language. Having long seen itself as different from the rest of Spain, the Catalan drive for independence began in 2010 when the Constitutional Court struck down key parts of a charter that would have granted the region greater autonomy and recognized it as a nation within Spain.
Catalonia represents a fifth of Spain's gross domestic product, and many want the tax revenue generated by the prosperous region to remain at home.
During the debate in the regional parliament that preceded their vote for independence, Catalan lawmakers traded accusations and in turn described the occasion as "historic" and "happy," or else "tragic" and a violation of Spain's constitution, perhaps the only thing on which both sides agreed.
The motion to secede was approved by the 135-member Catalan parliament, where secessionists hold a slim majority, with 70 votes in favor. Opposition lawmakers had walked out of the chamber in protest ahead of the vote. The lawmakers used a secret ballot, aware that declaring independence from Spain could risk arrest.
In an emotional scene, regional leader Carles Puigdemont called on cheering fellow separatists to remain peaceful.
"In the days ahead we must keep to our values of pacifism and dignity. It's in our, in your hands, to build the republic," Puigdemont said.
Outside parliament, thousands who had gathered cheered the news, some dancing and raising a toast. In Barcelona, people crowded around TV sets to watch the events unfold. The famous Sant Jaume Square outside the regional government office was packed with thousands of people celebrating.
"I feel so emotional after the huge fight we went through, we finally got it ... the independence of Catalonia!" said 74-year-old Rosalina Cordera Torelles.
Nearby, Rita Carboneras, 24, could hardly contain her excitement.
"I'm super, super, super happy. Super excited," she said. "So relieved. Now we are Catalan at last. We can be ourselves."
Others came out to taunt the national police sent by Madrid. There was celebration -- but mixed with anxious jokes about when Spanish tanks would appear to take back the streets.
The exhilaration was short-lived. Some 300 miles to the southwest, the Senate in Madrid voted 214-47 in favor of granting the government exceptional powers under Article 155 of the constitution.
The main opposition Socialist and pro-business Citizens parties support Rajoy's stance on Catalonia, and many Spaniards outside the region are scornful of Catalonia's secession ambitions.
In the streets outside the Catalan Parliament in Barcelona, not far from a boisterous pro-independence rally, a few Catalans quietly expressed similar frustrations.
The Oct. 1 independence referendum did not give the Catalan government the legitimacy to vote to secede, said Federico Escolar, 53, a cafe owner.
"Most of the people who would have voted no did not participate," Escolar said, while smoking a cigarette outside his cafe. "It was not a proper referendum. It was illegal."
Walking into a nearby subway station, Christina Juana, a 38-year-old social worker, agreed.
"Neither Puigdemont nor the Catalan government knows exactly what the Catalan people's opinion is," Juana said.
OUTSIDE SUPPORT
Rajoy also has received support from outside Spain, with other European leaders, including Germany, France and Britain, rejecting Catalonia's claims.
Immediately after the vote for independence, European Council President Donald Tusk tweeted: "For EU nothing changes. Spain remains our only interlocutor. I hope the Spanish government favours force of argument, not argument of force."
The U.S. administration also backed Rajoy, after President Donald Trump last month branded the Catalan independence ballot as "foolish."
"Catalonia is an integral part of Spain, and the United States supports the Spanish government's constitutional measures to keep Spain strong and united," U.S. State Department spokesman Heather Nauert said in a statement.
Also supporting Rajoy's warnings of trouble in Catalonia if it forges ahead with its secession bid, more than 1,500 businesses have moved their official headquarters out of Catalonia this month to ensure they can continue operating under European Union laws if Catalonia secedes.
The EU says Catalonia will be tossed out of the bloc if it leaves Spain and would have to apply to become a member, a lengthy process.
Other Spanish political parties also spoke out against Catalonia's declaration.
Pedro Sanchez, leader of Spain's Socialist party, said despite his disagreements with Rajoy's government, "faced with the challenge of territorial integrity of Spain, there can be no nuance. Spain without Catalonia and vice versa is a mutilated Spain and Catalonia."
In Barcelona, shouts of "Independence!" and "Democracy!" rose from an antechamber where hundreds of onlookers, including dozens of regional mayors, had gathered.
The outcry was answered by disdain from anti-secessionists in the chamber. A member of the Catalan Socialist Party, Daniel Fernandez, asked: "What is this? The storming of the Bastille?"
Pablo Iglesias, the leader of the left-wing national party Podemos, who defended Catalonia's right to vote, added his voice to those criticizing Catalonia's separatists.
"We are against the declaration of independence, not just because it is illegal, but because it is illegitimate," he said.
As for the invocation of Article 155, Iglesias said its coming implementation "will break one of the pillars of our living together."
Information for this article was contributed by Aritz Parra, Ciaran Giles, Elena Becatoros and Joseph Wilson of The Associated Press; by Raphael Minder and Patrick Kingsley of The New York Times; and by William Booth, Pamela Rolfe and Raul Gallego Abellan of The Washington Post.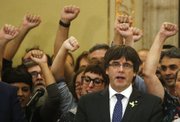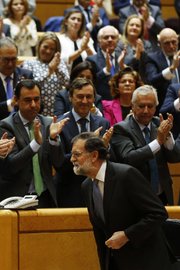 A Section on 10/28/2017