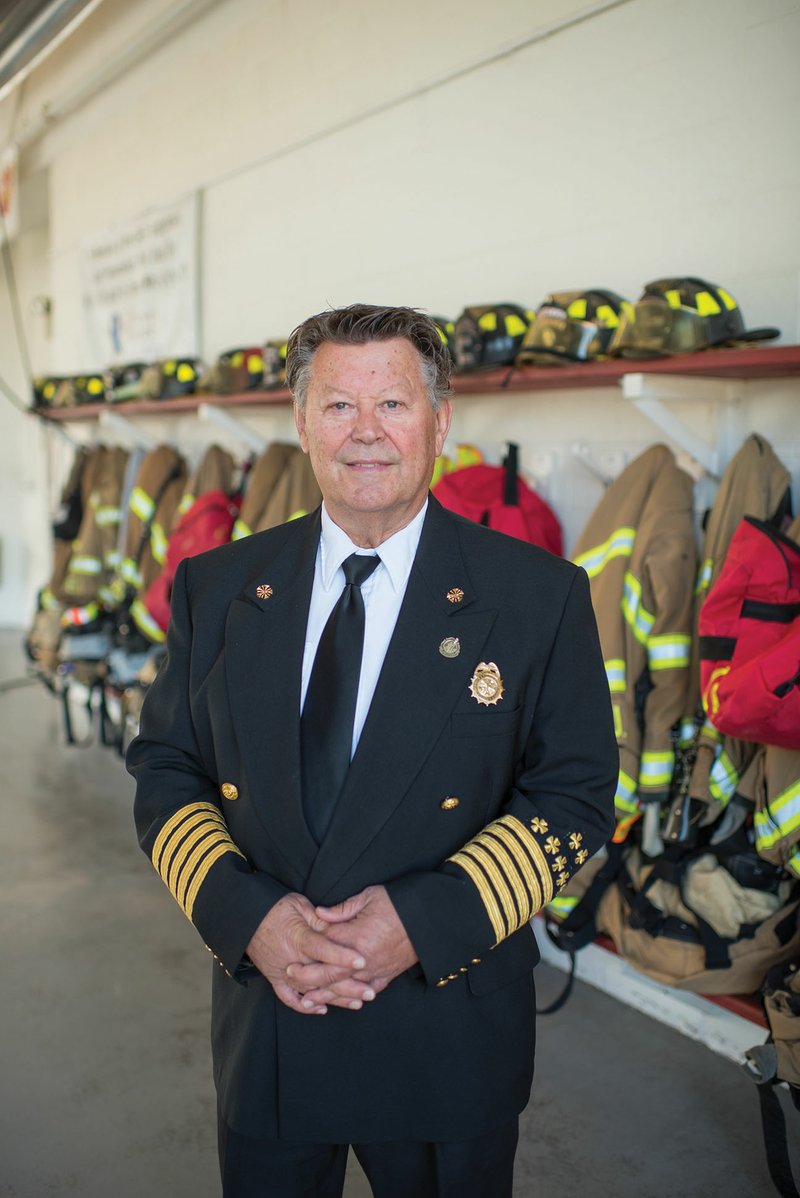 Fire chief Bill Baldridge retired Oct. 1 after 43 years of service, including 22 at the Searcy Fire Department. Baldridge said he will miss spending time with his co-workers and listening to their stories. ( Kelvin Green)
Through ashes, flames, smoke and embers, Bill Baldridge has helped people through some of the worst times of their lives.
After fighting fires for 43 years — 22 of those spent at the Searcy Fire Department — Baldridge retired Oct. 1.
His inspiration to enter the career field came after he overheard his pastor speaking to a firefighter.
"I was standing on the front steps of a church in Jacksonville and overheard a firefighter from Little Rock talking to the pastor about his job," Baldridge said. "I was interested and asked him about it. The pastor said he knew the Jacksonville fire chief well and asked if I wanted him to give me a call.
"The pastor called the Jacksonville fire chief, and I started there within the week."
The most rewarding thing about his job was making a difference in the lives of people going through a crisis, Baldridge said, but also connecting with the personnel in the Fire Department.
Baldridge said he will miss spending time with his co-workers and listening to their stories.
"I've had a lot of good times just sitting around the table at the fire station talking with the guys — about general stuff, our lives together, their families and my family. Those were very special times. I'm close to the guys; it's a family itself. You spend one third of your life with those guys. You're involved in their lives, and they're involved in yours," he said.
The excitement of the fire station is something else Baldridge said he'll miss.
"It just gets in your blood when the alarm goes off, and I miss the excitement of responding to the fires," he said.
Many years ago, while working for the Jacksonville Fire Department, Baldridge said, the fire alarm came on, and everyone took off on the truck.
Once everyone was on the truck, he said, someone mentioned that the address they were headed to was Baldridge's.
"My wife had some beans on the stove and forgot about them, and went out to eat lunch. The firefighter who lived next door to me happened to be home. It scorched my kitchen, but there was no major damage. It was real funny afterward," he explained, laughing.
Another memory that stands out in Baldridge's mind was going on an EMS run and being present as a lady gave birth on the scene.
She didn't have time to make it to the hospital, he said, and she brought the newborn to the fire station a few weeks later to visit with everyone.
"On one particular run I went on, there was a lady whose baby was dying. She ran out of the building — the baby was around 1 year old and was turning blue all over. She ran out and threw the baby into my arms. I will never forget that. We did all the necessary things to save the baby's life," he said.
Baldridge said he loved the excitement of his job and having the ability to help people at their worst.
Another way Baldridge has been able to help people, he said, is by being the pastor at Greater Vision Sanctuary in Beebe for around 30 years.
"I've been able to help people on both sides — firefighting and spiritually. It worked out well for me all around. I got to care for people's spiritual needs, and I got to care for them in times of stress and distress in the fire service," he said.
Baldridge said he decided to retire because he wants to spend more time with his family.
He has been married to his wife, Beverly Baldridge, for almost 40 years.
"We're best friends and do almost everything together — everything," he said.
They have two adult children, Thomas Baldridge and Carrie Bailey, and six grandchildren, he said.
Thomas is married to Alison Baldridge, and they have three kids: Caleb, 9, Julia, 5, and Elisabeth, 3.
Carrie is married to Jesse Bailey, and they also have three kids: Jeremiah, 10, Nathaniel, 6, and Matthew, 2.
"My whole family has a close relationship. I see them two, three, four times a week — they live close to me. I just want to be with them. If I go away for a week, I just can't hardly stand it. I just have to see them," he said, "and I have the best in-laws a person could ask for."
Baldridge said the family goes on vacation together each year, and everyone enjoys spending time together.
Hunting, fishing and traveling are some of his favorite things to do in his free time, he said.
"Branson, [Missouri], and the Smoky Mountains are my favorite places to go. The Smoky Mountains are No. 1. My mother's family is from that area, and the mountains are so unique and special to me," he said. "I grew up in Kentucky and Ohio, and where I grew up in the Portsmouth area, it's actually called the Little Smokies, believe it or not.
"Something about those mountains make me feel at home."
Baldridge graduated from West Portsmouth High School in Ohio in 1968, he said, then spent four years in the United States Air Force.
"The GI Bill paid for college, and I was the first fire chief to hold a degree in fire service in the state of Arkansas," he said.
Baldridge said he graduated from the University of Memphis in Tennessee with a bachelor's degree in fire administration and science in 1982.
Above all, Baldridge said, he admired his father, Belve Baldridge, and father-in-law, Thomas Cypert.
Bill Baldridge said he admired his father for his honesty and integrity, and Cypert for his easy-going nature and knowledge of the word of God.
"He and I would sit and talk for hours about the Bible," Baldridge said. "He was extremely gifted in ministry and very successful.
"Both of them have passed on."
Baldridge said his long-term goal is to reach as many people as possible at his church, and his short-term goal is to spend time with all of his family members.
Beverly Baldridge described Bill as devoted, thankful, honest and godly.
"He's been very proud of the [Searcy] Fire Department and all they've accomplished," she said.
More than anything, Beverly said, she admires how Bill loves his family and takes on the roles of father and grandfather.
"Everybody knows Bill and I are best friends. We do everything together," she said.
Eddie Hollis, battalion chief of the Searcy Fire Department, described Baldridge as a leader.
"He sees something that needs to be done and expects to see that it gets done," Hollis said.
Hollis said Baldridge's passion for the fire service was obvious, and he always kept the department up to date when it came to safety and new equipment.
Hollis said Baldridge's love for his family is admirable.
Hollis said one thing he will miss about having Baldridge around at work is talking and connecting over life experiences and stories.
"One memorable experience was when our old central station that we shared with the municipal courts caught fire. It was a very long night. The fire was hard to control, driven by the wind that night in November," Hollis said.
"We fought it hard and finally extinguished the fire. We experienced firsthand what it felt like to lose property to fire, like so many other fires that we have fought for our citizens here in Searcy," he said.
Hollis said he hopes Baldridge enjoys his retirement, and he's thankful for all that Baldridge has done for the Searcy Fire Department.
"The city of Searcy has given me a great opportunity and been good to me and my family," Baldridge said. "I love Searcy, and I've been blessed to be here for 22 years. I look forward to many happy days ahead, and I wish all the guys at the Fire Department the best.
"If I had to pick any career right now if I were young again, I would go into the fire service again without a doubt. I love it and have loved it all my life."
Staff writer Kayla Baugh can be reached at (501) 244-4307 or kbaugh@arkansasonline.com.
Sponsor Content