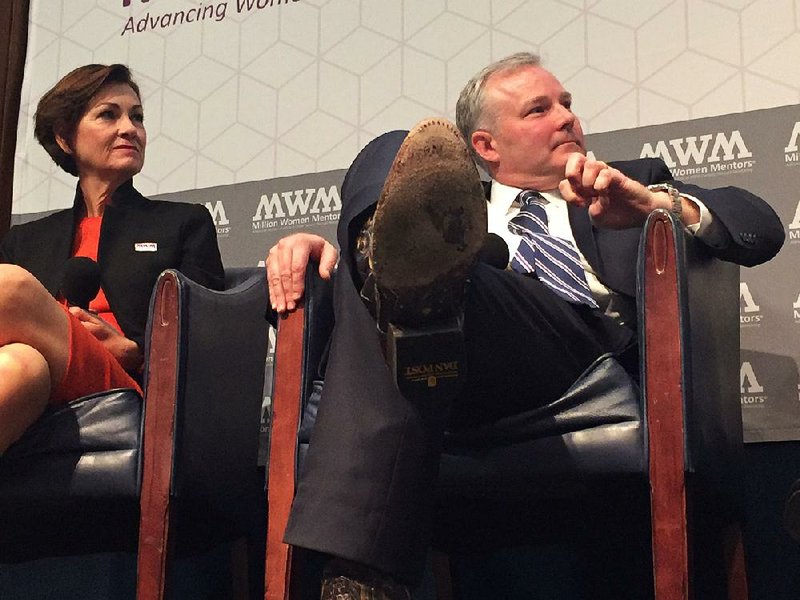 Arkansas Lt. Gov. Tim Griffin and Iowa Gov. Kim Reynolds appeared on a panel Tuesday in Washington. They discussed STEM programs and mentorship programs for girls and young women. ( Frank E. Lockwood)
WASHINGTON — Due to a shattered glass ceiling in Des Moines, Arkansas Lt.Gov. Tim Griffin is now the national chair of Lieutenant Governors for Million Women Mentors.
Griffin's promotion was announced last week during the group's two-day conference in Washington.
The organization, formed in 2014, promotes mentor-ships and works to increase the number of girls and women who pursue studies or careers in STEM — science, technology, engineering and mathematics.
Griffin's new post was previously held by Iowa Lt. Gov. Kim Reynolds. But in May, when that state's governor, Terry Branstad, became U.S. ambassador to China, Reynolds moved into the governor's mansion.
With Iowa's first female governor handing off lieutenant governor-related duties, Million Women Mentors asked Griffin to fill the vacancy.
He readily agreed.
Reynolds, who is now the group's national honorary chairman, said Griffin has been an effective advocate for the cause from the very beginning.
The Little Rock Republican quickly "understood the importance of really engaging girls and young women in the workforce," she said. "He's just been gung-ho from the first conversation, and I'm just really appreciative of that."
Sheila Boyington, the group's national states chairman, said many elected officials are willing to serve as "honorary state chairs" to lend their names to the cause.
But few have worked as hard as Griffin has in Arkansas. The lieutenant governor was so involved that they eventually dropped the word "honorary" from his title, she added.
In Arkansas, Griffin has held nearly 30 events promoting mentorships for girls and young women, Boyington said, telling the conference that "[no one] has worn the hat of Million Women Mentors — even though he's a guy — better than Tim Griffin."
Although women now outnumber men on the nation's college campuses, they're scarce in some academic programs.
Women are far less likely than men to earn degrees in computer science, physics and engineering, according to the National Science Foundation.
They are also underrepresented in the science and engineering workforce.
Million Women Mentors hopes to see more women in those professions. Its list of sponsors includes Wal-Mart, PepsiCo, BP and Boeing.
Griffin said it's important to promote science and math education for all of Arkansas' students, in part because more and more jobs utilize science, math or technology.
"It's hard for me to think of almost any job that doesn't have STEM involved," he said. "We need more individuals — male or female — who have STEM training at some level whether it be Ph.D., whether it be a certification and everything in between."
Griffin doesn't advocate any arm-twisting.
"This is not about forcing anything," he said. "It's about making sure that young people, young ladies, are exposed to all of their options and that they understand all of the pros that come along with the STEM world."
While excited about his new post, Griffin let the group know that he has a pre-existing commitment in early 2018. The politician and his wife, Elizabeth, are expecting their third child — a girl — on Jan. 11.
Print Headline: Griffin's STEM push yields new role in women's group
Sponsor Content