With a little time to kill between jobs last month, Ben Noble naturally went back home to the Arkansas Delta to help out on the family farm. His assignment? Piloting a drone over the rice crop to look for possible damage.
"Modern-day farming," Noble says. "My brother won't even let me on his tractor these days. He says they're too sophisticated for me."
Noble's tractor skills may be a little rusty, but this fourth-generation Arkansan is about as steeped in the state's rice culture as you can get. His family has been farming in Arkansas County since 1892 and growing rice there nearly as long. Noble has worked part time as the Arkansas Rice Federation's executive director the last six years, while also serving a full slate of clients of the small Little Rock-based consulting firm he started with his wife, Kyle.
Now he's going to work full time for Riceland Foods, the farmer-owned cooperative based in Stuttgart, as vice president of marketing and strategy. That represents a new challenge with a different focus from the political and governmental relations skills Noble honed in Little Rock and Washington. No one who has witnessed his mile-a-minute brainstorming and long-term outlook doubts that he's up to the task.
"I think this opportunity tugged at his heart," says Danny Kennedy, the Riceland chief executive officer who hired Noble. Despite Riceland's obvious success -- it's the world's largest miller and marketer of rice -- the company faces stiff competition. "Ben's going to be challenged with helping us market rice in many different venues," Kennedy says. "I know he's good at lobbying, but that's not why I'm bringing him here."
In 2013, a political magazine profiling influential lobbyists and other political insiders across the nation called Noble a "Blue Dog" Democrat who "embodies the gentlemanly Southern Democrat. He has key clients with deep pockets and long arms."
Noble considers the description for a moment, then says he's a little more difficult to pigeonhole than that. He might be a Blue Dog Democrat at heart, he says "but that doesn't exist anymore. There's just about three of us left." Since entering the private sector, he says, he's identified as a capitalist, a "pro-business, socially liberal person."
He grew up in tiny Ethel, in Arkansas County, where Noble Farms was started by his great-grandfather. His maternal grandfather opened the One Horse Store at the intersection of Arkansas 276 and 11 on the other side of the county. Today, Noble Farms is run by Ben's brother, Andy, although their father, Buddy ("Big Dude" to his grandchildren) still pitches in. Their mother, Janice, retired after teaching in DeWitt for 42 years. The store is closed, though still fondly remembered.
BIT BY A COON (SUPPER)
Ben was exposed to the state's political scene in a uniquely Arkansas County setting -- the Gillett Coon Supper -- which unofficially kicks off the state's election season. For years, it was hosted by Noble's cousin, Marion Berry, who went on to work in President Bill Clinton's administration and then serve as the 1st District's congressman from 1997 to 2011.
The coon supper aside, Noble says he didn't give much thought to politics before volunteering for Berry's first campaign. He earned a biology degree from the University of Arkansas, Fayetteville, in 1995 and had already enrolled in dental school when a job offer from U.S. Sen. Dale Bumpers changed his mind.
"I think half of Arkansas had moved to D.C.," he says of the Clinton administration years. "It felt like you were working with family because family was around."
As for his decision to forgo dental school, he says, "It was the right one. I had no business being a dentist."
On Bumpers' staff, Noble worked with the Senate Appropriations Subcommittee on Agriculture, Rural Development, FDA and Related Agencies, which fashioned the budget for the Department of Agriculture, Food and Drug Administration and other agencies. "It was a unique opportunity for a 22-, 23-year-old," he says. "That was a natural fit for me."
When Bumpers left office in 1999, Noble went to work for his replacement, former U.S. Rep. Blanche Lincoln.
"She was younger than I am now," Noble says. "I was young as well, but I had two years of experience, which wasn't much, but it was enough to help me."
Noble worked for Lincoln on agriculture and trade issues, eventually winding up as her legislative director. He helped write the first bill Lincoln got passed, which gave farmers relief from a crop insurance policy. It gave a lot of farmers financial relief, Noble says. "There were plenty of other issues, like [trade with] Cuba and taxes and disaster relief, but the one I'm probably most proud of was just right out of the gate."
Noble went from Lincoln's staff to the Democratic National Committee, where he worked for several months on behalf of candidates in Arkansas. He then joined a trade group, the National Cotton Council, learning that side of governmental relations. After working for the cotton group on the 2002 Farm Bill, he was hired by the U.S. Rice Federation to set up its governmental relations shop, work that had been subcontracted out. Noble put in place a staff and worked on "a lot of controversial issues" that had developed around implementation of the 2002 Farm Bill.
COMBINING HIS TALENTS
Noble's next move looked like it might be permanent. He was a partner in a public affairs firm that spun out of a Washington-based law firm, Troutman Sanders Strategies, with 700 lawyers around the world.
"That's where my career became a lot more diverse," Noble says. "Our primary responsibility was government relations assistance for the firm's clients. But we also expanded that into problem-solving -- if you will -- that took on a lot of forms: media campaigns, marketing an issue, marketing a company."
Noble continued working with the Rice Federation as well as clients such as Coca-Cola and Mizuno, a maker of sporting goods. The experience gave him exposure to "the straight-up business side of the equation" as someone with ownership in the firm. "We were running the business and also trying to land business. It was new to me and I greatly enjoyed it. The only reason I left is our second child was about to be born."
Ben and Kyle may or may not have briefly crossed paths as students in Fayetteville -- he says yes, she says no -- but something clicked when they ran into each other in Washington, where Kyle was working for a nonprofit. And it didn't matter that Kyle, who grew up in Little Rock, was a Republican, having worked for the Arkansas state party before moving to the nation's capital.
"We sparred a little bit when we began our relationship," Kyle recalls. "In the end, what it did for me was cause me to think more deeply."
Says Ben: "I wasn't going after a shrinking violet, that's for sure."
The two married in 2000. After the births of James, now 13, and daughter Ainsley, now 9, Kyle and Ben decided the pull to return home was too strong to ignore. They opened Noble Strategies in 2010, first working out of their attic and then from an office just up the hill from the state Capitol. Noble was the public face of the firm, while Kyle handled its finances and other in-house matters.
"I like to have a lot of things going," Ben says. "It's part of my personality. What I'm not is a detail guy. I've got my wife to clean up after me."
Kyle confirms that, saying "that's a lot of how we work."
"I can look at him and say 'What are you working out right now?' I can tell by his face [that] his eyes have gone to a different place. It's like he can visualize things and dump information as it doesn't pertain and then bring it back up."
Noble landed Tyson Foods and Nucor Steel as key in-state clients and brought others -- including Anheuser-Busch -- along with him from Washington.
Noble has worked for the Arkansas Rice Federation -- an umbrella organization for all segments of the industry -- since its inception in 2008, first as its coordinator and then as executive director. Noble says he pushed federation members to spend money marketing the rice industry's importance to the public, not just policy makers. "It took work to convince them that was a route to go," he says. "It wasn't just me. We've got some great promotional activity that's going on now."
One of the most complex issues Noble faced was a multimillion-dollar media and lobbying campaign on behalf of the Catfish Farmers of America. Arkansas is one of three major catfish-producing states.
"The issue was there were a lot of imports coming in from Asia that were not catfish but were being labeled as such," Noble says.
Domestic catfish producers successfully pushed for inspections to be moved from the FDA to the USDA, which has a "much more rigorous" inspection program, according to Noble. But implementation of that change, he says, "was an extreme battle," because it affected U.S. companies that were importing cheap Asian seafood, and those companies would naturally contact their own political representatives for help.
"They were probably outspending us $15 million to one," Noble says. "For us to be able to win took a lot of coordination between the industry and political leaders in a handful of states. I'm proud of that. It took almost a decade. I certainly learned a lot in the process."
One of the efforts Noble is proudest of is helping Tyson Foods Inc. make changes that led to the company being named one of the best places to work for members of the LGBT community by the Human Rights Campaign advocacy group last year.
Although the company was criticized for not doing more to stop a 2015 change in Arkansas law seen as discriminatory by many, Noble says the company "worked really hard" during the last legislative session to stop similar measures. In 2016, he and Tyson rep Jeff Wood took part in an LGBT workplace inclusion summit in Little Rock.
"You wouldn't think of two Southern white boys as the face of the movement, but I think that's where we added value," Noble says.
Ben and Kyle are also passionate about fighting hunger in Arkansas, having chaired the Arkansas Hunger Relief Alliance's annual fundraiser, Serving Up Solutions, for three years straight. Ben has also served on the boards of the Little Rock Chamber of Commerce and Arkansas Natural Heritage Commission.
AN EASY TRANSITION
Former speaker of the Arkansas House Davy Carter says Ben and Kyle Noble are "constantly raising money for nonprofits and doing things here and there," beyond their consulting firm. As for Noble's work at the Capitol, Carter says he "walked in like he'd been there 20 years" after returning from Washington.
"Ben's a guy that could go anywhere and be successful. He could be in New York, Chicago, L.A., he's got that kind of talent. I think Arkansas is lucky to have him."
Noble thinks he's lucky to be back in Arkansas. It has meant more trips to the family farm in Ethel and to his deer and duck-hunting clubs. The latter is where he initiates youngsters into a totally fictitious organization he created called the Circle of the White Tail, in an impressive bonfire ceremony complete with fake skull and blood. Kyle says it's part of the improvisational, fun-loving side of her husband that's never far below the surface.
As of this month, he's also back in the family business, at least in a manner of speaking. Noble says it wasn't easy stepping away from his comfort zone, that nexus of business, government and politics where he has spent much of his career. He's looking forward to the opportunity for professional growth and bringing the skills he already possesses to bear on behalf of family farmers.
"It felt like something I not only wanted to do but needed to do."
SELF PORTRAIT
Ben Noble
DATE AND PLACE OF BIRTH: Aug. 2, 1973, Stuttgart
GROWING UP I THOUGHT I WOULD BE president by now.
MY FAMILY WOULD SAY I'M diligent.
LAST PLACE I VACATIONED WAS spring break with the family at "the Farmhouse" in Ethel, Ark. When I was young, I desired to see the world. Now that I have, I realize the place I love most is our family farm.
MY PET PEEVE: The mentality "Because we've always done it this way."
MY PERFECT DAY: Bluebird day, just above freezing, duck hunting in flooded Arkansas timber followed by an afternoon of college football from my hunting club recliner.
MY FAVORITE PERFORMER: Keb' Mo
GUESTS AT FANTASY DINNER: Authors Tom Kelly, John Grisham, Mark Twain and John Barry; extended family Miles Groggan and Marion Berry.
ONE WORD TO DESCRIBE ME: spirited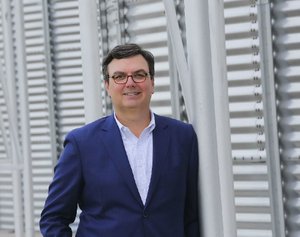 Photo by John Sykes Jr.
"I can look at him and say 'What are you working out right now?' I can tell by his face [that] his eyes have gone to a different place. It's like he can visualize things and dump information as it doesn't pertain and then bring it back up." — Kyle Noble about Ben Noble
High Profile on 09/03/2017