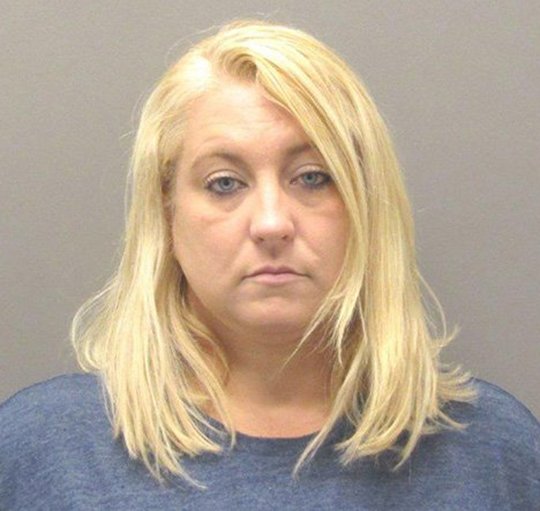 Goss
HOT SPRINGS -- A former administrative assistant to the county judge of Garland County pleaded guilty Monday in Garland County Circuit Court to six felony counts of fraudulent use of the county's credit card.
Kristi Lyn Goss, 44, was set to stand trial Tuesday on six counts of fraudulent use of a credit card, including two counts involving amounts more than $25,000, punishable by up to 20 years in prison, and four counts involving amounts more than $5,000, punishable by up to 10 years, but opted to plead guilty at a pretrial hearing Monday.
Goss was arrested Oct. 25 and later released on $50,000 bond. A gag order limiting pretrial publicity in the case was issued Oct. 26 and will remain active until sentencing. Her sentencing hearing is scheduled for Nov. 22.
Goss had been employed by Garland County since 2004 and was officially terminated June 3, 2016. She had reportedly left her position at the end of May 2016 after the fraud allegations came to light.
Former Prosecuting Attorney Terri Harris filed charges against Goss directly to circuit court. Harris told The Sentinel-Record at the time of the filing that there had been "insinuations" that the county judge's office was under investigation and she was "dragging her feet," which Harris said was not true.
Harris said all county employees "fully cooperated" with the investigation and that no one else was implicated in any wrongdoing with the use of the credit card.
According to the affidavit filed by Arkansas State Police Special Agent David Moss, Goss fraudulently charged thousands of dollars worth of items, including personal bill payments, to a Garland County credit card that was obtained in December 2011.
Garland County Comptroller Susan Ashmore discovered the discrepancies in May 2016 after Goss failed to pay county bills on time and failed to execute her duties in a timely manner, the affidavit said.
Legislative Auditor Jimmy Locke discovered 3,722 charges made on the card between December 2011 and May 2016, and confirmed $70,523.64 in personal purchases made by Goss using subpoenaed business records.
Locke also identified $92,074.48 in additional purchases suspected to be personal in nature, based on the names of the businesses where the purchases were made. The total amount of unauthorized purchases was $162,598, the affidavit said.
Some of the confirmed personal purchases listed in the affidavit included payments to Entergy for Goss' electric bills, to AT&T for her cellphone bills, tickets to Arkansas Razorbacks games, car payments, personal real estate taxes, hotel gift cards, a diamond bracelet, sequin throw pillows and a tuxedo for Goss' dog.
On Aug. 31, 2016, Moss interviewed County Judge Rick Davis, who told him Goss had worked for the county for 11 to 12 years before she was terminated. Davis also told Moss that Goss was responsible for ordering and purchasing information technology-type equipment for the county, as well as paying various bills. She would purchase the items using the county credit card account number, while the actual card was kept by Mary Culpepper, chief of staff to Davis, who was Goss' immediate supervisor.
Davis said that when he was informed by Ashmore that some county bills were not being paid on time and the outstanding balance on the credit card, he and Culpepper spoke to Goss. After further investigation revealed the personal and unauthorized purchases made by Goss, he contacted Harris and Legislative Audit.
State Desk on 09/13/2017
Print Headline: Former county worker pleads guilty to fraud
Sponsor Content