The Little Rock School District will be home to three new charter schools over the next two years, and Pine Bluff will see two new such schools as a result of state Board of Education action Thursday.
The Education Board voted to accept the recommendations of the state's newly reconfigured Charter Authorizing Panel that last month approved the five school plans for Little Rock and Pine Bluff and denied four other applications for charter schools in Little Rock, McGehee, Weiner and Bentonville.
The Education Board accepted the panel's recommendations without exercising its authority to conduct full hearings of its own on any of the school applications -- despite requests that it do so from Little Rock School District Superintendent Mike Poore; state Sens. Joyce Elliott and Will Bond, both of Little Rock; and from Micah Cummings, a charter school planner whose proposal for a school in Bentonville was denied.
Poore told the Education Board before it voted that a more thorough review of the three charter school plans and their impact on the community was warranted.
Education Board member Charisse Dean of Little Rock said the charter applications were thoroughly vetted by the Charter Authorizing Panel in lengthy public meetings last month.
The newly approved applications are for:
• Einstein Charter School, proposed by the Einstein Group Inc. of New Orleans, to start with 300 students in kindergarten through third grade, and grow through eighth grade at 3615 W. 25th St., which is the Little Rock School District's former Garland Elementary School.
• ScholarMade Achievement Place, proposed by ScholarMade Educational Services Inc., to start with 290 students in kindergarten through fifth grades, and grow to as many as 520 in kindergarten through ninth grades at 2410 Battery St., which is the Little Rock School District's former Mitchell Elementary.
• Friendship Aspire Academy-Little Rock, a 600-pupil program proposed by the Friendship Education Foundation of Washington, D.C., that is seeking a southwest Little Rock location to serve 600 kindergarten through fifth-graders.
• Friendship Aspire Academy-Pine Bluff, proposed by the same Friendship Education Foundation, to serve 480 students in kindergarten through fifth grade, at 3911 S. Hazel St. in Pine Bluff.
• Southeast Arkansas Preparatory High School, proposed by the Southeast Arkansas Preparatory High School Inc., to serve 220 students in ninth through 12th grades at 1501 W. 73rd Ave. in Pine Bluff, the former Ridgeway Christian School site.
[EMAIL UPDATES: Get free breaking news alerts, daily newsletters with top headlines delivered to your inbox]
All of the schools plan to open in the 2018-19 school year except the Friendship Aspire campus in Little Rock that is planning a 2019-20 opening.
The five newly approved charter schools will bring the total number of open-enrollment charter systems in the state to 29, which is the current cap on the schools that are taxpayer-supported but operated independently of their surrounding traditional school districts.
Charter schools are meant to be innovative and, as such, are eligible for waivers of some state rules and laws that apply to traditional districts and schools. In return for the waivers, the schools are to be held to stricter accountability standards.
Thursday's actions by the state Education Board on charter applications for the 2018-19 school year were the first based on the recommendations of the newly reconfigured Charter Authorizing Panel, which is smaller and for the first time includes members from outside the Department of Education. The new panel, led by Ivy Pfeffer, the state's deputy education commissioner, last month gave preliminary approval to five charter school plans and denied four others.
Poore, in his appeal for further hearings on the Little Rock charter plans, cited the loss of student population throughout all but the west and northwest parts of the city as a factor to be considered along with the recent call by a state-appointed citizens committee for collaboration between traditional and charter schools.
Poore described the Little Rock system a district "on the move" academically -- being one of only 12 in the state that showed gains on the state's 2017 ACT Aspire test at every grade. He also said the innovation offered by charter schools is already in evidence at Little Rock district schools, including the operation of a student bank at Stephens Elementary but the district is willing to do more.
"I've never been afraid of competition," he said.
"There is an opportunity with charters to partner. What that might look like I don't know," he said. "But we need a pause right now to let things settle, to determine what is the right course of action and do it in a strategic way that I believe can be done together," said Poore, who is the state-appointed leader of the district that has been operating under state control and without a locally elected school board since January 2015.
Dean said she understands that the Little Rock district is moving forward but sees the new charter school plans as accelerating the progress.
"When it comes to children and ensuring that they get the education that they need and seeing the numbers and the results in the Little Rock district: Yes, there are improvements and, yes, there is forward movement," Dean said. "I say let's move all our children forward. This is another opportunity to move the education of our children forward.
"This is an opportunity to partner," she continued. "There is a saying, 'Many hands make light work.' Instead of seeing this as competition, I see it as an opportunity to share the load and the responsibility of educating all the children of Little Rock, including those in low socioeconomic areas as well."
Education Board member Ouida Newton, a former teacher in the Poyen School District, told Poore that she had prayed and lost sleep over the issue of the schools proposed for the Little Rock area.
But she said she was very impressed with what the Einstein organization, in particular, had done in New Orleans with high-poverty students. She suggested that the organization has a history of collaboration and would be willing to share its strategies of success with the Little Rock district.
Education Board member Susan Chambers of Bentonville said she too was torn but that no matter how high performing a school system is, there can be room for school choice and charter schools.
State lawmakers Elliott and Bond urged the Education Board to hold off on approving new charter schools in Little Rock.
Elliott told the board that the section of the community that will be home to the charter schools has just experienced the closure of traditional schools for the sake of financial efficiency, and it didn't make sense to open three smaller schools in the same area. She said the Education Board had the "awesome responsibility" of considering the impact of the charter school on the "entire school ecosystem,"
Bond urged the board to listen to Poore, the man hired by state Education Commissioner Johnny Key last year to decide how the Little Rock district should be operated.
Daniel Davis, chief strategy officer for the Einstein group, told the board that his organization "believes there is a need for high performing schools in this area, and we look forward to doing that work."
Phillis Nichols Anderson, the chief planner for the ScholarMade Achievement Place, said she was committed to providing students and families with a diverse menu of educational options.
Education Board member Mireya Reith of Fayetteville voted against accepting each of the three Little Rock plans without further hearings. She was joined by board member Diane Zook of Melbourne in voting against the ScholarMade plan.
Education Board members and Key praised and applauded Poore for the work he is doing in Little Rock, including his advocacy for a new southwest Little Rock High School and meeting other student needs that had been neglected.
"He's the leader we need," Key said. "He's the the guy I picked and I would do it again."
Zook said her approval of two of the three charters in Little Rock was influenced by the fact that pupils will have improved, new buildings. A majority of voters in Little Rock had voted in May against a plan meant to generate funds for school building improvements, she said.
While Poore and lawmakers asked for further review of the charter school plans, no representatives from the Pine Bluff School District or other nearby districts requested Education Board reviews of the applications for two schools in that area.
Additionally, only one of the four charter school planners whose applications were denied by the Charter Authorizing Panel appealed to the Education Board for approval.
Cummings from Bentonville told the board that she believed that there was a misunderstanding by the panel about the financial plan for the proposed Focus STEM Academy. However, the state board voted against reviewing the application for a school that would serve grades five through eight at a site at 5121 Runway Dr. in Bentonville.
The other charter applications that did not receive approval from the charter panel nor the state Education Board are:
• Prolific Learning Arts Academy, proposed by Aviate Through Knowledge Inc., for 6210 Baseline Road in Little Rock.
• Weiner Academy of Agriculture and Technology in the former Weiner High School building in Weiner.
• P3 Academy Charter School for grades one through four at 500 S. First St. in McGehee.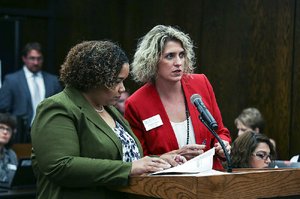 Photo by Mitchell PE Masilun
Alexandra Boyd (left), director of public charter schools for the Arkansas Department of Education, and Jennifer Davis, staff attorney for the department, are shown in this file photo.
A Section on 09/15/2017